Violence Isn't The Star Of Jon Bernthal's New Movie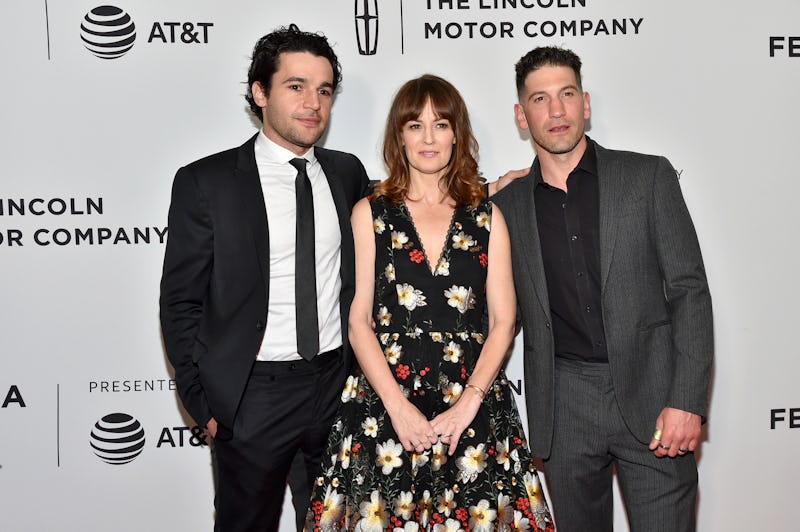 Mike Coppola/Getty Images Entertainment/Getty Images
It's likely that the last time you saw Jon Bernthal on a screen, he was either portraying an ex-Marine vigilante with a kill list as long as his gun barrel or an assassin to some wealthy employers. So it's jarring — though, not unpleasantly so — to see the Daredevil and The Accountant star as a soft-hearted ex-rodeo champion in the Alaska-set indie Sweet Virginia, which premiered at the Tribeca Film Festival this April and was just acquired by IFC. In the film, Bernthal's Sam is reluctantly drawn into the streak of violence that rocks his remote town after the arrival of a hitman named Elwood (Christopher Abbott), and the movie itself stays away from showing the carnage. In a rare move for a modern crime film, Sweet Virginia avoids exploitative violence completely, which fascinated its stars.
"We've gotten to a place where things are hyper-focused regarding violence, the Game Of Thrones style," Rosemarie Dewitt, who plays recent widow Bernie, tells Bustle on an April day in New York. "And I feel like [Sweet Virginia] kind of subverted it somehow, and that was interesting to me that [director Jamie M. Dagg] wasn't interested in it."
As a viewer, my own expectations were subverted again and again as I watched the film. With a very long leash on what's permissible for an R-rated feature, movie and TV violence has become fairly predictable, and I'm often guilty of watching gore through my fingers. As Dewitt notes, shows like Game Of Thrones are renowned for their epic, creative brutality (that eye-gouging, anyone?), so viewers don't even have to go to a theater anymore to get their fill of blood and guts. But Sweet Virginia switches up that norm; instead of showing a tight shot on a gunshot to the face, director Dagg shows the expression (or lack thereof) on the shooter's. Instead of reveling in a brutal and random beating, Sweet Virginia obscures the audience's view with a shot of a flatbed truck.
This subtlety only adds to the movie's power. "Because it's not in your face, it makes it more unsettling," Abbott says of the film's physical violence. "Because the camera always had the point of view of someone witnessing an act of violence. And most of us have only ever witnessed an act of violence from afar, like a fight happening across the street. In movies in general, not just this, it's always more effective for me if the camera is really far away... because it's more common to have that vantage of an altercation."
In Sweet Virginia, all the characters are "survivors," according to Abbott; they have each lived lives, made mistakes, and passed points of no return long before the film begins. As such, the violence they perpetrate or experience defines and changes them is more important than the actual acts themselves, a purposeful decision by Dagg.
"It's not to say that I don't like films with gratuitous violence, I do," the director explains. "But I can't add anything to that. If you take that away and leave a lot of it up to your imagination, that's more horrifying than seeing someone's head explode onscreen."
And Sweet Virginia doesn't lack in menace. The film follows the sociopathic hitman Ellwood, a quintessential snake in the grass and who Abbott describes as someone who "really despises humans, in general." Not only does that enable him to effectively do his job, but it guarantees that there will be consequences if he isn't compensated. There's no voiceover or exposition in the film to tell audiences just how "disgusted by them" Ellwood is, according to Abbott, so with Dagg's blessing, the actor made the choice to improvise Ellwood muttering fiercely and sometimes inaudibly to himself after almost every personal encounter.
Sweet Virginia is no more likely to overload you with details about the pasts of its characters than it is to splash brains on the carpet, just because it can. The prime character example of the film's starkness is Bernthal's Sam; the actor's presence befits men of few words, comic book antiheroes or otherwise, though they're usually more mission-driven than Sam. "It's the first character I've gotten to play in a very, very long time who's sort of on his back foot rather than going forward," he says.
How exactly Sam went from riding bulls on the rodeo circuit to quietly running a motel in a town caged in by mountains, he keeps to himself. All the audience can glean for sure is that something terrible happened to Sam's family, which drove him to hide himself away. There's no flashback to a tragic accident, just a meaningful, fatherly relationship with a young woman who works at the motel (Odessa Young) to show that Sam is clearly missing someone important.
"Jamie dealt with the loss of his family in a very elegant way. Nothing was spoon-fed," Bernthal explains. "Nothing was on the nose, but you knew about it. It preserved the integrity of the privacy that Sam would want about that. Sam doesn't want to talk about it, therefore you don't get to know about it, which I really loved."
While Sam's grief is long-standing, Bernie's is fresh, and it's complicated by some decisions she made before her husband was killed. Dewitt says she was also drawn in by the film's refusal to spell everything out for audiences., and she even notes that the movie's final cut had even less dialogue than the last version of the script, by Benjamin and Paul China. For the actor, that means that Sweet Virginia leaves itself in the hands of its audience. "We're gonna show it from a limited perspective and see what that does for you," Dewitt says.
Sweet Virginia has all the discipline of a luxury-less, working-class town in the Alaskan wilderness. And in shunning exploitative violence, it makes itself unique and memorable.