Gap Is Bringing Back All Of Your '90s Faves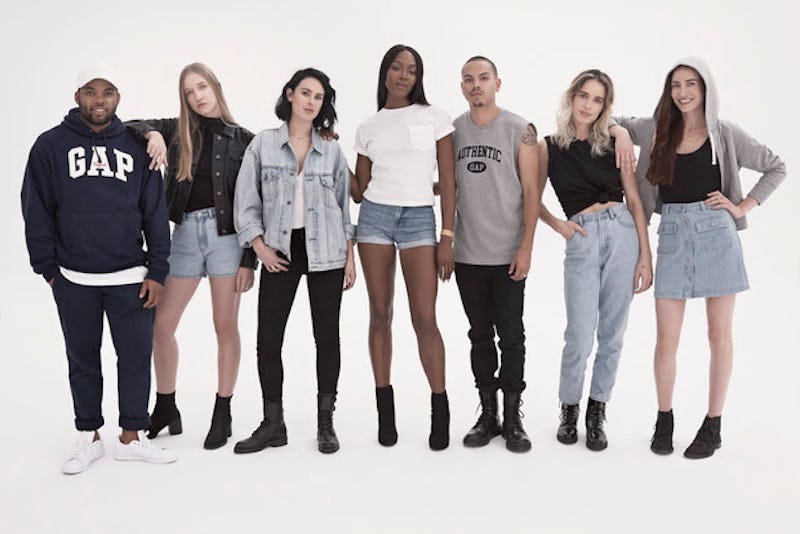 No one can forget those iconic Gap sweatshirts from the '90s. All of the cool kids had them, because all of the cool kids wore Gap. And now, history is repeating itself as Gap's '90s archive re-issue collection makes its way into the closets of today's up-and-coming stars, and luckily, into stores, so you can buy all of the cool-kid pieces and have some serious deja vu in the process.
Gap's '90s archive re-issue collection includes a bodysuit, khakis, denim and the now-iconic pocket tee that Naomi Campbell modeled in 1992, so naturally, Campbell was tapped to star in the campaign for the reissue (seeing the two photos is literal proof that Campbell does not age).
"It's an honor to be here, in the same outfit that I wore 20 years ago in my Gap ad," said Campbell. "The creativity in the '90s is something I'm so grateful that I got to be a part of and to see and to learn from and to draw inspiration from."
Campbell stars alongside a group of cool kids who all happen to be the children of '90s icons, including Lizzy Hall, daughter of Jerry Hall, Evan Ross, son of Diana Ross, Rumer Willis, daughter of Demi Moore, and Chelsea Tyler, the daughter of Stephen Tyler, Coco Gordon, the daughter of Kim Gordon, and TJ Mizell, son of Jam Master Jay of Run DMC — together they are known as "Generation Gap."
"The '90's is having a sartorial moment and we have an archive of pieces that set the tone for that decade commercially and culturally, so it seemed right to re-issue some of those pieces and the stories that come with them," said Craig Brommers, chief marketing officer for Gap. "'Generation Gap' came together in a celebration of who was with us then and who we are with now – it has, at its heart, that simple truth that we can take from the past but also celebrate our future."
Gap's '90s archive re-issue collection will be available online and in select stores starting Feb. 7.
Images courtesy of Gap