Garrison Keillor Of "A Prairie Home Companion" Just Got Fired For "Inappropriate Behavior"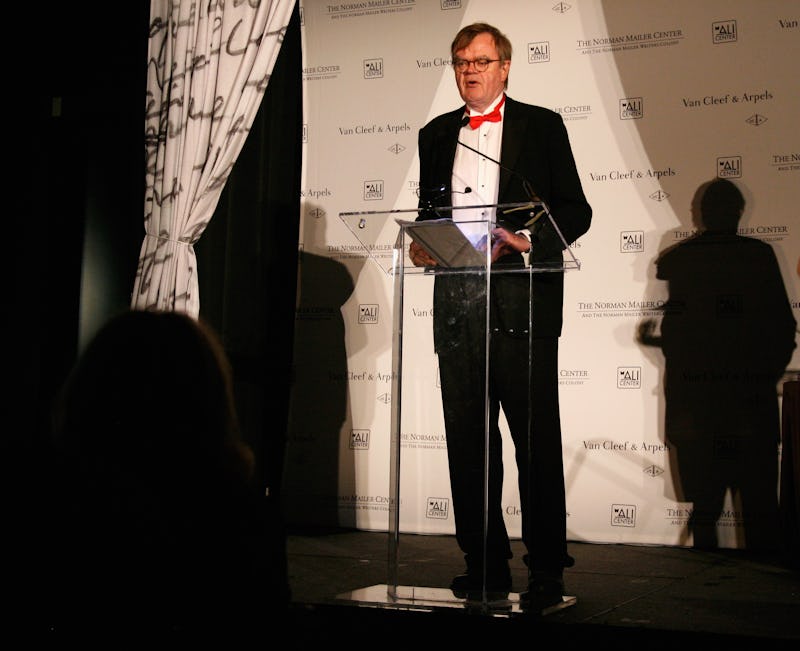 Andy Kropa/Getty Images Entertainment/Getty Images
According to an Associated Press report out Wednesday, a longtime public radio fixture has gotten the axe — but the precise details as to why are scarce. Garrison Keillor has been fired from Minnesota Public Radio, and he told the AP it was over allegations of "improper behavior." The 75-year-old is the creator and former lead performer of the iconic public radio series A Prairie Home Companion. The show has aired for more than four decades, having first hit the airwaves in 1975; Keillor retired from hosting the show in 2016.
According to the AP, Keillor did not give any specifics about the allegations that prompted his firing, beyond saying that he believed the story was "more interesting and more complicated than the version MPR heard."
Keillor's firing notably came less than 24 hours after The Washington Post published an op-ed he wrote in defense of his home state senator, Democrat Al Franken. Sen. Franken has been accused of sexually inappropriate behavior by multiple women, including groping and kissing them without their consent. Franken has requested an ethics investigation into his own behavior, and expressed the importance of "listen[ing] to and believ[ing] women's experiences" — still, he has so far fended off calls for his resignation. In his op-ed, Keillor called the idea that Franken should resign "absurd."
In a statement released on Wednesday afternoon, MPR explained that Keillor had been fired over "allegations of his inappropriate behavior with an individual who worked with him." Previous episodes featuring Keillor will reportedly no longer be broadcast, and the show ― currently hosted by Chris Thile ― will be renamed.
Minnesota Public Radio (MPR) is terminating its contracts with Garrison Keillor and his private media companies after recently learning of allegations of his inappropriate behavior with an individual who worked with him.
Last month, MPR was notified of the allegations which relate to Mr. Keillor's conduct while he was responsible for the production of A Prairie Home Companion (APHC). MPR President Jon McTaggart immediately informed the MPR Board Chair, and a special Board committee was appointed to provide oversight and ongoing counsel. In addition, MPR retained an outside law firm to conduct an independent investigation of the allegations. Based on what we currently know, there are no similar allegations involving other staff. The attorney leading the independent investigation has been conducting interviews and reviewing documents, and the investigation is still ongoing. We encourage anyone with additional information to call our confidential hotline 1-877-767-7781.
MPR takes these allegations seriously and we are committed to maintaining a safe, respectful and supportive work environment for all employees and everyone associated with MPR. We want a workplace where anyone who experiences unwanted behavior feels comfortable in reporting concerns to MPR. Discrimination, harassment, retaliation or other inappropriate behaviors will not be tolerated.
Keillor stepped down from hosting the longtime public radio show last year, citing a desire to do some "other things that I want to do." As such, he has not been on the air for several months.
While the nature and seriousness of the allegations are not yet publicly known, MPR's reaction suggests they're being taken very seriously ― the decision to halt the airing of any re-runs featuring his voice effectively means they'll be shelving four decades worth of content, and severing the current iteration of the show from the previous brand altogether. The NPR affiliate reportedly first learned of the allegations in October.
Keillor has not yet offered any public comment on the matter beyond the remark about it being "more complicated" that the AP reported on Wednesday afternoon. The new name for the show has not yet been announced.