Why Gary Cohn Won't Be Strapped For Cash When He Leaves His White House Job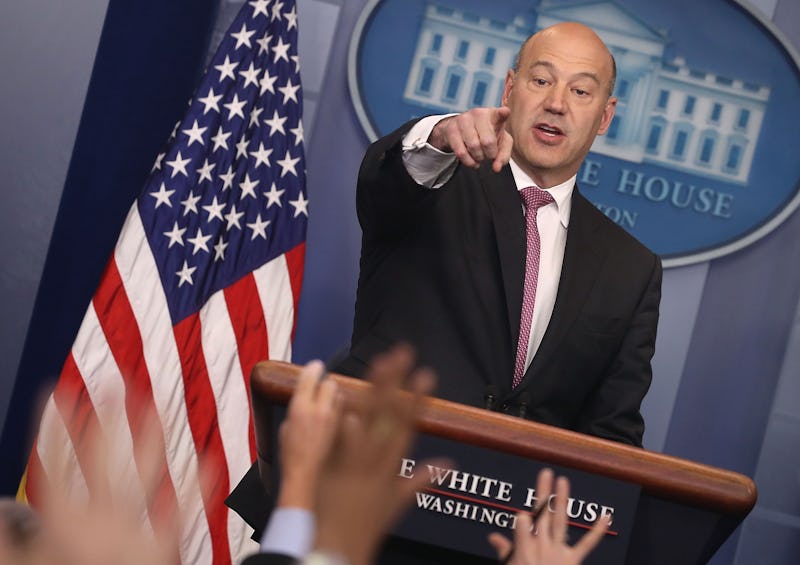 Mark Wilson/Getty Images News/Getty Images
When he first joined the White House, President Trump's chief economic adviser was one of the most affluent members of the Trump administration. Now on his way out after announcing his impending resignation on Tuesday, Gary Cohn's net worth still remains a little ambiguous, but most reports indicate that the former banker's coffers are anything but light.
A New York Times report from March of 2017 estimated that Cohn's assets alone were worth $252 million to $611 million. That range was based on a disclosure filing released earlier within the same month. But like many financiers, Cohn hasn't historically relied on a single biweekly paycheck to replenish his checking account.
From 2009 to 2016, Cohn was second in command at Goldman Sachs, one of the world's top investment banking companies. CNN Money reported in December of 2016 that Cohn had received "at least $123 million in total compensation" since taking the helm as Sachs' president and COO. He reportedly received $21 million from the company in 2015 alone. (That was $1 million less than he received the year prior.)
When Cohn left Goldman Sachs to join the Trump administration in 2016, he was reportedly awarded an approximately $285 million severance package, which included a combination of stock payments and access to cash. This payout only served to underscore that Cohn was entering the administration as one of the wealthiest members of Trump's team.
At the White House, Cohn reportedly collected a $30,000 yearly salary for his position as director of the National Economic Council. The reason for the unusually low salary, which was significantly less than what other Trump Administration advisers have historically made, was unclear. Business Insider reported in July of 2017 that in comparison, Steve Bannon and KellyAnne Conway were at the time paid $179,700 a piece, and National Economic Council directors historically are paid within the same range.
As for Cohn's plans for departure, the White House says that he is will be leaving on amicable terms. In a statement sent to the Times, Trump praised Cohn's work for the Administration.
"Gary has been my chief economic adviser and did a superb job in driving our agenda, helping to deliver historic tax cuts and reforms and unleashing the American economy once again," Trump said. "He is a rare talent, and I thank him for his dedicated service to the American people."
Indeed, one of Cohn's landmark accomplishments was backing the massive tax overhaul that was passed in December of last year. The tax bill is expected to slash taxes by $1.5 trillion.
In a statement provided by the White House and published in Politico, Cohn said he was thankful for the opportunity to serve under Trump.
"It has been an honor to serve my country and enact pro-growth economic policies to benefit the American people, in particular the passage of historic tax reform," Cohn said. "I am grateful to the President for giving me this opportunity and wish him and the Administration great success in the future."
Over the last several months, unnamed sources purporting to be Cohn's friends have told news outlets that Cohn would soon be leaving his post. In December, for example, Vanity Fair reported that Cohn was considering departing late in January. Cohn denied the rumors at the time.
However, analysts now are quick to point to an ongoing battle over proposed tariffs, which have been a sticking point among economic experts. The Times reported on Tuesday that, according to unnamed people who understand his perspective, Cohn believed imposing tariffs on steel an aluminum could have a harmful effect on economic growth, and characterized Cohn as someone who supports free trade.
Whether or not Cohn's resignation was directly related to imposed tariffs or not is not entirely clear. But if his reported assets are any indication, Cohn will be economically comfortable either way, with or without a job in the White House.