George & Amal Clooney Are Expecting Twins — REPORT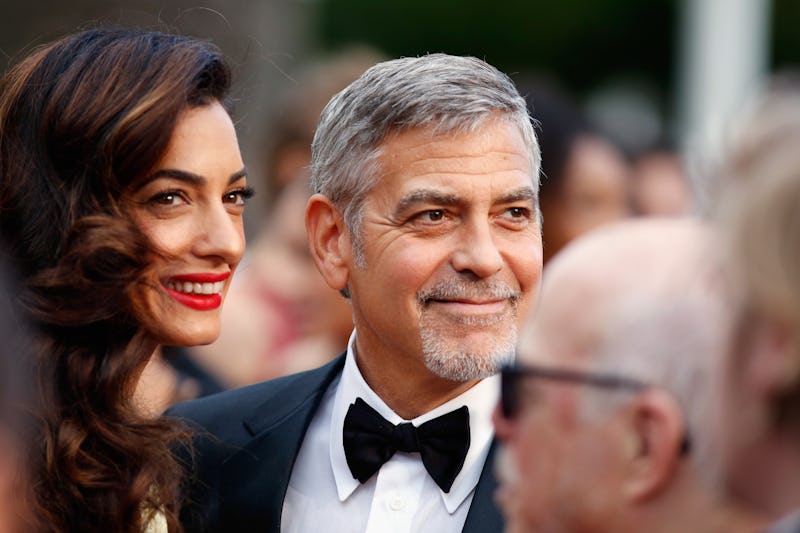 Tristan Fewings/Getty Images Entertainment/Getty Images
How exciting is this?! According to reports, George Clooney and Amal Clooney are expecting twins. On Thursday's episode of The Talk, host Julie Chen claimed that George told her about the reported pregnancy back in January. Bustle has reached out to George's rep for comment on the rumor, but Amal's could not be reached at this time.
According to Chen, the human rights lawyer is due in June, so if the report is true, Gorge and Amal's babies could be coming soon. Maybe they'll be BFFs with Beyonce and Jay Z's twins?! One can only hope...
Although the report is still unconfirmed, it's hard not to be excited about the possibility, considering how invested the world is in George and Amal's relationship (admit it, it's true). The duo got married back in 2014, surprising many who assumed that George would never settle down for real, and ever since, they've seemed as happy as clams. They're a private couple, though, and it's no shock that, if the pregnancy news is true, they've managed to keep it under wraps for the last few months. Besides, they've both been pretty busy, with George working in Hollywood and Amal leading high-profile human rights cases around the globe.
Secret-keeping aside, though, the idea that George might be having kids is pretty huge in and of itself, considering the actor's past statements about becoming a father. Back in 2015, CBS This Morning asked Clooney if he thought about having kids, to which he said it wasn't "high on my list" at the time. Perhaps his view has changed over time, though, and if the report is true, let's all send a big congrats to George and Amal on what surely is a happy occasion!