George Clooney's Story About Realizing He Wanted To Marry Amal Is So Cute & Fancy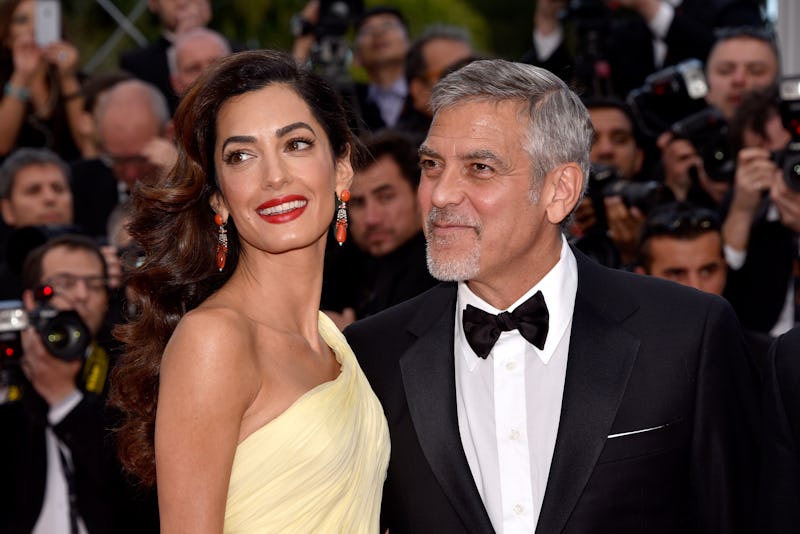 Clemens Bilan/Getty Images Entertainment/Getty Images
Epic romances don't only exist in movies and on television. Just wait until you hear about the moment George Clooney knew Amal Clooney was the one he wanted to marry. All it took was an African safari, a simple smile from Amal, and her looking at giraffes for George to realize he actually wanted to get married again.
"If you know anything about my crazy life, you know that I'd pretty much committed to the idea of never marrying again," he told Vogue as part of the magazine's April profile on Amal. For those unaware, George was previously married to Talia Balsam from 1989 to 1993. "But I started dating Amal, and I immediately knew that something was very different," he said about his relationship with the international human rights lawyer.
What really sealed the deal for him is when they went on safari with some friends. "Some giraffes walked up to her," he said about their visit to Africa. "They just came out of the blue. I took a picture of her, and she was smiling. I said to my buddy Ben, 'You know, I think I should ask her to marry me.' And Ben said, 'I think that's a good idea.'"
And that was it. From that moment on, the Oscar-winning actor knew he wanted to spend the rest of his life with Amal by his side. What makes his revelation all the more special is Amal loves giraffes. As noted by Vogue, the couple has a painting of a giraffe in their London home, Aberlash House. According to the outlet, "Amal adores giraffes." Learning the director wanted to propose to the 40-year-old barrister while she was accompanied by animals she cherishes makes the moment even more enchanting.
To give you a better idea of their whirlwind romance, their safari took place in March 2014. Reports surfaced of their engagement in April 2014 and they were married in September 2014. So, yeah, George acted fast.
Their entire romance sounds like something straight out of a rom-com. When they first started seeing each other, even Amal was nervous about dating the George Clooney. Seriously, what kind of date do you go on with the silver fox known for bringing roles to life like ER's Doug Ross? That's exactly what she thought before planning a date with him.
Her cousin, Tarek Miknas, met up with Amal sometime in 2013, where she gushed about her quick romance forming with George. "'I don't know what to make of it,'" Miknas told Vogue Amal said, before she added, "'The worst part is, I really like him. And he's coming tomorrow!'"
Like anyone who would probably panic about what to do with someone they really like, not to mention someone famous, Miknas said to Amal, "What are you going to do? It's not like you can meet in Starbucks and have a chat. It's not going to be that easy.'" To that, he said Amal replied, "I know."
Amal and George didn't go to Starbucks, but they did go to dinner at one of London's top restaurants, according to Vogue. However, Amal didn't realize it was a poor choice, because paparazzi showed up.
Dating in the public eye can't be easy, but according to Amal, their romance was effortless. "It felt like the most natural thing in the world," she said. George felt the same way, as he also told Vogue, "Of course she was beautiful. But I also thought she was fascinating, and I thought she was brilliant. Her life was incredibly exciting — the clients she was taking on and the superhuman work that she was doing. I was taken with her from the moment I saw her."
They've come a long way since Amal trying to plan a date with George. Based on Vogue's interview with the Clooneys, not only are they now parents to twins Alexander and Ella, but they are still as happy as ever five years later.