Matt Damon Already Knew About The Clooneys' Twins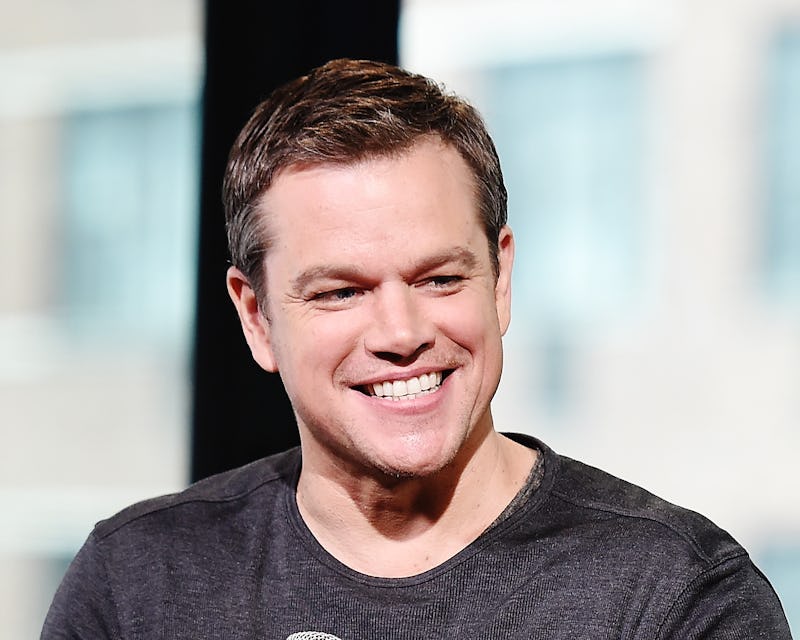 Nicholas Hunt/Getty Images Entertainment/Getty Images
On Thursday, it was announced that George and Amal Clooney are reportedly expecting twins. Nothing has been confirmed just yet, and Bustle has reached out to George's rep for comment, whereas Amal's could not be reached for immediate comment. Though, none of that really seems to matter, because here is all of the confirmation you need. George Clooney told Matt Damon about his twins a long time ago, Damon told Entertainment Tonight Canada Thursday.
"I was working with him last fall and he pulled me aside on set and I mean, I almost started crying," the actor said about his good friend soon becoming a dad. "I was so happy for him. And I was like, 'How far along is she?' And he goes, 'Eight weeks.'" The Martian star freaked out, and not just because he is over the moon for his dear friend, but because George didn't know the "rule" when it comes to revealing someone is pregnant.
"'Are you out of your mind?!" he said to George. "Don't tell anybody else! Don't tell anybody else! Don't you know the 12-week rule?'" Damon added, "Like of course he doesn't. I was like, 'Just shut up, man.' And then four weeks later, I'm like, 'We're good right?'"
Yeah, that's all the confirmation I need that George and Amal will soon be parents. If Damon is going around saying it's true, then that's a pretty solid sign. Why else would he be putting it out there for the world to discuss? I really doubt he'd be making such comments about someone he cares about, if there was no truth to it. That said, I wonder how George feels about Damon being so open about it all, because he and Amal seem to have been trying to keep it private.
Whatever the case, it sure is adorable to see Damon gushing over his good friend's wonderful news. It's seriously the sweetest thing. As he told ET Canada, "So yeah, I'm thrilled for him." He also praised Amal by adding, "She's amazing. He hit the jackpot. Just on every level. She is a remarkable woman."
As for how George and Amal will be at parenthood, the Jason Bourne star has no doubts they will be the best parents ever. "They're gonna be great," he said. "They're gonna be awesome parents. Those kids are lucky."
Be sure to notice how he said "kids," which is also further confirmation that they're having twins. Thank you, Matt Damon, for being so chatty and confirming your friend's wonderful news so he doesn't have to.