Kellyanne Conway's Husband Just Turned His "Resistance" Against Trump Into A Club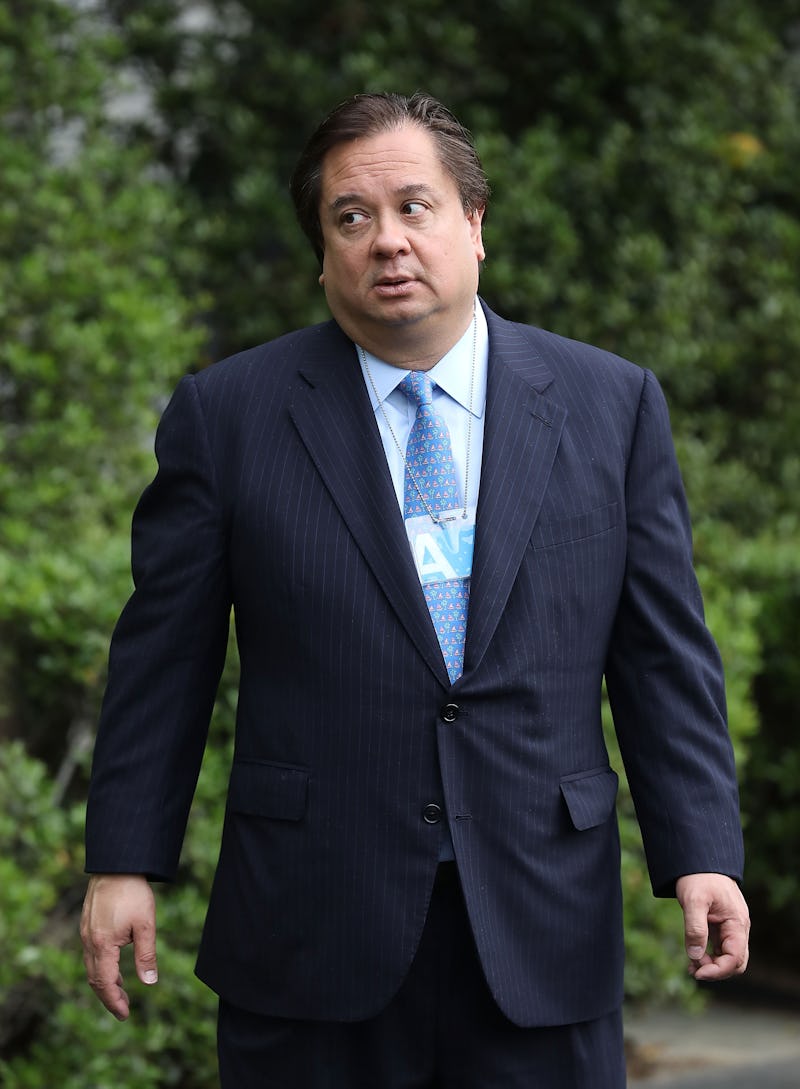 Chip Somodevilla/Getty Images News/Getty Images
Kellyanne Conway's husband has made headlines recently for occasionally speaking out against President Donald Trump. Now he's taking his opposition a step further: Just before the opening of this year's Federalist Society convention, George Conway has started a group for conservative lawyers that's meant to be a check on the president. They've given it the fitting name "Checks and Balances."
"We are a group of attorneys who would traditionally be considered conservative or libertarian," the group's mission statement reads. "We believe in the rule of law, the power of truth, the independence of the criminal justice system, the imperative of individual rights, and the necessity of public discourse. We believe these principles apply regardless of the party in power."
Speaking to The New York Times about their concerns with the Trump administration, members of the 14-person group brought up issues like the president's impulses toward lying, his attacks on the press, and his attempts to get the Department of Justice to investigate his political opponents. Professor Orin S. Kerr told the paper that Checks and Balances hopes to counteract the GOP trend of ignoring Trump's foibles to further conservative agendas. "There are a lot of people who are concerned who are keeping quiet," he said.
The group launched just before this year's Federalist Society convention, a major event in the conservative community that starts on Tuesday (it's also known as the "2018 National Lawyers Convention"). The society has been supportive of Trump's Supreme Court confirmations. In fact, it helped pick out the list of figures he nominated.
"There's a perception out there that conservative lawyers have essentially sold their souls for judges and regulatory reform," Conway told The Times. "We just want to be a voice speaking out, and to encourage others to speak out."
Checks and Balances is meant to be a completely separate entity from the Federalist Society, even if there's a lot of ideological overlap. But announcing the group's launch just before the convention will undoubtedly help it pick up steam. "You go fishing where the fish are," member Professor Jonathan H. Adler told The Times. "This convention has become the most important meeting place for conservative and libertarian lawyers with an interest in politics."
This is hardly the first time that Conway has spoken out against Trump recently. On Thursday, he published an op-ed in The New York Times arguing against Trump's appointment of Matthew Whitaker as the country's acting attorney general after firing Jeff Sessions. He declared that even people who are serving temporarily in government must be confirmed by Congress and that Whitaker doesn't have enough experience to warrant him taking over the position.
For her part, Kellyanne has tended to publicly brush off her husband's anti-Trump statements. "It doesn't affect me or my job," she told Fox News on Sunday. She also noted that she wants her own opinions and actions to stand alone from George's.
Conway doesn't seem to need his wife's support to move forward. Regardless of what she's doing, he's committed to trying to — as the mission statement reads — work to maintain the "resiliency of the American spirit."