George Conway Co-Wrote A Stinging Op-Ed About Trump's Pick To Replace Jeff Sessions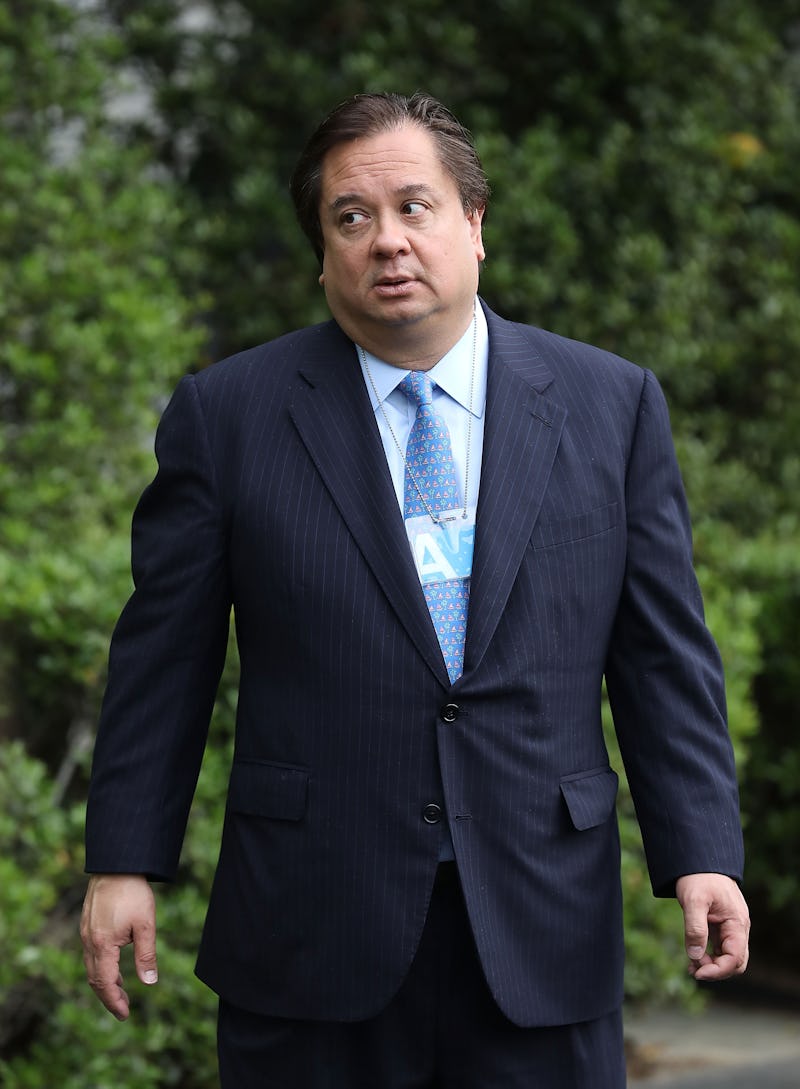 Chip Somodevilla/Getty Images News/Getty Images
In a Thursday op-ed in the New York Times, George Conway argued that Jeff Sessions' replacement at the Justice Department was appointed unconstitutionally, and as such, that any actions he takes in his position aren't legally binding. Unlike his wife Kellyanne, who serves as a senior presidential adviser, Conway is a staunch opponent of Donald Trump and has spoken against him publicly on many occasions.
"Mr. Trump's installation of Matthew Whitaker as acting attorney general of the United States after forcing the resignation of Jeff Sessions is unconstitutional," Conway, an attorney and former clerk for the Second Circuit Court of Appeals, writes with former acting solicitor general Neal K. Katyal. "It's illegal. And it means that anything Mr. Whitaker does, or tries to do, in that position is invalid."
Trump fired Sessions on Wednesday, the day after Republicans lost the House of Representatives in the midterms. The president soon announced that Whitaker, a largely unknown operative who was serving as Sessions' chief of staff, would become acting attorney general, effective immediately. This put Whitaker in charge of not only the entire Justice Department but of Robert Mueller's Russia investigation.
But Whitaker has made many public comments criticizing Mueller and the investigation itself; as such, his appointment raised serious concerns that he would move to defund or end the investigation entirely.
But Conway and Katyal argue that Whitaker's appointment itself was invalid. Their reasoning hinges on Article II, Section 2, Clause 2 of the U.S. Constitution, also known as the Appointments Clause. That section lays out the guidelines for presidential appointments, and it requires that all "officers of the United States" be appointed by the president and confirmed by the Senate before assuming duty. On the other hand, it also says that, under certain conditions, the president may appoint "inferior officers" without Senate confirmation.
The question then becomes, what's the difference between an "officer of the United States" — or "principal officer," as Conway refers to the term for clarity's sake — and an "inferior officer"? According to Conway and Katyal, a principle officer reports directly to the president, while an inferior officer reports to an intermediary. Under this interpretation, Whitaker would have required Senate confirmation in order for his appointment to be valid.
"It is one thing to appoint an acting underling, like an acting solicitor general," they write. "But those officials are always supervised by higher-ups; in the case of the solicitor general, by the attorney general and deputy attorney general, both confirmed by the Senate."
Whitaker, by contrast, has "been vested with the law enforcement authority of the entire United States government, including the power to supervise Senate-confirmed officials like the deputy attorney general, the solicitor general and all United States attorneys." More to the point, the Senate didn't confirm him to his job as Sessions' chief of staff.
To back up this interpretation, Conway and Katyal cite a landmark Supreme Court ruling that Justice Clarence Thomas wrote in 2017. While adjudicating a case regarding Barack Obama's recess appointments, Thomas wrote that the Constitution's framers "recognized the serious risk for abuse and corruption posed by permitting one person to fill every office in the Government," and as such, "empowered the Senate to confirm principal officers" to their positions.
Thomas was applying this principle to a position far, far less powerful than that of acting attorney general (specifically, he was talking about the general counsel for the National Labor Relations Board). As a result, Conway and Katyal argue, it most certainly applies to the position to which Whitaker has been appointed.
"We cannot tolerate such an evasion of the Constitution's very explicit, textually precise design," they write. "Senate confirmation exists for a simple, and good, reason. Constitutionally, Matthew Whitaker is a nobody."