Attention 'GoT' Fans: George R.R. Martin's New Series Now Has A Seriously Creepy Trailer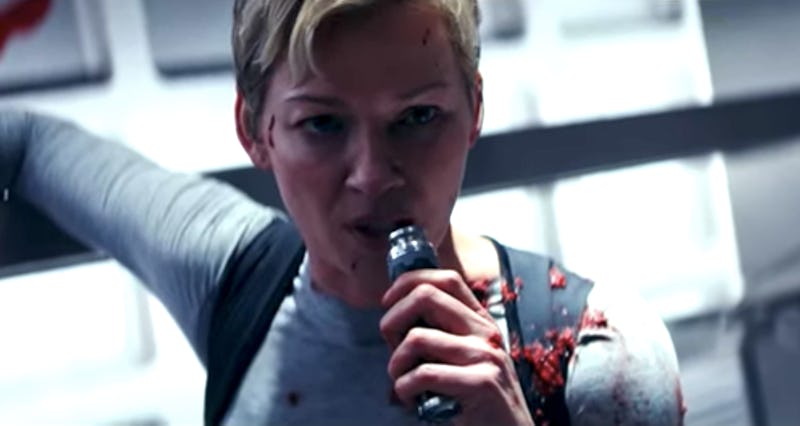 SYFY/YouTube
To all the Game of Thrones buffs out there hankering for a new fix, buckle up. The first trailer for George R.R. Martin's Nightflyers just dropped, and, from the looks of it, viewers are in for a pretty bumpy ride. In this case, the "ride" in question is a literal one, on a dimly-lit futuristic spaceship called — you guessed it — The Nightflyer. Adapted from Game of Thrones creator George R.R. Martin's 1980 novella of the same name, the upcoming Syfy series is set to make its 10-episode debut sometime this fall. But first you should see if you can even sit through the trailer.
Syfy released the inaugural Nightflyers teaser video Tuesday, March 20 — trailing the news of (former) showrunner Daniel Cerone's premature departure from the show by just a couple of hours. The sinister trailer hardly runs for more than a minute, but still it's made pretty clear that Nightflyers is not a series for the faint of heart.
"It's Psycho in space," Martin tells the camera during his mid-trailer appearance. "I can't wait to actually see it come alive on the screen." As hardened Game of Thrones enthusiasts know all too well, when it comes to the mastermind cinematic workings of Martin, blood and guts just seem like par for the course. (For the record, while the author does make a cameo in the first-look trailer, he won't be creatively involved in the series. As The Verge reported, that's because Martin already has an exclusive contract with HBO.)
If Syfy's new teaser-trailer is any indication, it looks like Nightflyers will be following the blood and guts path. By the video's four second mark, the tone is already well-established: "This is a warning, not a distress call," a shaky female voice says, opening the video clip. "Do not board this ship. Do not bring The Nightflyer back to Earth."
The trailer, for what its worth, is equal parts ominous and enlightening. Interspersed with several behind-the-scenes shots (one of which reveals that the Nightflyers set is, appropriately, "acres of spaceship") of the series' cast and crew (including some tidbits of commentary by Martin himself), the video essentially serves to inundate its viewers with as much knuckle-whitening imagery as possible: a shadowy figure standing over the body of a fallen scientist, a smoldering pair of eyes glaring formidably toward the camera, and a whole lot of blood.
During his mid-trailer appearance, Martin describes Nightflyers as "a haunted house story on a spaceship." And, as becomes clear during the course of Nightflyers' uber-creepy trailer, that sounds about right. Starring Eoin Macken, Sam Strike, Maya Eshet, and Angus Sampon, the series will chronicle the horrifying intergalactic toils of eight scientists aboard the titular space ship. The scientists are probing for extraterrestrials, but find themselves just a little bit in over their heads when a string of unexplained (and terrifying) events begin to unfold.
If a Martin-inspired project isn't already enough of a draw for Game of Thrones enthusiasts, Syfy seems to be pulling out all the stops for this particular series, too. According to The Hollywood Reporter, Nightflyers will be the network's most expensive series to date. That certainly doesn't mean it's going to be a knockout, especially considering the loss of the showrunner. According to THR's report, Daniel Cerone, cited "creative differences" as his rationale for departing early. The series' EP, Jeff Buhler, will step in to fill the position, and his vision for the series may take it to some wildly different places. Fans will just have to wait and see if those places are better.
But, despite the inevitable jump scares (and, judging by the trailer, probably a hearty dose of gore), Nightflyers is probably worth a watch — particularly for those Game of Thrones fans who love a good sci-fi infused horror story.