George W. Bush Allegedly Called Trump's Inauguration "Weird"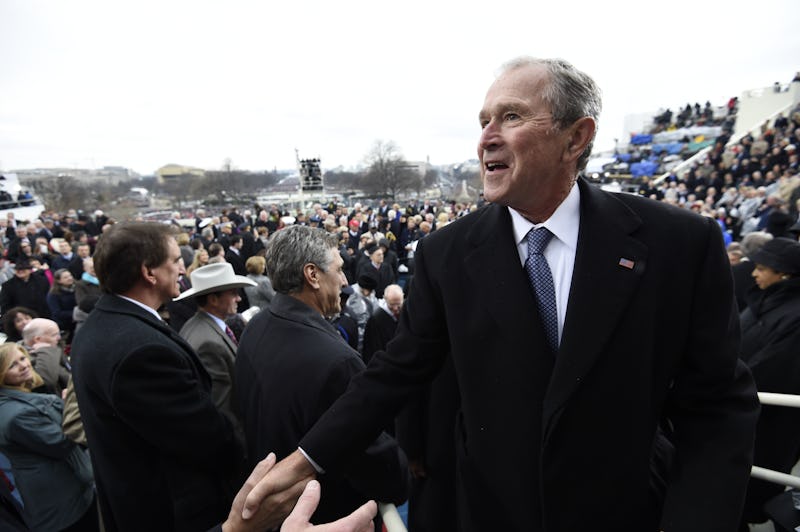 Pool/Getty Images News/Getty Images
When his rain poncho wouldn't cooperate, former President George W. Bush unforgettably stole the show at January's inauguration of President Trump. The 43rd president has remained mostly silent about the first Republican president to follow him in the White House, but rumor has it that the rain poncho wasn't the only part of Inauguration Day that may not have jived with Bush. According to a report from New York, President Bush allegedly called Trump's inauguration "weird."
New York's Daily Intelligencer reported Wednesday that three sources allegedly heard the former president say "That was some weird shit" upon leaving the inauguration. The story does not name its sources, and a spokesperson for the president reportedly declined to comment. Bustle also reached out to Bush's office for comment, but none was provided at the time of publication.
For his part, President Bush hasn't said much about President Trump, but what he has said doesn't indicate overwhelming support. During an appearance on Ellen DeGeneres' daytime talk show, Bush was careful with his words, saying, "My whole view is I don't think it serves the nation, or the office of president, to have a former president criticize his successors." Is it too far of a stretch to interpret that as, "If you don't have anything nice to say, don't say anything at all?" America might never know if that's what he really meant.
Bush was similarly tight-lipped in an interview with TODAY's Matt Lauer, but he did seem skeptical of Trump's treatment of the media. "It's kind of hard to tell others to have an independent free press when we're not willing to have one ourselves," Bush said.
When it comes to Trump and the inauguration, though, Bush is still probably best known for that rain poncho. The Internet couldn't get enough of Bush's valiant efforts to use a plastic poncho when rain began to dampen Trump's big day. The resulting facial expressions were a bright spot amidst the clouds — and the controversy of Trump's inauguration.
Ultimately, Bush's attitude toward Trump may be irrelevant for the Republican party. As Bush said himself during the Ellen segment, he's out of politics. Instead, he's now promoting his new book, Portraits of Courage. The book features portraits of American veterans, each painted by the former president.
It seems to me like Bush attended the inauguration less as a nod to the president and more as a nod to the ceremonious American tradition, saying in a statement that he and his wife were "pleased to be able to witness the peaceful transfer of power." For the record, though, if Bush did find Trump's ceremony "weird," he probably wasn't alone.