George W. Bush & Michelle Obama Shared Another Candy Pass Moment At His Dad's Funeral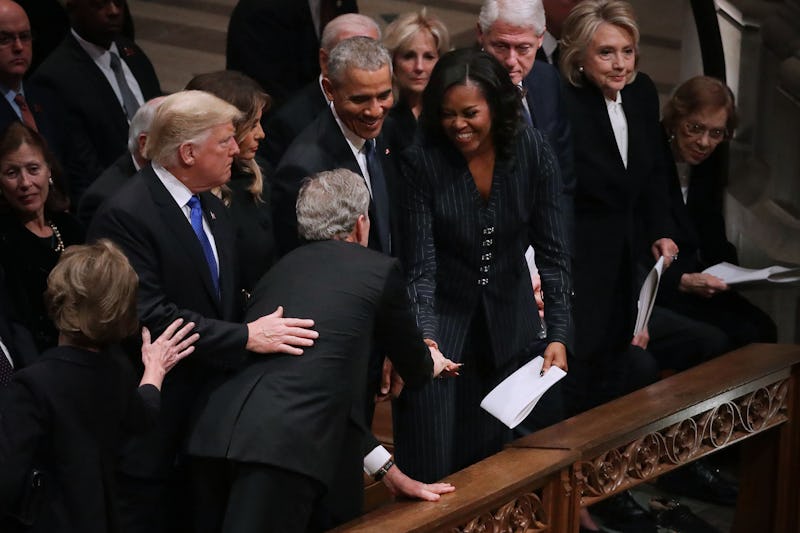 Chip Somodevilla/Getty Images News/Getty Images
There was a moment of levity at the funeral service for George H. W. Bush on Wednesday. Video of the service showed George W. Bush greeting Michelle Obama at his father's funeral, and some people on Twitter mused that Bush Jr. perhaps slipped Obama a cough drop or candy — a scene similar to their exchange at Arizona Republican Sen. John McCain's funeral in September.
Sitting together in the same row at the funeral service were Barack Obama, Jimmy and Rosalynn Carter, Bill and Hillary Clinton, and Donald and Melania Trump. Other high-ranking politicians were also seen attending the former president's funeral at the National Cathedral in an overcast Washington, D.C.
In his eulogy for his father, Bush Jr. said, "He showed me what it means to be a president who serves with integrity, leads with courage and acts with love in his heart for the citizens of our country. When the history books are written, they will say that George H. W. Bush was a great president of the United States."
Toward the end of his eulogy, Bush Jr. teared up while recounting his dad's qualities. "Your decency, sincerity, and kind soul will stay with us forever," he said about Bush Sr. "So through our tears, let us know the blessings of knowing and loving you, a great and noble man. The best father a son or daughter could have."
Bush Sr. passed away on Friday night after battling with illnesses. On Nov. 30, spokesman Jim McGrath released a statement on behalf of the departed's family members. Through McGrath, Bush stated, "Jeb, Neil, Marvin, Doro, and I are saddened to announce that after 94 remarkable years, our dear Dad has died. George H.W. Bush was a man of the highest character and the best dad a son or daughter could ask for."
"The entire Bush family is deeply grateful for 41's life and love, for the compassion of those who have cared and prayed for Dad, and for the condolences of our friends and fellow citizens," the statement concluded.
After Wednesday's funeral service, another service will take place at the St. Martin's Episcopal Church in Houston, Texas, on Thursday. Bush Sr. will then be buried at the George H.W. Bush Presidential Library in College Station. There were live updates on the funeral from CNN's extensive coverage.
While the possible handoff involving candy (or a cough drop) may have just been seen as a sweet incident, others took some serious meaning from it. Political scientist and writer Ian Bremmer mused on Twitter, "Candy is the secret to bipartisanship."
Obama herself has talked about the previous moment she shared with Bush Jr. in September. On Today in October, Obama said that people were "hungry" for camaraderie and unity in the political landscape. She added that because of seating protocol, she's always next to Bush Jr. Because of that, she said Bush Jr. "is my partner in crime at every major thing where all the formers gather."