Georgia's Governor Signed A Law To Ban Abortion Before Most Women Know They're Pregnant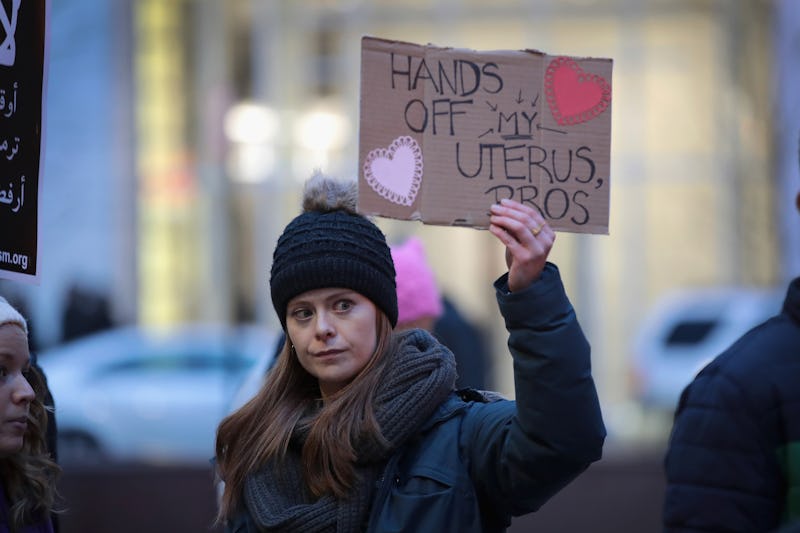 Scott Olson/Getty Images News/Getty Images
For the fourth time this year, a state has passed legislation that would prohibit abortions as early as six weeks into a pregnancy, when most women don't know they're pregnant. On Tuesday, Georgia's governor signed legislation outlawing abortion at six weeks, which is also known as the so-called "heartbeat" ban, Axios reports. The law will impact women beyond Georgia's borders and "ripple" across much of the South — and even the whole country — abortion rights advocates say.
The law, which will go into effect beginning January 2020, according to Axios, prohibits abortions as soon as fetal cardiac activity is detected. Critics take issue with the "heartbeat" term because at that stage of development, the fetus does not have a fully formed heart, the Huffington Post reports. Also, many pregnancies at that stage are not viable, doctors told the outlet, as there remains a high risk of miscarriage.
The bill "will effectively make abortion inaccessible to all Georgians," Quita Tinsley, deputy director of Access Reproductive Care-Southeast, the only organization that helps fund abortions for low-income women in the state, tells Bustle. But Georgians won't be the only people affected, she says.
"The reality is that so many people from across the South have to come to Georgia because their states have worse anti-abortion laws than George did in the past," Tinsley adds. Most people in the South already need to drive an hour or across state lines, she says.
Now, women will be "forced to continue pregnancies that they may not want to continue" or they'll be forced to travel far from home to receive an abortion, Tinsley says. That could particularly harm low-income women and families, people of color, and rural communities, who already are forced to spend more money than just what the procedure costs, she says, on transportation or accommodation.
Given the current dynamic of justices on the Supreme Court following the confirmation of Justice Brett Kavanaugh, there's also the possibility the bill could influence abortion law nationwide. CNN reports that such legislation worries abortion rights advocates, who see such bills as the first step in an effort to have the Supreme Court revisit Roe v. Wade. Only 10 states have protections that would ensure abortion remains legal if Roe, the ruling that legalized abortion nationwide in 1973, were to fall, according to the Guttmacher Institute.
The ACLU called the bill "part of an orchestrated national agenda to push abortion care out of reach" and promised to fight it in court. "In a state with a devastatingly high maternal mortality rate, particularly for Black women, politicians should be focused on improving health care access for all women, not banning abortion before most women know they're pregnant," Talcott Camp, deputy director of the ACLU Reproductive Freedom Project, said in a statement provided to Bustle.
The other three states where similar legislation was passed this year have all had the bans challenged in courts. Mississippi's governor signed its version of the bill in March, according to CNN, and the Center for Reproductive Rights promised a legal challenge. Ohio's version of the bill was passed in April, according to The Guardian, and the ACLU promised to challenge the bill.
Kentucky passed its version of the bill in March, but it was blocked by a federal judge the same day, The New York Times reported. Also this year, an Iowa judge found that the similar bill — passed there in 2018 — was unconstitutional because "a woman's right to decide whether to terminate a pregnancy is a fundamental right under the Iowa Constitution," The Des Moines Register reported.
The Georgia bill, if it's not blocked by courts before January, will not stop Access Reproductive Care-Southeast from helping women access care, Tinsley tells Bustle. "We're going to keep doing the work to make sure people get to where they need to get," Tinsley says. That includes raising money to help people travel to get an abortion.
"If that means that people need to leave the South and leave their home — which is devastating — to access care that is the work that we'll have to do," she says.
But, even in the face of bad news politically, there is still plenty that you can do to support abortion access, Tinsley says, including donating to an abortion fund in your state — or starting one if there isn't one yet.