Georgia's First Park Named For A Latinx Woman Includes An All-Abilities Playground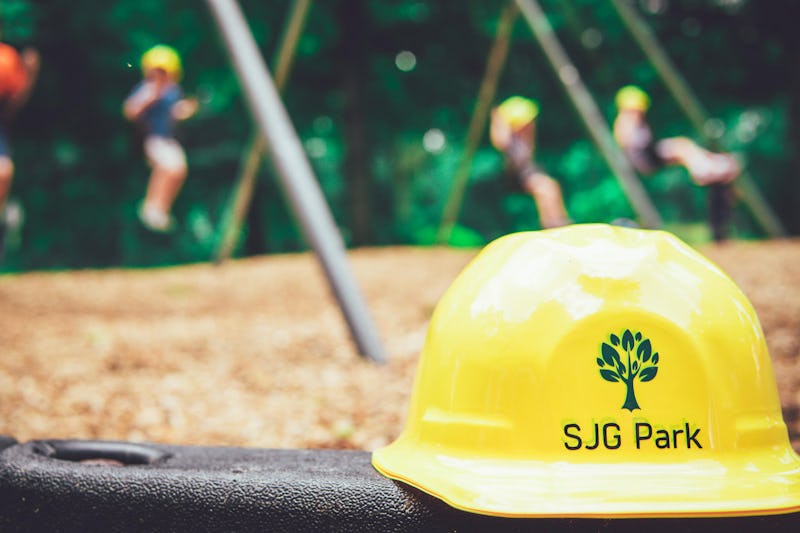 Isabel González Whitaker
Isabel González Whitaker's moment of clarity came at her mother's funeral. It was "packed" with minorities, she said, who were mostly Latinx — strangers who hugged her and fervently described her mother as an "angel" who'd guided them as a "North Star" when they immigrated to the United States.
"I was like, 'Wow, this is so intense,'" González Whitaker tells Bustle.
Sara J. González migrated to the United States as a Cuban refugee in the '60s and became a momentous activist for Georgia's immigrants and Latinx community, for whom she acted as a liaison to powerful interests. She developed incubators for Latinx entrepreneurs at the Atlanta Hispanic Chamber of Commerce and helped launch 11,000 minority-owned businesses over her lifetime, González Whitaker tells Bustle. It was at her mother's funeral that she realized she had to honor that legacy.
It is the ultimate testament to what makes parks so beautiful, which to me is that they don't discriminate.
So, in 2009, González Whitaker renamed a park across the street from her mother's former restaurant the "Sara J. González Park," making it the first Latinx-dedicated park in Georgia. It reopened last month after major renovations and now features the sole all-abilities playground in the area. It's also the only park in Atlanta with signs in Spanish.
González Whitaker says that diverse representation was rare when she was growing up. To her, renaming the park was an opportunity to change that for the younger generation. "People weren't going to necessarily know who Sara González was, but if I got 'González' — with the accent in the right place — on a park sign, then some people who lived especially in that neighborhood would know, 'Hey, that's a park named after somebody like me!'" González Whitaker says.
But her goals soon expanded beyond titular representation. She realized the park could achieve an even bigger social impact.
You Might Not Know How Much You Need Parks
The importance of public gathering spaces like parks and libraries is generally accepted but rarely prioritized. In his recent book Palaces for the People, Eric Klinenberg argues they literally save lives by encouraging the growth of community and systems of mutual support. Klinenberg found that areas with robust social infrastructure tend to be safer and healthier.
A 2010 study in Health Affairs found that kids are fives times as likely to be a healthy weight if they live within half a mile from a playground or park. Meanwhile, a 2006 study in Public Health found that people who lacked spaces for social participation and to "escape" from the home — including "green spaces" — typically had lower mental health scores.
However, only about one in five citizens has a park within half a mile from their home, according to the U.S. Department of Health & Human Services. A 2016 study from Salud America! found that 81 percent of Latinx kids live in a neighborhood that lacks "physical activity sites" like parks, while the numbers were much better — 38 percent — for white kids.
Sara J. González Park
In 2012, González Whitaker began transforming the park with the help of the neighborhood, which she describes as "one of the last in-town Hispanic legacy communities." She and other residents co-created its values — "Inclusion, Diversity, Family, and Community" — which are commemorated on stone inscriptions in its plaza.
Those principles were used to devise the park's facilities. A nearby English for Speakers of Other Languages (ESOL) teacher named José told González Whitaker he brings a folding table to tutor and just "be there" for students after school. "I was like, 'OK, José, that's awesome and you are an angel,'" she says, "'but let's figure out something better than a folding table and folding chair on a dirt lawn.'"
So she developed Georgia's first urban park "learning nook," which is still a couple of months from completion in her mom's park but will consist of a large, shaded pergola with a round bench for up to 20 students and a big table with electrical outlets for plugging in laptops. González Whitaker hopes to develop programming for the spot, including classes on financial literacy and civics and citizenship. "Now the ESOL students can come and gather there, be safe, be sheltered, be focused," she says.
The park also contains a children's soccer field and playground. Kids with disabilities often have insufficient access to recreational facilities; per NPR, a major 1991 study in the American Journal of Occupational Therapy suggested these children often suffered from "play deprivation" to the extent that it could be considered a second disability.
The playground at Sara J. González Park is all-abilities, which means (among other things) that every structure lies at the ground level. It's "located centrally" in the park, González Whitaker says, to fulfill the "design idea of 'we are here in the middle, not on the margins.'"
The Impact
González Whitaker tells Bustle that the playground has been hosting a diverse group of kids who speak a variety of languages. "It is the ultimate testament to what makes parks so beautiful, which to me is that they don't discriminate," she says. "You can be any age to enjoy a park. You can be any ethnicity to enjoy a park. You can be from any socioeconomic background to enjoy a park. Everybody is welcome."
To that end, she's already hosted inclusive events there. Even before the renovated equipment opened, she organized an interfaith sunrise vigil with 10 religious leaders there to offer prayers to those affected by the family separation crisis at the border.
González Whitaker says the neighborhood around the park has traditionally consisted of lower-income Latinx residents, but the population has gotten more diverse lately because of rising housing prices in central Atlanta. She hopes the park will bring "connectivity" between these legacy and more recent communities so that they "see each other."
"My dream," she says, "is that [the park] surfaces humanity and empathy for each other."