Georgia Is Having Problems Voting & Twitter Knows Exactly Who It Wants To Blame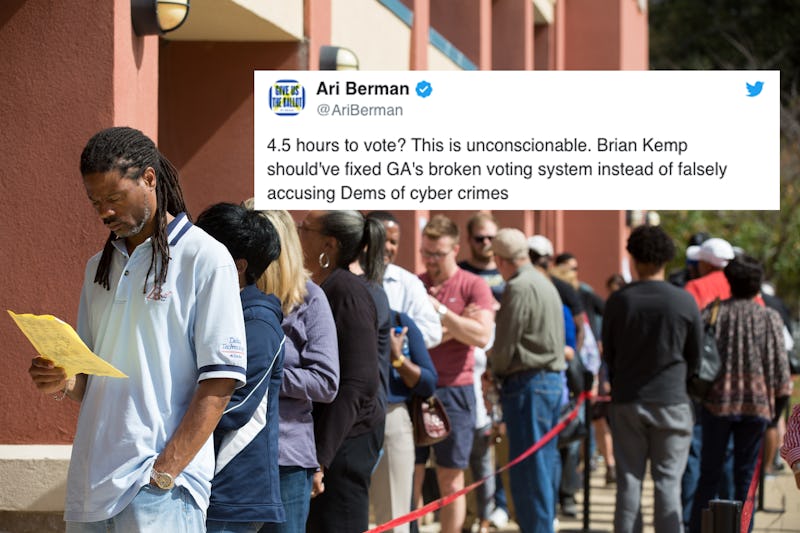 Jessica McGowan/Getty Images News/Getty Images
Voter suppression has been a major topic of discussion coming into the 2018 midterms, especially in Georgia's gubernatorial race. Now that it's finally Election Day, the conversation hasn't stopped — primarily because Georgia's facing major voting problems all over the state. And Twitter knows exactly who it plans to blame: Georgia Secretary of State and Republican candidate for governor Brian Kemp.
The conversation surrounding voter suppression in Georgia so far mainly focused on the issues thousands of voters in Georgia ran into trying to register, as Reuters explained. As Georgia Secretary of State, Kemp oversees elections and was behind the "exact match" ID law, according to NPR, which could have prevented 3,000 people from voting if there were even slight discrepancies on their official IDs until a judge ruled that it had to be made less strict.
On Tuesday, registered voters were running into even more obstacles in the form of very long lines and badly functioning — or even non-functional — voting machines. And to many people on Twitter, this is just a continuation of Kemp's alleged efforts. Kemp, who is being sued for allegedly holding back 53,000 mostly black voter registrations, has denied allegations of voter suppression and added that even in the case of a recount, he would not recuse himself from overseeing it.
In Gwinnett County, the county's director of communications told NBC News that voting machines had stopped functioning because they were running on battery, and there weren't enough power cords.
Voters who ran into this issue would be allowed to vote using paper ballots, the Gwinnett County Director of Communications Joe Sorenson told The New York Times. While this solution does allow everyone to cast their votes, it's not the fastest — and voters are having to wait in excessively long lines. In fact, according to voting rights advocacy group Common Cause executive director for Georgia Sara Henderson, the average voting time in Georgia's capital of Atlanta was three hours.
"It's like waiting on line at Six Flags," a waiting voter told Atlanta Journal-Constitution reporter Amanda Coyne.
At another polling location, WSB-TV reporter Tom Regan showed a video of people waiting in an hours-long line to use one of the three polling machines available.
Along with the long waits, though, there are also other issues for Georgia voters. In one perhaps unexpected turn, polling places are running out of ballots and lacking working to deal with the amount of voters showing up. "Election offices did not expect this sort of turnout," Henderson said on a press call.
To many of the people watching, though, Kemp is the uniting factor behind all of these problems.
"4.5 hours to vote? This is unconscionable. Brian Kemp should've fixed GA's broken voting system instead of falsely accusing Dems of cyber crimes," said Ari Berman, author of Give Us the Ballot: The Modern Struggle for Voting Rights in America on Twitter on Tuesday.
Princeton history professor Kevin Krause gave Georgia voters a light to look for at the end of the tunnel, however. "Hey Georgia!" Krause wrote on Tuesday. "As you wait to vote in needlessly long lines that are due to either dumb incompetence or deliberate suppression, remember that at the *end* of that line, you'll get to vote against the man responsible for your wait: @BrianKempGA."
Bustle has reached out to Kemp's office for comment.