Here's What Georgina Chapman Has To Say About Ex-Husband Harvey Weinstein Today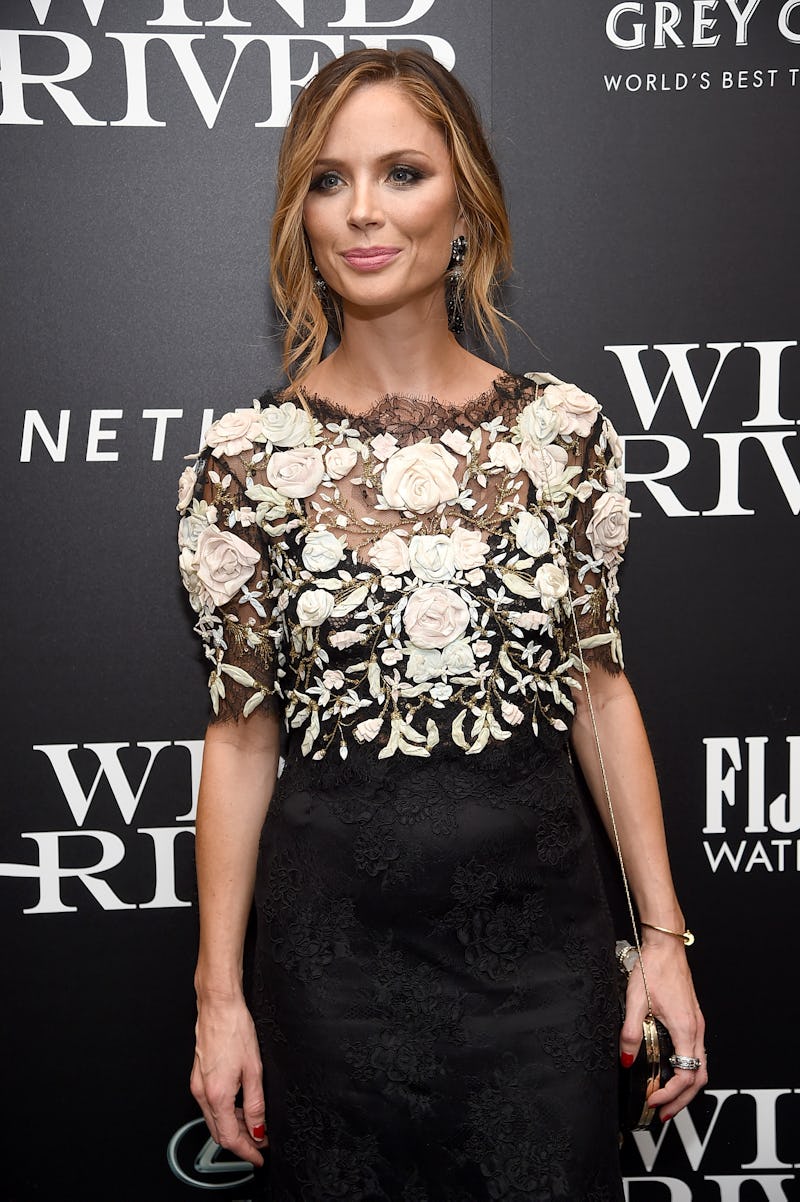 Dimitrios Kambouris/Getty Images Entertainment/Getty Images
It's been some time since the New York Times' exposé on Harvey Weinstein was published in October 2017. Now, Georgina Chapman, Harvey Weinstein's ex-wife, has opened up about the situation in an interview with Vogue. In her interview, the Marchesa designer got super honest about the entire matter.
Chapman's interview with Vogue, which was given a couple of months previously to being published on May 10, is the first time that she's spoken out about the Weinstein situation since she released a statement about it in October. At the time, her statement, in which she revealed that she was leaving the producer, didn't go in-depth. Her latest interview definitely touches upon all of the major issues she's been experiencing following the revelations about her ex-husband's alleged actions. (Weinstein has denied any allegations of non-consensual sex; full statement below.)
The designer told Vogue reporter Jonathan Van Meter that she didn't feel comfortable leaving her own house following the allegations and that she was "so broken" when she first heard them. When the NYT's report on Weinstein was released, followed by another New Yorker piece, Chapman had a strong and immediate reaction to the information. She said, "I lost ten pounds in five days. I couldn't keep food down." For the sake of herself and her two children, India and Dash, she left Weinstein following the reports. She expressed that one of her main worries has to do with her kids and how they'll fare following the scandal. She said,
"I have moments of rage, I have moments of confusion, I have moments of disbelief! And I have moments when I just cry for my children. What are their lives going to be?"
In the piece, the Marchesa designer said, "I don't want to be viewed as a victim," and continued, "because I don't think I am. I am a woman in a sh*t situation, but it's not unique." Instead of considering herself a victim in the situation, throughout the Vogue piece, and in her previous statement to People, Chapman expressed sympathy and respect for Weinstein's accusers. "All the women who have been hurt deserve dignity and respect, so I want to give it the time it deserves. It's a time for mourning, really," she explained, when asked why Marchesa cancelled their January runway show for their Fall 2018 collection. Chapman also said, "Absolutely not. Never," when Van Meter questioned whether she was ever felt suspicious of Weinstein.
In addition to commenting on Weinstein, Chapman discussed her childhood in Richmond, London, her Marchesa brand, and all of her various fashion influences, including Alexander McQueen and John Galliano. The Vogue piece also contained various accounts from her friends. Actor David Oyelowo, author Neil Gaiman, and her Marchesa partner Keren Craig all described their relationship to Chapman and their own thoughts on how she's handled the Weinstein situation.
This enlightening new interview comes after Chapman's ex-husband was accused of sexual harassment by many women in the entertainment industry, including Ashley Judd and Rose McGowan in the NYT piece. Weinstein was also accused of sexual harassment and assault by actors such as Mira Sorvino and Asia Argento in a piece from the The New Yorker. When the NYT piece was published, Weinstein's attorney Charles Harder released a statement to The Hollywood Reporter in which he related that they are planning to sue to publication for "false and defamatory statements about Harvey Weinstein."
A spokesperson for Weinstein also released a statement to The New Yorker, which denied the allegations. It read,
Any allegations of non-consensual sex are unequivocally denied by Mr. Weinstein. Mr. Weinstein has further confirmed that there were never any acts of retaliation against any women for refusing his advances. Mr. Weinstein obviously can't speak to anonymous allegations, but with respect to any women who have made allegations on the record, Mr. Weinstein believes that all of these relationships were consensual. Mr. Weinstein has begun counseling, has listened to the community and is pursuing a better path. Mr. Weinstein is hoping that, if he makes enough progress, he will be given a second chance.
In Chapman's original statement about the allegations released to People, she said that she was leaving her husband (their divorce would be settled in January 2018, per Page Six) and related, "My heart breaks for all the women who have suffered tremendous pain because of these unforgivable actions."
Her People comments directly align with the sentiment she expressed Vogue interview. Chapman was not only able to express an immense level of respect for Weinstein accusers in this latest interview, but she was also incredibly open and honest about how the whole experience affected her, as well.
If you or someone you know has been sexually assaulted, call the National Sexual Assault Telephone Hotline at 800-656-HOPE (4673) or visit online.rainn.org.