Geraldo Rivera Said "News Is A Flirty Business" In Defense Of Matt Lauer
by Priscilla Totiyapungprasert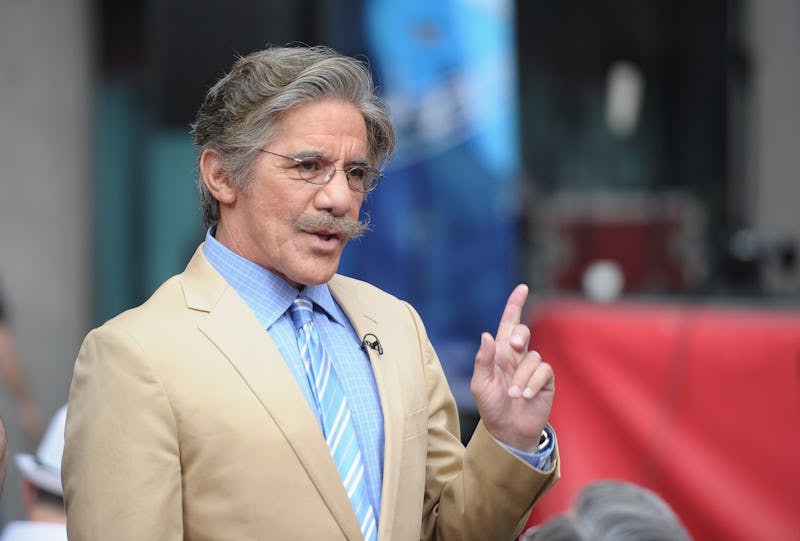 Michael Loccisano/Getty Images Entertainment/Getty Images
In response to NBC firing Today show host Matt Lauer, who faces multiple sexual harassment accusations against him, one fellow TV personality came out to protect Lauer's honor — if only briefly. In a tweet on Wednesday, talk show host Geraldo Rivera praised and defended Lauer's character while describing news as "a flirty business." He has since apologized. Bustle has reached out to Lauer for comment on the allegations.
Rivera, 74, described the ongoing wave of sexual harassment allegations as an epidemic that may be "criminalizing courtship." In light of the allegations, Lauer's questionable on-air moments with women have resurfaced, including a clip of Lauer telling co-host Katie Couric to "keep bending over like that. It's a nice view." Neither Lauer nor a representative from his team has issued a public response to the allegations.
Continuing his thoughts on the broader topic of sexual misconduct, Rivera went on to say that sexual harassment "should be confined to situation where superior imposes himself on subordinate," not a way for people to "get even" with bad bosses or hated exes. As a solution, he suggested alleged victims should make their sexual harassment claims in a timely fashion, say within five years, and allegations should require corroboration from witness and written communication. He also suggested the chance that multi-million dollar settlements, not only justice, motivates victims. Capping off his thoughts, he described the sexual harassment topic as a contentious issue that leaves "no room for any thought or opinion but hang em high." Reiterating the "flirty" nature of the news business, Rivera argued that many newsroom courtships have led to happy marriages. Some people were not happy with his excuses.
Fox News, where Rivera regularly appears as a panelist on current events program The Five, quickly distanced itself from Rivera's opinions. In a statement to Entertainment Weekly, the network said it was "troubled" by Rivera's comments and would address the topic with the talk show host.
The network sent Bustle a statement that read, "Geraldo's tweets do not reflect the views of FOX News or its management. We were troubled by his comments and are addressing them with him."
The swift, online condemnation also prompted Rivera to issue an apology six hours after his first comments. Rivera said he didn't sufficiently explain the "horrendous problem" of sexual harassment. He added that "harassers are deviants who deserve what is coming to them."
His full apology on Twitter reads,
Reaction to my tweets today on #sexharassment makes clear I didn't sufficiently explain that this is a horrendous problem
long hidden-Harassers are deviants who deserve what is coming to them-Often victims are too frightened to come forward in a timely fashion-I humbly apologize
As America confronts the sexual harassment epidemic, some public figures have made statements that appear to side more with the accused or even blame the alleged victim. Once such comments are made, it isn't easy to take them back. And Rivera's tweets about Lauer, along with his expressed views on the outpouring of allegations over the past several weeks, are no exception. That's especially true when you compare Rivera's reaction to that of Lauer's own coworkers at NBC.
On Wednesday morning, Today show co-anchor Savannah Guthrie made an appropriate statement without disrespecting either the accused or the accusers. And she had reportedly learned of his dismissal from NBC just hours prior.
For the moment, all we can say is that we are heartbroken. I'm heartbroken for Matt. He is my dear, dear friend and my partner and he is loved by many, many people here. And I'm heartbroken for the brave colleague who came forward to tell her story, and any other women who have their own stories to tell. And we are grappling with a dilemma that so many people have faced these past few weeks. How do you reconcile your love for someone with the revelation that they have behaved badly. And I don't know the answer to that.
Apology or not, Twitter isn't about to forget Rivera's comments. News, many would argue, doesn't have to be a "flirty business."