This Supermarket Removed Every Foreign-Made Product To Make A Point About Racism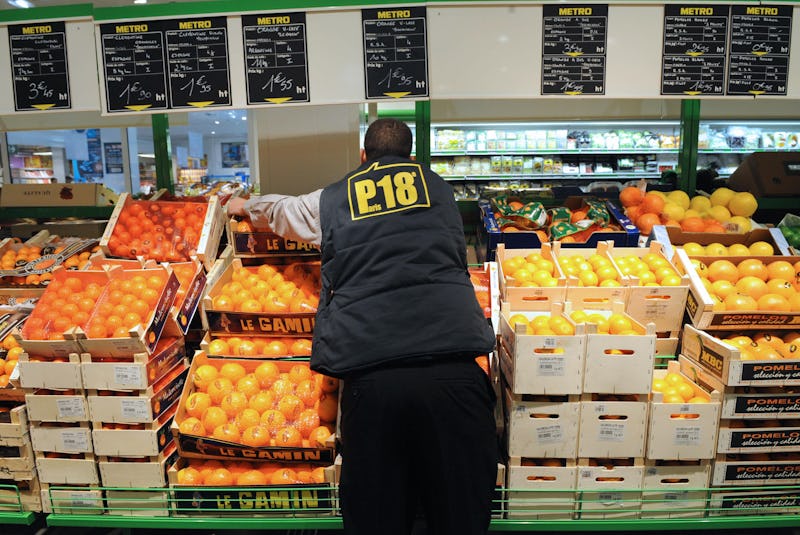 BORIS HORVAT/AFP/Getty Images
The largest supermarket chain in Germany may soon launch a campaign to take a stand against racism and xenophobia. The chain, Edeka, removed foreign-made products from the shelves to send an important message to its Hamburg customers. Edeka's Hamburg store then chose a busy Saturday to replace these products with signs combating xenophobia.
"This shelf is pretty boring without diversity," one sign read. Other signs included the following messages: "Our range now knows borders," "This is how empty a shelf is without foreigners," and "we will be poorer without diversity." According to The Independent, the purpose of the campaign was to show customers just how dependent they were on foreign goods. Edeka is expected to launch a broader campaign against xenophobia in the near future.
Sven Schmidt photographed this move by Edeka, and gave photos of the cleared aisles to The Independent. Schmidt praised the campaign on Twitter, but also indicated that it drew some racist comments out of the social media woodwork.
"Looking at all the mentions of hate and lack of understanding of other people I got, I'm happy that I posted it and showed my two cents against the racists, even though I know it was mainly about diversity," Schmidt told The Independent.
The stunt in Hamburg meant that there wasn't much cheese left in the store, the Evening Standard reported. There were also no Spanish tomatoes, Greek olives, or any other products from outside Germany.
An Edeka spokesman told the Evening Standard that pulling all of these items from the shelves was intended to make customers appreciate how diversity plays a role in their daily lives:
Edeka stands for diversity, and we produce a wide range of food in our assortment, which is produced in the different regions of Germany. But it is together with products from other countries that we create the unique diversity that our customers value. We are delighted to have received a lot of positive feedback regarding Saturday's action.
According to The Telegraph, one shopper at Edeka's Hamburg store posted a video to Instagram to show just how dramatic the action was. The video made it clear that the shelves were extremely bare with only German products.
The debate around immigration has taken center stage in the country's national discourse, especially now that the German federal elections are approaching. German Chancellor Angela Merkel has distanced herself from previous decisions to pursue an open-door policy on migrants and refugees, but Julia Klöckner — who belongs to Merkel's Christian Democratic Union party — praised Edeka for the "wise move."