Germany Says Trump Is Seriously Endangering Peace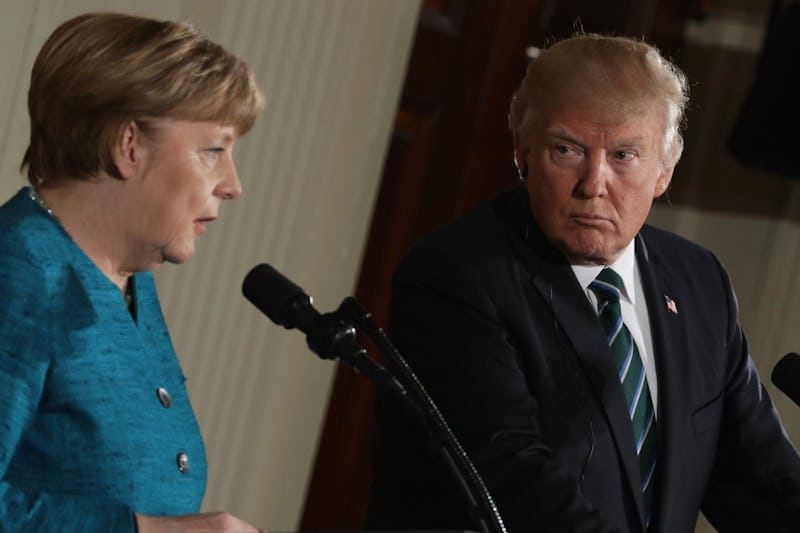 Chip Somodevilla/Getty Images News/Getty Images
In what may signal a deepening rift in the United States' relationship with Germany, a German official has accused Trump of endangering peace in Europe. In remarks delivered Monday on the sidelines of a Berlin roundtable discussion regarding refugees, German Foreign Minister Sigmar Gabriel sharply criticized many of President Trump's policies and claimed his actions were "putting peace in Europe at risk."
"Anyone who accelerates climate change by weakening environmental protection, who sells more weapons in conflict zones and who does not want to politically resolve religious conflicts is putting peace in Europe at risk," CNN reported Gabriel said. "The short-sighted policies of the American government stand against the interests of the European Union."
Gabriel went on to claim the West had become "weaker," if not "smaller" under the policies of the Trump administration. "The Trump administration wants to terminate climate agreements, wants to enforce military action in crisis regions, and won't allow people from certain religious circles to enter the U.S.," he said. "If the Europeans are not resolutely opposing this right now, the migration flow to Europe will continue to grow. Those who do not oppose this U.S. policy are guilty."
Gabriel's comments came less than a day after German Chancellor Angela Merkel claimed Europe could not fully rely on their traditional allies, such as the United States or the United Kingdom. "The times in which we could rely fully on others — they are somewhat over," the New York Times reported Merkel said Sunday at a campaign event in Bavaria. "This is what I experienced in the last few days ... I can only say that we Europeans must really take our fate into our own hands."
Merkel said that while Germany would "of course" remain "in friendship with the United States and in friendship with Great Britain and as good neighbors wherever it is possible" with other countries, Germans "have to know that we have to fight for our own future and destiny as Europeans."
German leaders began distancing themselves from Trump following meetings between several world leaders at both the NATO summit in Brussels and the G-7 gathering in Italy last week. In Brussels, Trump did not endorse the collective defense principle enshrined in Article 5 of the NATO charter. At the G-7 talks, he refused to recommit to the Paris climate agreement crafted in 2015 under former President Barack Obama. Trump's behavior in Europe has reportedly made some foreign leaders fearful the United States is, at least under the Trump administration, a less than reliable ally. In a tweet published Sunday, Trump hailed his trip to Europe as "a great success for America."