Getting To Your Polling Place On Election Day 2018 Just Got Much Easier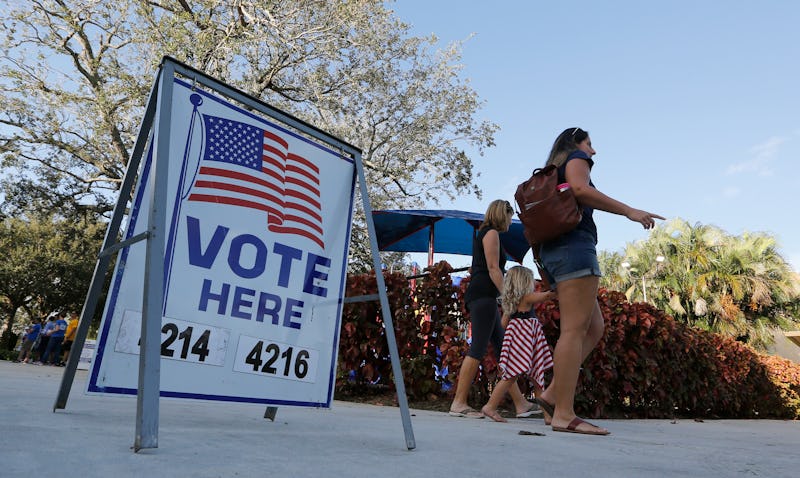 Joe Skipper/Getty Images News/Getty Images
With the highly anticipated midterm elections approaching, ride share apps are doing their part to make sure registered voters get to the polls. Both Uber and Lyft will be offering free or discounted ride promo codes through partnered voter advocacy groups to help in getting you to your polling place on election day 2018.
Lyft was first to announce the initiative with a company statement in late August, noting that "over 15 million people were registered but didn't vote in 2016 because of transportation issues."
It's partnered with Vote.org, Nonprofit Vote, TurboVote, and others to distribute promo codes providing 50 percent off rides on Election Day, Tuesday, Nov. 6. Lyft will also have a search feature within the app to help voters find their polling place.
For underserved communities, Lyft is offering rides completely free, thanks to groups like Voto Latino, local Urban League affiliates, and the National Federation of the Blind. Lyft did not specify how it defines "underserved communities," other than noting their "significant obstacles to transportation."
Uber also announced its own initiative Thursday, stating that rides to the polls will be free for everyone on Election Day. Voters just have to get promo codes from their partnered organizations: #VoteTogether and Democracy Works. The app will also include a similar search feature for voters to find their polling location.
Both ride share apps are doing more than just providing transportation, though. Through partnerships with When We All Vote — a democracy-dedicated nonprofit that works with celebrities like Michelle Obama, Tom Hanks, Lin-Manuel Miranda, and others — the companies are providing additional information on how and when to register to vote as well.
Lyft, which also partnered with National Voter Registration Day, said it'll be sending push notifications to users reminding them of voter registration deadlines. It's also providing in-office voter registration in its offices around the country to make it easier for all Lyft employees to get signed up.
Uber began sharing registration resources with riders through the app, and plans to email information about how to register to vote to all its drivers and delivery partners. It'll also be hosting voter registration drives at 125 U.S. Greenlight Hubs (Uber's full-time staff locations) around the country.
Ride share apps aren't the only ones getting in on the civic action, either. According to Quartz, Facebook and Snapchat both worked with TurboVote to register users to vote. Google celebrated National Voter Registration Day with a Google Doodle (one of their redesigned one-day logos) on Sept. 25, linking to voter registration information. National Voter Registration Day, promoted around the country, brought in a record-breaking 800,000 new voters.
The hype around voting rights and responsibilities has been especially high this election season, as the government remains deeply divided along party lines — especially when it comes to Supreme Court nominee Brett Kavanaugh, who has been publicly accused of sexual misconduct by three women. Kavanaugh denies the claims.
Republicans currently hold the majority in both the House and the Senate, but Democrats have been campaigning for a "blue wave." According to The Hill, Democrats need 23 seats to gain a majority in the House, but the Senate is a much closer race: Republicans only hold a majority by two seats.