These Models Walked The Runway Covered In Glitter & It's Mesmerizing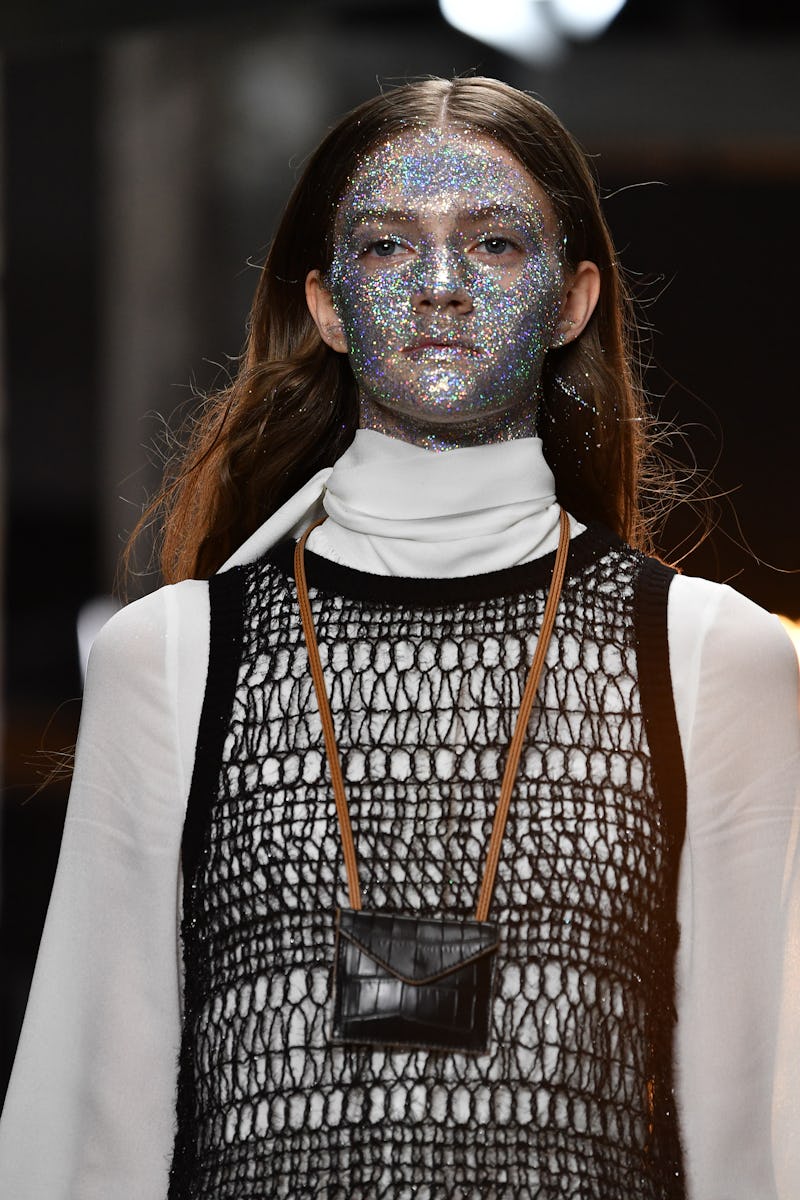 Pascal Le Segretain/Getty Images Entertainment/Getty Images
The glitter makeup trend is still very much alive and kicking, with sparkles permeating just about every corner of our makeup drawers. From glitter-bombed shimmer shadows, to silver-flecked highlighters, to sparkly liquid lipsticks and lip toppers, there is not one part of your face that's safe from the sparkly stuff. But now, fashion week just took the statement look and brought it to a whole new, more extreme level. The models on Giambattista Valli's Fall 2018 runway had glitter masks on, with their whole faces painted with mesmerizing sparkles.
It was avant garde, creative, slightly sci-fi and galactic — and open to so many tongue-in-cheek comparisons. Did the models fall face-down into a glitter pie, like slap-stick comics were wont to do in the '40s? Or did a glitter bomb go off backstage and all the models were blasted in the face? Or perhaps they forgot to peel off one of those trendy glitter mud masks that have been flying off of Sephora's shelves? There are just so many possibilities and explanations.
But jokes aside, you have to admit it was a fascinating and more than mesmerizing sartorial move. Giambattista Valli debuted the look during Paris Fashion Week with the help of makeup artist Val Garland, who has worked everything from Alexander McQueen shows to Lady Gaga album covers.
But before we jump into the logistics of the glitter masks themselves, let's focus a little more on Garland since her creative-as-hell background has made her the perfect fit to create these galactic-like looks. When designers want to do something out of the box and memorable, she's the industry insider that they call. For example, during Preen's 2017 London Fashion Week show, Garland adhered collages of real flowers onto models' faces, making them look like woodland fairies.
For Gareth Pugh's Fall 2017 show, she turned the catwalk into a living nightmare by accenting the all-black, leather-heavy collection with bulging black bug eyes.
And let's not forget forget Vivienne Westwood's Fall 2016 show, where some models were brushed with metallic face paint, turning them into walking works of art that had a slight Phantom of the Opera look going.
Garland knows how to bring a touch of fun to the runway, which is why these intense glitter faces come as no surprise to those who know her Fashion Week track record.
The reason that Valli decided to use glitter didn't really tie into the direct aesthetic of the collection, per se. The runway was filled with pioneer-meets-Victorian-meets-world traveler in the '70s kind of a theme, where the designer deftly mixed 19th-century ruffles with "wealthy pioneer wife" floral prints. But the collection didn't feel stuffy or dated — instead, you also picked up worldly accents, like Mongolian flip-flops and Moroccan djellaba shirts. It was a beautiful hodge-podge, and the shockingly random glitter faces only added to the melting pot story walking down the runway.
When asked about the inspiration behind the makeup move, Garland elaborated to Vogue UK, "I guess you could say the inspiration is that she's a nomadic traveller, very carefree, who doesn't care about make-up but has impeccable skin. And then sometimes she goes a little crazy and decides to jump on a horse and goes to a nightclub, and throws glitter all over her face."
Some of the models had a more sparse sprinkling across their faces, like this model with the intricately embroidered dress with peephole neckline. Her holographic glitter isn't as intensely packed, which would be perfect for you more conservative makeup wearers. But for those who aren't afraid to make a statement, you can slap on the shine much more liberally, like the model did below.
Whether anyone is brave enough to wear something similar outside, or this is just one of those runway looks you appreciate from afar, one thing is for certain: glitter is sticking around.