The Creator Of The LGBTQ Rainbow Flag Has Died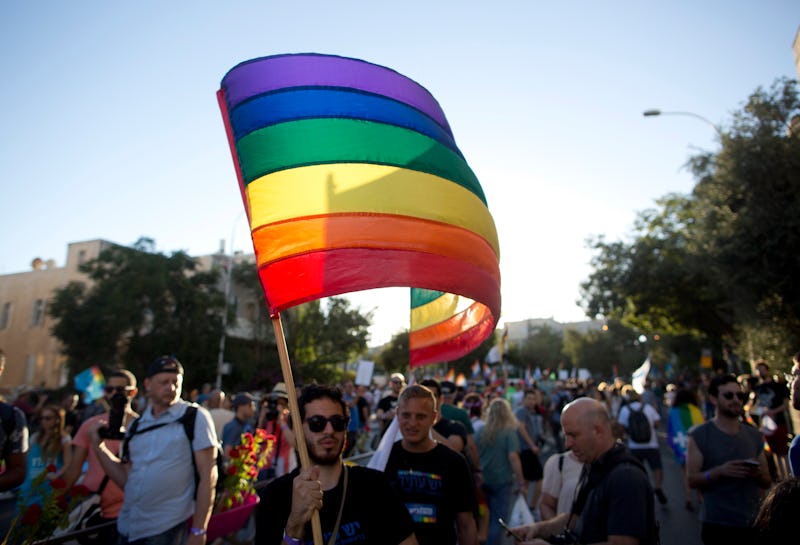 Lior Mizrahi/Getty Images News/Getty Images
According to one of his close friends, Gilbert Baker, creator of the LGBTQ rainbow flag, has died. Cleve Jones posted the news on Twitter Friday, announcing that his "dearest friend in the world is gone." According to the Bay Area Reporter, he passed away Friday in New York, at the age of 65. The cause of Baker's death is unknown.
"Gilbert Baker gave the world the Rainbow Flag," Jones wrote. "He gave me forty years of love and friendship."
A Kansas native, Baker moved to San Francisco in 1972 after a two-year stint in the U.S. Army. It was there that he became friends with Harvey Milk, the pioneering LGBTQ activist who would soon become the first openly gay politician to win elected office in the United States. Baker had taken up sewing after moving to San Francsico, and in 1978, Milk commissioned him to create a symbol for the gay community to use as a public display of pride. Baker chose a rainbow flag.
"Flags are about power," Baker told ABC7 news decades later. "Flags say something. You put a rainbow flag on your windshield and you're saying something."
Milk, who was assassinated in 1978, rode under Baker's rainbow flag during its debut at San Francisco's gay pride parade that year, according to WBBM.
The flag eventually became a universal symbol of LGBTQ pride, and in 1997, on the anniversary of Milk's election to the San Francisco Board of Supervisors, the city raised the flag permanently over the Castro district, where it remains to this day.
While the flag itself consists of a simple rainbow design, Baker said that each of its colors stands for something distinct.
"Pink is for sex, red for life, orange for healing, yellow for sun," Baker told ABC7. "Green for nature, turquoise for magic, blue for serenity, and purple for the spirit. I like to think of those elements as in every person, everyone shares that."
After his success in designing the rainbow flag, Baker continued to work on political flags. In 1979, then-Mayor Dianne Feinstein commissioned Baker to create the flag for her first elected inaugural. Baker also designed flags for the 1984 Democratic National Convention, and one of his flags ultimately hung in the West Wing of the White House under President Bill Clinton.
After announcing the death of his friend, Jones encouraged San Francisco supporters to gather with him beneath the rainbow flag in the Castro on Friday evening at 7:00 p.m. local time to honor Baker.