This 'X-Files' News Is Disheartening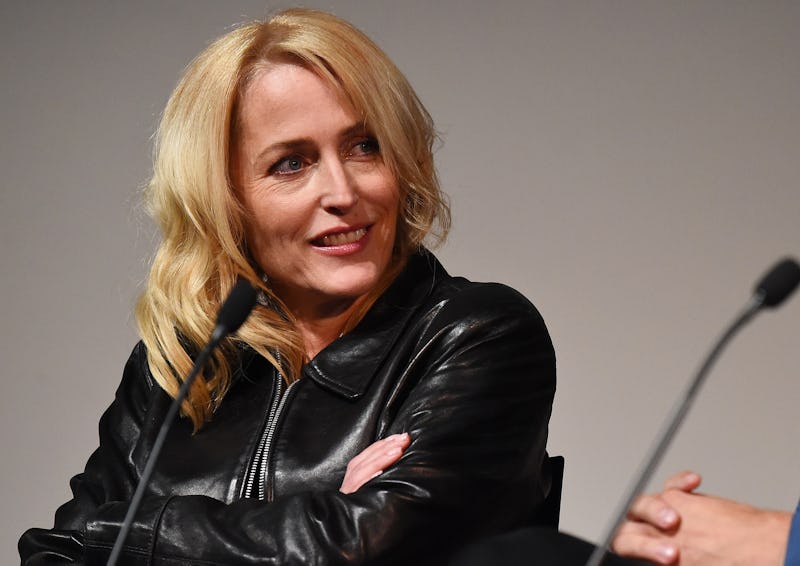 Eamonn M. McCormack/Getty Images Entertainment/Getty Images
The X-Files has long been a cult favorite among sci-fi fans, but it has a problematic history behind the scenes. Earlier this week, TVLine reported that the list of writers for The X Files' upcoming 11th season is comprised entirely of men, prompting star Gillian Anderson to call out the lack of women working on the show via Twitter on Thursday. Alongside a retweet from the Washington Post asking how such an imbalance still happens, Anderson wrote, "And 2 out of 207 eps directed by women. I too look forward to the day when the numbers are different. #TheFutureisFemale." (Bustle reached out to Fox, who declined to comment).
As BuzzFeed points out, this isn't a new issue: Across the series' 10-season, 209-episode-run, only nine women have written for the show. And, as Anderson notes, even fewer have directed: She and Michelle MacLaren are the only two women to have ever earned credits for helming an episode. Moreover, Anderson claimed to The Hollywood Reporter last year that when negotiating her income for The X-Files' revival, she was initially offered a salary half of co-star David Duchovny's pay, despite the fact that they both play leading characters. (Sources told THR that Anderson and Duchovny ultimately received equal pay.)
Needless to say, fans have plenty of thoughts about The X-Files' lack of women writers.
Some Were Speechless
That about sums it up.
Others Found It Hypocritical
The X-Files' strong female characters may have drawn in a solid female fan base, but the numbers suggest they don't uphold the same standards off-screen.
Transparent Creator Jill Soloway Chimed In With Some Sarcasm
Men know exactly how women think, right?
This Woman Called Out Another Fan's Ignorance
Why would women want to work on a hit TV show?
This Person Noted How Long It Took To Get A Woman In The Director's Chair
It wasn't until Season 7 — six years after The X-Files premiered.
And This Fan Dreamed Big
Might as well shoot for the stars.