Gina Haspel's Long CIA Career Has Probably Been Good For Her Bank Account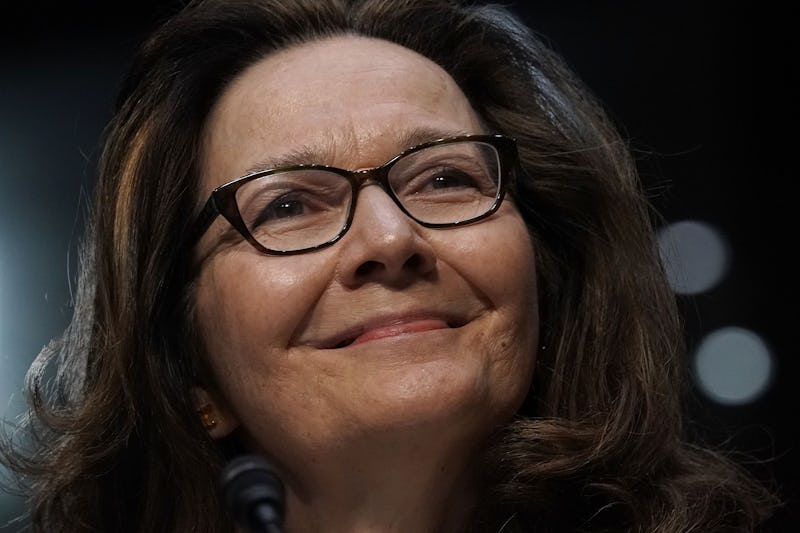 Alex Wong/Getty Images News/Getty Images
Well, it's official: Gina Haspel is the new director of the CIA. Which means you might have some questions about the newest head of the U.S. spy agency ― for example, what is Haspel's net worth? Precisely how much money did she rake in serving as deputy director of the CIA, and how much will she be making now that she's taken over the top job?
To be clear, Haspel's earnings throughout her career are far from the most notable or scrutinized thing about her. Rather, it's her oversight over so-called "enhanced interrogation" practices like waterboarding, widely considered torture by progressives and the broader international community.
Her role in the CIA's use of torture ― and her reported role in the destruction of videotaped evidence of said torture ― caused three Republican senators to refuse to support her confirmation, specifically Arizona Senators Jeff Flake and John McCain and Kentucky Senator Rand Paul. But enough Democrats broke ranks to support her that she was confirmed anyway.
As for her net worth, however, it's impossible to pin that down for a certainty, because her financial situation isn't a matter of public knowledge. But the salaries for her previous and current job in the CIA give a pretty good impression. Although tracking the careers of CIA officials can be tricky ― many of Haspel's jobs have been clandestine in nature ― she reportedly served as a CIA station chief in various locations throughout her career.
Considering that CIA agents reportedly earn more than of $72,000 per year on average, according to The Houston Chronicle, and Clandestine Service Officers more $52,000 per year, Haspel likely earned hundreds of thousands of dollars through her career, and that's before she rose to the upper echelons of the agency in 2017.
In the first year of the Trump administration, she was promoted to deputy director of the CIA, a role that's paid $172,100 per year, according to the Executive Schedule salary system. By comparison, the salary bump for becoming the actual CIA director is relatively small, up to $187,000. As such, it's clear that she'll pull in more than $300,000 in her first two years serving under Trump, although that's before taxes.
Basically, while it's impossible to say how much money Haspel's earned over the years, let alone her other assets, it seems safe to conclude that she's at least got hundreds of thousands of dollars to her name, and stands to make a good deal more as long as she's serving as the head of the CIA.
When she was first nominated, it was unclear whether Haspel would be able to cobble together the votes in the Senate to get confirmed, given her deeply controversial record. This was ultimately demonstrated by her losing the votes of three of the GOP's 51 senators, although it didn't end up costing her the job.
As it turned out, with McCain, Paul, and Flake refusing to support her, the Democrats could actually have prevented her from getting confirmed if they'd put up a unified opposition. But far from it, six Democrats ultimately supported her: Joe Manchin of West Virginia, Jeanne Shaheen of New Hampshire, Heidi Heitkamp of North Dakota, Joe Donnelly of Indiana, Mark Warner of Virginia, and Bill Nelson of Florida.
Having been confirmed on Thursday by a final vote of 54-45, Haspel is now the director of the CIA, rather than the acting director, which she became after former CIA Director Mike Pompeo was tapped to be the Trump administration's second secretary of state. She is the first woman to lead the agency as director in its 70-year history.