A Live-Action Carmen Sandiego Is Coming & Gina Rodriguez Is Involved In More Ways Than One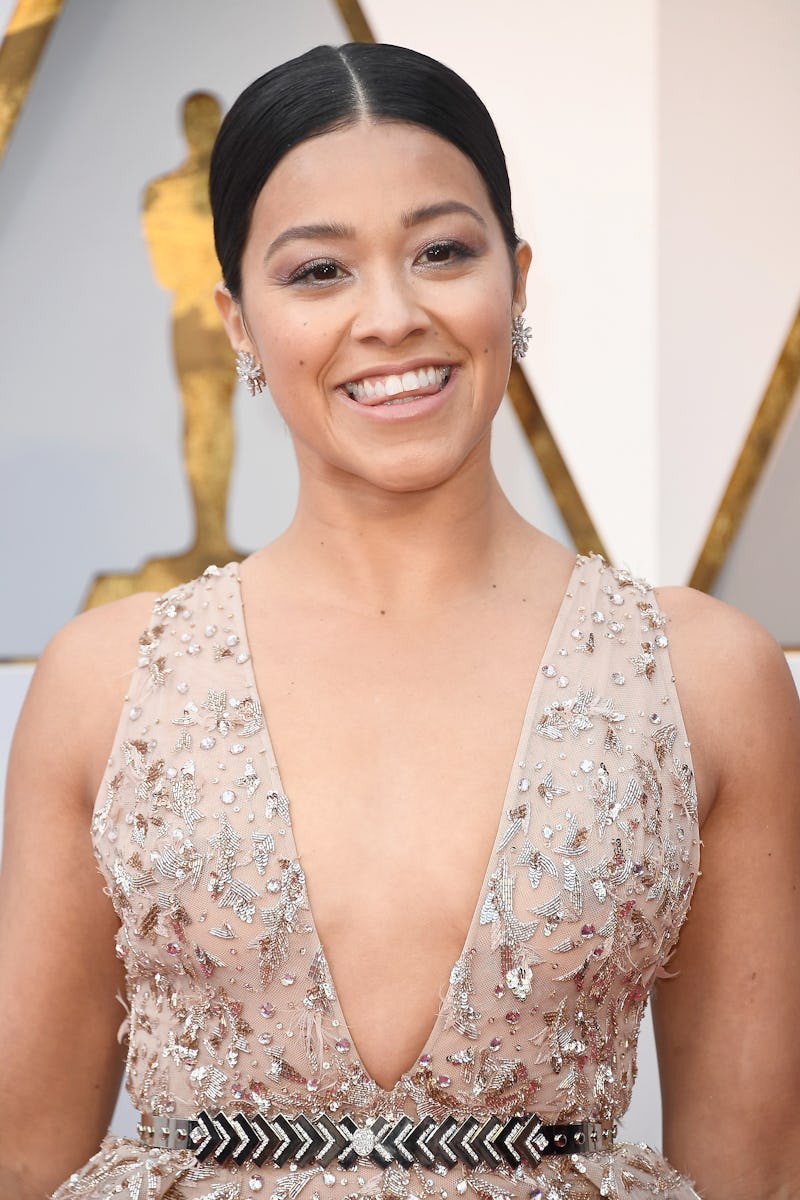 Frazer Harrison/Getty Images Entertainment/Getty Images
Where in the world is Gina Rodriguez? These days, it's at the helm of major film and television projects with her own production company. Rodriguez is starring in a live-action Carmen Sandiego for Netflix, which will bring new life to the classic character, she's also producing the film according to Deadline. This is the second Carmen Sandiego project ordered by the streaming service, which announced last year it would distribute an animated series with Rodriguez voicing the title character. Carmen Sandiego is a character who originated in a popular educational computer game from the 1980s, and was later adapted into PBS series. The cartoon is a new take on the story, and The Hollywood Reporter confirmed that 20-episode series is slated for 2019.
Carmen Sandiego is just one of the many projects being developed by Rodriguez's production company, I Can And I Will. Last year, Variety reported that I Can And I Will signed an overall multi-year deal with CBS Television Studios. The new animated Carmen Sandiego series is one of the projects the star will head through the company, and the live-action film will serve as a standalone adventure story with the character. This won't be Rodriguez's first starring role in feature film — she recently appeared in the fantasy-thriller Annihilation, as well as Sony's forthcoming remake of Miss Bala, which she recently discussed filming with Variety.
According to Deadline, the production company will put Rodriguez at the helm of the Carmen Sandiego remake, along with producers Kevin Misher and Caroline Fraser . Deadline also reported that the iconic character's brand is owned by Houghton Mifflin Harcourt, and Fraser is the head of the publisher's production company. She's signed on to work with Rodriguez on both the animated series and live-action feature. A new line of books from the publisher that feature Carmen will also debut in 2019 along with the new animated show, as per Deadline's report.
On Twitter last April, Rodriguez confirmed the animated series for fans. When one user tweeted at her "Is this true??? If so, YAAAS!", the star had a funny answer. She wrote: "I already have the fedora and coat. So it's definitely true." The tweet referenced Carmen's iconic red trench and hat, which Rodriguez will now likely appear in onscreen. On Monday, she retweeted reports about the Carmen Sandiego live-action film, but has yet to comment on the role.
Rodriguez rose to fame for her Golden Globe-winning performance as Jane in the hit series Jane the Virgin, and has become a major force in the entertainment industry. She is one of several prominent women in Hollywood in who have started their own production company in order to elevate marginalized voices. Reese Witherspoon's Type A Films is behind major projects like Wild, Gone Girl, and the HBO series Big Little Lies. Margot Robbie also founded a production company called LuckyChap in 2014, which produced I, Tonya. Robbie told Us Weekly in November 2017 that she hopes the company will help other women writers, directors, and actors.
Rodriguez is also using her production company to elevate underrepresented voices. She's committed to putting diverse stories on television, and she's been outspoken about this cause in the past. In January, she penned an op-ed for Variety calling for more Latino representation on screen.
"It's important we celebrate, employ and represent all Latinos from European to Afro-Latinos, because it is our responsibility as an industry to give this entire generation positive representation so that no one feels invisible," she wrote. "It truly takes a village to make a change and I'm hopeful that more studios, networks and filmmakers will continue to help make the increased presence of Latinos on screen not just a hope but a reality."
If anyone should bring Carmen Sandiego back to the screen, it's Rodriguez. The project is just the beginning of Rodriguez's production career, and she's one of the women with the potential to change the entire landscape of Hollywood.