Lifetime's Latest Movie Is Based On A Disturbing & True Kidnapping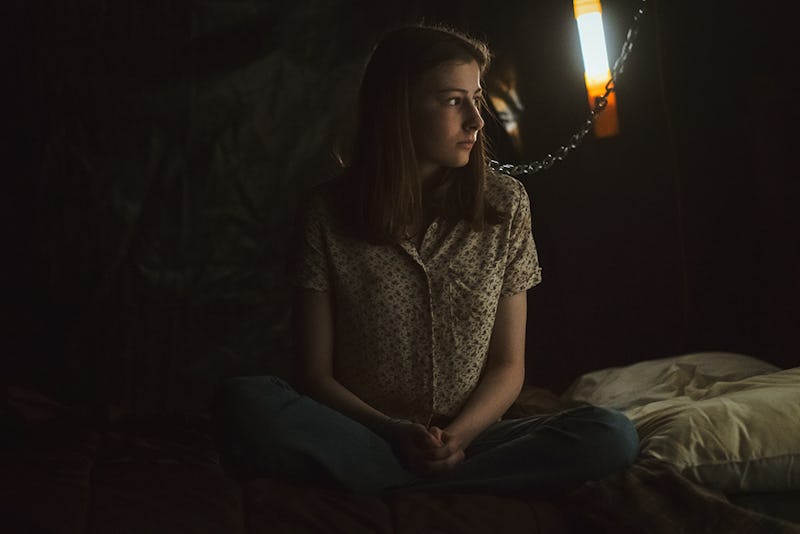 Lifetime
On Memorial Day, Lifetime debuts its latest TV movie, which is steeped in horrifying facts. Girl In The Bunker is based on a true story. And while the subject matter is heavy and harrowing, fortunately there's a triumphant ending to look forward to.
Warning: This article contains information about sexual abuse, which some may find triggering.
Girl In The Bunker dramatizes the ordeal of Elizabeth Shoaf, who, according to CNN, was abducted and held in an underground bunker for over a week when she was a teenager. The movie synopsis previews the network's take on her experience. Per the official site, Elizabeth (Julia Lalonde) is walking home from school when a man who claims to be a sheriff's deputy puts her in handcuffs and accuses her of marijuana possession. He turns out to be Vinson Filyaw (Henry Thomas), a sexual predator who takes Shoaf into the woods and imprisons her in a bunker. There is a massive search to find her, but Shoaf knows her only way out is to gain her abductor's trust and use it to escape.
Lifetime released an intense preview of the movie, which shows Shoaf's initial encounter with Filyaw, her assailant handcuffing her before forcing her into the bunker. She whispers The Lord's Prayer throughout most of the trailer while Vilyaw lays out his plan to lure the police into the area so he can kill them with explosives.
In real life, Shoaf was taken on Sept. 6, 2006, when she was only 14 years old. The Lugoff, South Carolina native told Today she was abducted by Filyaw while walking home from school and held captive for 10 days. According to Shoaf, she was stripped naked, chained, and raped repeatedly by Filyaw in the concealed, explosive-laden bunker. She said that she knew no one would be able to save her except herself, so she pretended she wanted to be there with him. "I guess if I wanted him to trust me I'd have to have him think I kind of wanted to be there and be more comfortable letting me do things I wanted to do," Shoaf said.
In the same interview, Shoaf said she eventually gained his trust and he allowed her to have access to his cell phone. She took advantage of a moment when he was sleeping and sent text messages to her mother and friends, which led to the Kershaw County police tracking the signal and sending helicopters to her location. The teen said Filyaw was angry when he saw the text to Shoaf's mother on the news, but she convinced him to flee the scene so she could make her exit. "I was yelling for somebody, anybody to come and get me," she said. "Finally, I heard somebody yell my name and they cam and took me to the hospital. I just started crying. I was so happy."
Filyaw may have left the scene, but he did not get away with his crimes. According to The State, Filyaw was arrested and pleaded guilty to a laundry list of charges — kidnapping, first and second degree sexual assault, impersonating a police officer, attempted armed robbery, and possession of explosives. He claimed that he was motivated to seek revenge against the Kershaw County Sheriff's Department. Per the same report, Filyaw was investigated for sexually assaulting another young girl and believed that the department did not treat him fairly. He was sentenced to 421 years in prison.
In conjunction with the movie, the real "girl in the bunker" will also share her story. Deadline reported that Shoaf, now 26, has collaborated with Lifetime on a documentary called Elizabeth Shoaf: The Girl In A Bunker, which will premiere right after the Girl In The Bunker movie. According to Lifetime, Shoaf will give a firsthand account of her kidnapping and talk about her life after her trauma. Her parents and police officials will also talk about the terror that gripped the town of Lugoff while Shoaf was missing.
Shoaf has understandably stayed out of the public eye in recent years, but Girl In The Bunker is bringing her story and survival back into the light.
If you or someone you know has been sexually assaulted, call the National Sexual Assault Telephone Hotline at 800-656-HOPE (4673) or visit online.rainn.org.