Gisele Bündchen's New Interview Shines An Honest Light On Her Battle With Anxiety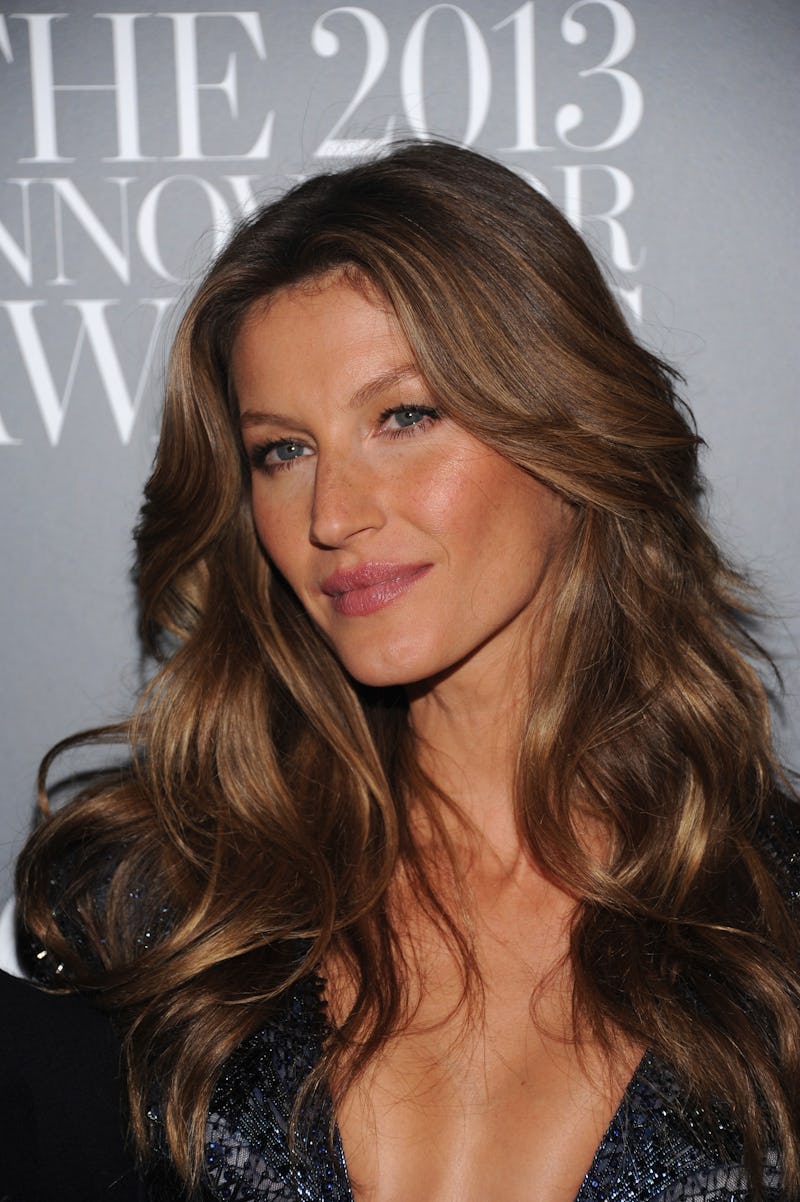 Dimitrios Kambouris/Getty Images Entertainment/Getty Images
In an interview with People published on Wednesday, Gisele Bündchen discussed her battle with anxiety and panic attacks. One might think the 38-year-old's life is picture-perfect. From having a successful career as a talented model, to finding a partner and husband in Tom Brady, to being a mother of two children, Bündchen has had many blessings in her life. However, the author of the new memoir, Lessons: My Path to a Meaningful Life, has dealt with many personal and mental struggles throughout her life.
Warning: This article contains information about suicide, which some may find triggering.
As Bündchen bravely told People about her book,
"Things can be looking perfect on the outside, but you have no idea what's really going on. I felt like maybe it was time to share some of my vulnerabilities, and it made me realize, everything I've lived through, I would never change, because I think I am who I am because of those experiences."
Like many people, Bündchen has dealt with anxiety that's led to horrific panic attacks. According to the Anxiety and Depression Association of America, "Anxiety disorders are the most common mental illness in the U.S., affecting 40 million adults in the United States age 18 and older, or 18.1 percent of the population every year."
For Bündchen, she experienced her first panic attack in 2003 after a turbulent flight on a small plane. From that moment, she found herself fearing tunnels, elevators, and other small spaces. It sounds like what was also really difficult for the author was accepting the fact that anxiety and panic attacks didn't make her any less of a person. Furthermore, it was difficult for Bündchen to realize that it's OK not to be happy or positive all of the time.
She explained to People,
"I had a wonderful position in my career, I was very close to my family, and I always considered myself a positive person, so I was really beating myself up. Like, 'Why should I be feeling this?' I felt like I wasn't allowed to feel bad. But I felt powerless. Your world becomes smaller and smaller, and you can't breathe, which is the worst feeling I've ever had."
Bündchen even admitted the thought of suicide crossed her mind, because it was the only solution she could see to make herself feel better. "I actually had the feeling of, 'If I just jump off my balcony, this is going to end, and I never have to worry about this feeling of my world closing in,'" she told the magazine.
Eventually, Bündchen sought help and cleansed any form of toxicity from her life, including cigarettes, wine, mocha Frappuccinos, and sugar. She also turned to yoga and meditation. A specialist even prescribed her Xanax, but potentially relying on medication made her panic even more.
"The thought of being dependent on something felt, in my mind, even worse, because I was like, 'What if I lose that [pill]? Then what? Am I going to die?'" she said. "The only thing I knew was, I needed help."
An excerpt from her memoir where Bündchen discussed her anxiety was also shared by Page Six on Sept. 26. You can read part of it here:
"It felt like everything in my life was going to kill me. First it was the airplanes, then elevators. Then it was tunnels and hotels and modeling studios and cars. Now it was my own apartment. Everything had become a cage, and I was the animal trapped inside, panting for air. I couldn't see a way out, and I couldn't stand another day of feeling this way."
She continued,
"The idea swept over me then: Maybe it will be easier if I just jump. It will be all over. I can get out of this. When I think back on that moment, and that 23-year-old girl, I want to cry. I want to tell her that everything will be all right, that she hasn't even begun to live her life. But in that moment, the only answer seemed to be to jump."
It's not easy dealing with these kinds of thoughts and feelings, let alone voicing them to the entire world. Bündchen coming forward shows that just because a person may appear happy or they're living a blessed life doesn't necessarily mean they aren't struggling. It's important to never judge someone from the outside, because you never know what they might be feeling on the inside.
If you or someone you know are experiencing suicidal thoughts, call 911, or call the National Suicide Prevention Hotline at 1-800-273-8255 or text HOME to the Crisis Text Line at 741741. For international resources, here is a good place to begin.