Gisele Used Tom Brady's Super Bowl Loss As A Life Lesson For Their Kids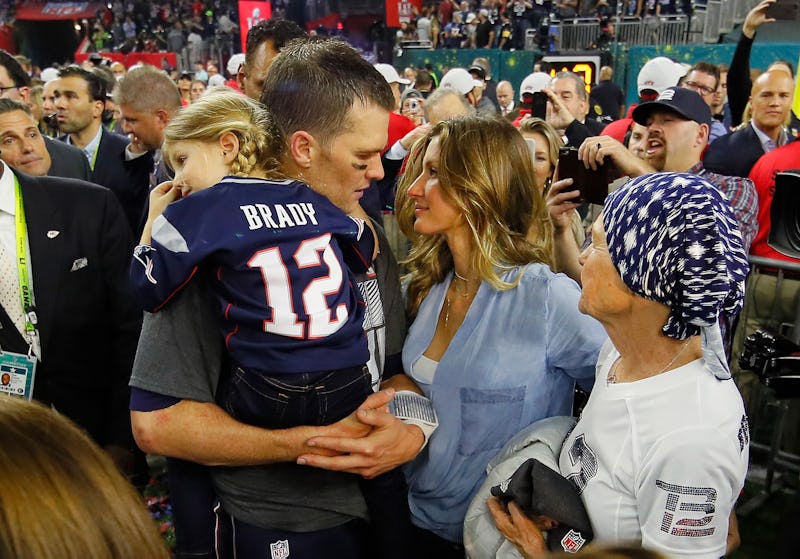 Kevin C. Cox/Getty Images Sport/Getty Images
Even though the New England Patriots didn't win Super Bowl LII, it doesn't mean there isn't a life lesson in them losing. Gisele Bündchen used Tom Brady's Super Bowl loss was a way to teach their kids that sometimes people lose — and that's OK. According to USA Today, the model had a meaningful conversation with her children with Brady, 5-year-old Vivian and 8-year-old Benjamin, and Brady's eldest son, 10-year-old John, from his previous relationship with Bridget Moynahan.
Apparently, Vivian and Benjamin were visibly upset after their dad didn't take home his sixth Super Bowl win, but Bündchen was there to console them and to deliver a life lesson they'll hopefully remember the rest of their lives. "They haven't won in a million years," the 37-year-old model told Vivian and Benjamin about the Philadelphia Eagles taking home their first Super Bowl title ever.
After Vivian said, "The Eagles won the Super Bowl," Bündchen told her daughter, "Just this time. Daddy won five times. They never won before." Then, she delivered an important piece of advice. She said, "Their whole life, they never won a Super Bowl. You have to let someone else win sometimes. Sometimes you have to let other people win." She also added, "We have to share. Sharing is caring."
Eagles fans would argue that the Patriots didn't "let" them win, but Bündchen was probably just simplifying for her kids. Clearly, she would've loved if Brady had another title to his name, but, like she told Vivian and Benjamin, you can't win them all. She also took to Instagram Monday, where she congratulated the Eagles — and of course praised her husband. Next to a photo of her and their two youngest hugging their star NFL quarterback, she wrote:
Congratulations Eagles for winning the Super bowl, what a game that was! Congratulations Patriots for giving your best and to my love, we are incredibly proud of you because we are able to see ever [sic] day all the commitment, sacrifice and hard work that you have devoted to become the best in what you do. We love you!
According to NFL.com, Brady responded to the major loss as follows: "They're all pretty disappointing. I mean, losing sucks. But you show up and you try to win and sometimes you lose and that's the way it goes." Apparently, he, too, gets what Bündchen told their children.
The Huffington Post reported that Brady reflected on the way the Eagles played and said, "Those guys had a good rush and got it there and made a good play. They made a good play at the right time." The publication also reported Brady said about not winning this time around, "No one is going to feel sorry for us."
As for if he'll return to the game that he loves so much, Brady told reporters after the game (via Bleacher Report), "I expect to be back, but we'll see. It's 15 minutes after the game ended. Have to process this a little bit. Don't see why I wouldn't be back."
Based on Brady's post-game answers, it's clear he's upset about the loss, which is totally understandable. When it comes to the NFL, the players prepare all season long for the opportunity to win the championship, but it just wasn't Brady's to win this year. As upsetting as it is for him, at least he has Bündchen by his side supporting him.
She is his biggest fan and no matter if he loses or wins, Brady is a winner in her eyes. Plus, as she taught their kids, life isn't about winning. Sometimes people learn the most important life lessons through disappointing moments, like when you lose a Super Bowl. However, if you can walk away knowing that there's always more chances in life or that other people also deserve to shine, then that's a good way to turn a sour lemon into something resembling lemonade.