Glen Powell Will Be Joining 'Top Gun 2' & He's Just As Stoked As You Are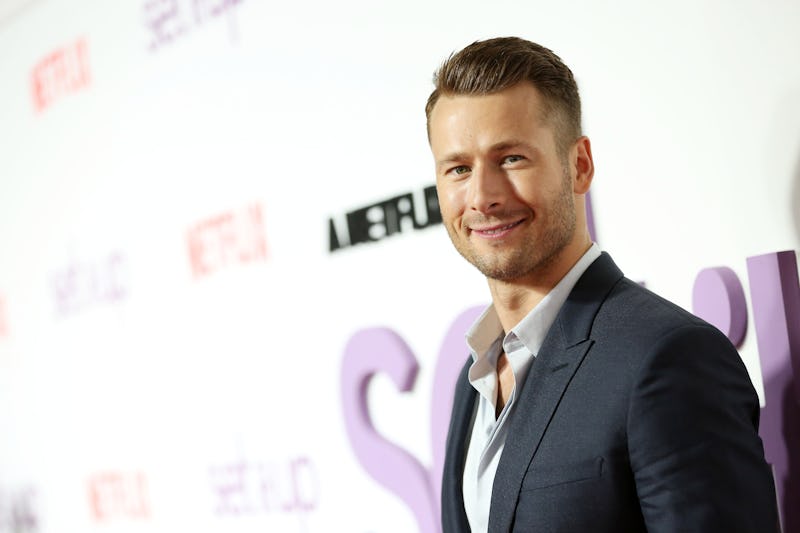 Monica Schipper/Getty Images Entertainment/Getty Images
A casting announcement for Paramount's Top Gun: Maverick has got fans wanting more. Although there are no public details about the mysterious character, Glen Powell will be joining Top Gun 2, and according to his recent Instagram post, the role is "a dream come true."
"This movie is one of the reasons I became an actor," wrote Powell, 29, in an Instagram post announcing his casting. "It's why I always go low after a high-five, always fall in love with my teachers, say things like 'clean 'em and fry 'em' on a daily basis, end volleyball games in oiled-up flexing, and why I can blame all my speeding tickets on Kenny Loggins."
Powell, a huge fan of the film, had previously lobbied to play the son of Maverick's wingman, Goose, a character who tragically died in the 1986 original. However, after a test that included flying to Tom Cruise's home in Florida, Powell lost the role to Miles Teller, The Hollywood Reporter states.
He shared his upset with some lighthearted remarks on Twitter, saying "I'm taking down all the Tom Cruise posters in my bedroom. Maybe, I'll leave one. Two for symmetry. Okay, the posters are staying."
Still, producer Jerry Bruckheimer, Cruise, and the studio executives were impressed by Powell. They gave him a custom role, strengthening another character just to give Powell a part in the film.
"In all seriousness, I just had my ten-year anniversary since moving from Austin to Los Angeles to give acting a shot," Powell continued in his announcement post. "Victories are rare, dreams are mostly broken, so I am truly grateful for everyone in my life who's helped me beat the odds to get into this flight suit. This role is a dream come true. Don't ever give up. Missile Lock is Real. #IFeelTheNeed"
In an interview with The Ringer, Powell recounts how he "hit it off" with Cruise at the screen test, and they got to talking.
"All I've ever wanted to do is be in Top Gun. Tom Cruise is my favorite actor," said Powell. "So getting to talk to him about the Top Gun movie I've always dreamed of led to bigger conversations that ended up turning into what I'd consider a dream role."
Despite the fact he had a top actor and top director editing a script just for him, Powell maintains a charismatic air of humility.
Top Gun: Maverick promises to be a nostalgic sequel for fans of the original 1986 film. Cruise, who played a young Maverick on his way to stardom, will be returning to the role in the film's sequel, directed by Joseph Kosinski.
Powell is also known for his roles in Hidden Figures, Everybody Wants Some!!, and The Expendables 3, but Twitter fans already have some other ideas for his future career. Some have pitched him as the Human Torch from Fantastic Four, others as Green Arrow.
While he's a superhero to some, many are just stoked to see Powell take on the sequel of a cinematic classic. One extreme fan even threatened the safety of his furniture if he doesn't see as much of Powell as he hopes to in Top Gun: Maverick.
With his dream role come true, Powell is sure to give it all he's got.