You HAVE To Hear Glenn Close's Powerful Golden Globes Acceptance Speech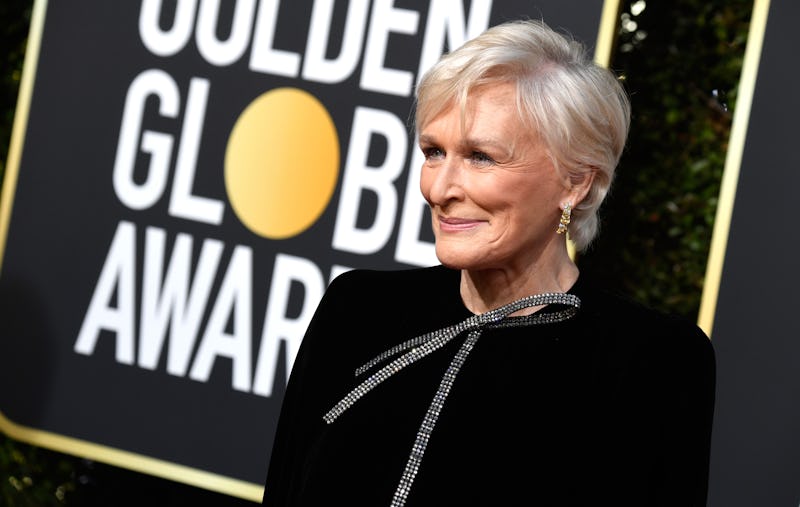 Frazer Harrison/Getty Images Entertainment/Getty Images
On Sunday night, Glenn Close won the 2019 Golden Globe for Best Actress in a Motion Picture — Drama. While the actor was surprised by the win, Glenn Close's 2019 Golden Globes acceptance speech ended up being a powerful message for women. "I feel what I've learned from this whole experience is that women, we're nurturers," she said in her speech. "That's what's expected of us. We have our children. We have our husbands, if we're lucky enough, or our partners, whoever. But we have to find personal fulfillment."
Actor Gary Oldman presented Close with the award and she teared up as she walked up to the stage. She told her follow nominees — which included Lady Gaga for A Star Is Born, Melissa McCarthy for Can You Ever Forgive Me? and Nicole Kidman for Destroyer — that "we all should be up here together, that's all I can say."
Close won her trophy for her role as Joan Castlemen in The Wife, which was directed by Björn Runge and was based on the novel by Meg Wolitzer. In the film, Joan's husband Joseph (played by Jonathan Pyrce) is a narcissist who regularly commits adultery and does not support Joan's dreams of becoming a writer. But Close's acceptance speech was all about keeping those dreams alive no matter what.
She continued in the acceptance speech: "We have to follow our dreams. We have to say: I can do that. And I should be allowed to do that."
The audience responded to Close's message with rousing applause and a standing ovation.
Close declared that the film The Wife took 14 years to make it to the big screen and wondered if it was because the movie centered around a female character. "It's called The Wife. I think that's why it took 14 years to get made," Close remarked in her speech, which she and the audience reacted to with laughter.
As she continued in the speech, Close recalled how her mother "really supplemented herself to my father her whole life." She said that by the time her mother was in her 80s, she felt like she hadn't accomplished anything because of that. And it's those words that prompted Close's message that women need to follow their dreams and not let anyone or anything stand in the way of them.
Close closed out the speech talking about her own dreams and how she always knew she wanted to be an actor. She's had quite a successful and accomplished acting career — this is her third Golden Globe Award, among her many other accolades.
Close previously won a Golden Globe in 2004 for Best Actress in a Miniseries or TV Movie in The Lion in Winter and she won the 2007 Best Actress in a TV Drama Series Golden Globe for her work in Damages. The accomplished actor has also been nominated for an Oscar six times since 1982, with the most recent nomination being for her role in Albert Nobbs in 2011.
The powerful message in Close's Golden Globes speech is one will definitely resonate with women on so many levels.