Glitter Concealer Is A Thing Now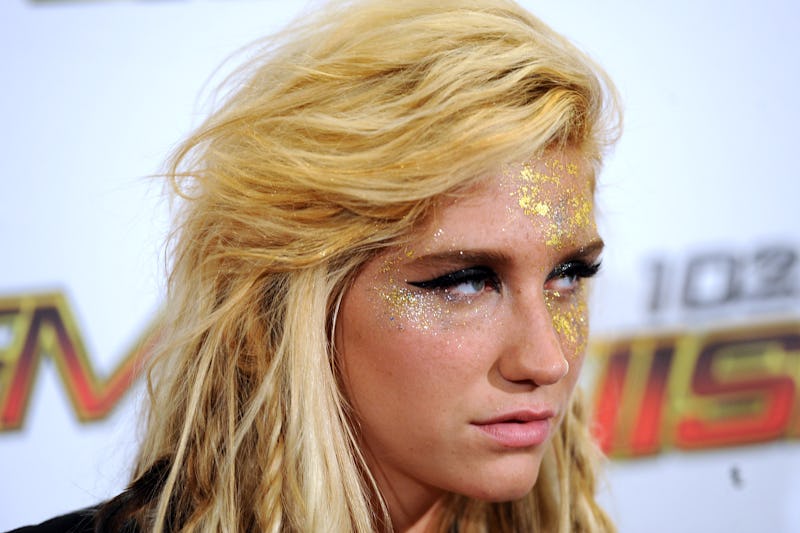 Frazer Harrison/Getty Images Entertainment/Getty Images
If you can't beat 'em, join 'em — or, you know, cover them in glitter. It's a modification that works for our modern times, whether you're talking about active resistance or how to brighten up dark circles, which we are. After years of maybe-unsuccessfully trying to hide them, this latest trick illustrates the beauty of going all-out sparkler. And while it's been around for years — who doesn't remember when glitter-covered shadows made the rounds on Pinterest and Tumblr, it was vintage concept art — Refinery29's take on glitter concealer is 100 percent welcome. In our day of blue lipstick and pink pussy hats, do you to the utmost.
The idea of glitter concealer is as follows:
Tap on your typical concealer.
Do not WASTE TIME checking how in/effective it is, onwards and upwards (also you need it wet).
Pat on your choice of glitter with a finger or brush.
Done. Stick to the first two steps pretty closely (glitter fall-out is...miserable), but then feel free to switch up the sparkle and application choices. R29, as part of their Short Cuts video series, went with confetti-esque glitter flakes, but Hellogiggles also highlighted people who went finer for a more controlled, subtle gleam. Subtle is relative. The good news is, there's no shortage of glitter options in this day and age.
Not for the faint of heart, but if you go finer with the glitter, it's a spin on extending your shadow into a smokey under-eye liner — but glitter for your eye bags. The same. Here are seven ways to do it.
1. Make Up For Ever Glitter
MAKE UP FOR EVER Glitters in Silver 2, $15, Sephora
Mimic the above look with Make Up For Ever's Glitter, a mid-sized particle that catches the light.
2. Bodyography Glitter Pigments
Bodyography Glitter Pigments in Caviar, $23, Bodyography
An option for darker skintones with just as much impact. Bodyography's Glitter Pigments "incorporate the saturation of a loose pigment, the cushion of a cream and the silkiness of a powder, all with a beautiful high glitter and pearl finish." You're bright and refreshed, and not dog-tired at all. B-bonus, they're vegan.
3. MAKE UP FOR EVER Diamond Powder
MAKE UP FOR EVER Diamond Powder in White Gold 2, $25, Sephora
Their Diamond Powder is an ultra-fine update, with the same high-shine reflectivity (but slightly more gleam per ounce).
4. MAKE UP FOR EVER Star Lit Liquid
MAKE UP FOR EVER Star Lit Liquid in 3 Gold Champagne, $24, Sephora
Their new Star Lit Liquid goes more "Renaissance Today!" in 3 Gold Champagne, a pinky gold. The fluid sheers out the pigment so you're left with scattered flecks of shine, but mega bonus points for ease of application.
5. ARDENCY INN PUNKER Crystal Studs
ARDENCY INN PUNKER Crystal Studs, $39, Ardency Inn
Take things less ethereal, more of the night with pyramid-shaped black crystals.
6. MAKE UP FOR EVER Star Lit Powder
MAKE UP FOR EVER Star Lit Powder in 13 Ivory, $21, Sephora
Circling back to MUFE, which is killing it on the glitter front. The powder is more pigmented than the Liquid version, which gives you a softer, crushed-velvet finish.
7. The Estée Edit Metallishadow Crème + Powder
The Estée Edit Metallishadow Crème + Powder in Scarlet Eclipse, $25, Sephora
Apply the top color to lids, and then brush the glitter pigment on below for a witchy eye. Not how they were intended to be used, exactly, but who lives by the rules.
Images: Courtesy of Brands