Gloria Steinem To Co-Chair The Women's March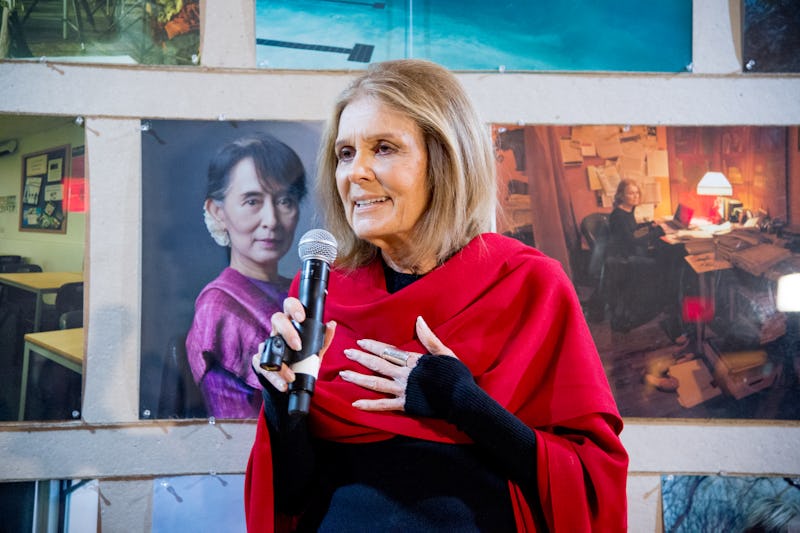 Roy Rochlin/Getty Images Entertainment/Getty Images
The Women's March on Washington just got a feminist superstar in its corner. The group announced on Twitter that activist Gloria Steinem will be co-chairing the women's march, which is set to take place the day after President-elect Donald Trump is inaugurated into office. The announcement comes at a particularly pivotal time for the march. With a location finally secured after some initial setbacks, the Women's March on Washington is set to be a vocal, active protest for tens of thousands of women. The event is expected to draw in as many as 200,000 attendees, with sister marches happening in approximately 30 different cities on the same day.
Steinem, a champion of feminism for more than five decades, is a natural fit as an honorary co-chair. In her announcement regarding the position, Steinem eloquently said: "Our constitution does not begin with 'I, the President.' It begins with, 'We, the People.' I am proud to be one of thousands who have come to Washington to make clear that we will keep working for a democracy in which we are linked as human beings, not ranked by race or gender or class or any other label." She will be marching along with other activists who will be attendance, and she posted a poster on Instagram with the caption "Proud to announce my role as honorary co-chair of the Women's March on Washington. See you there?"
The activist, feminist, and political journalist recently spoke about the need to ensure that America does not become an "I, the President country." In a speech to Bayview Correctional Facility following the election, Steinem stressed the importance of engaging politically at all levels, regardless of any feelings of hopelessness.
She told the audience: "We have all the powers we had [before Trump was elected] of lobbying and pressuring and making clear that the political consequences are great. We may look up and feel powerless and think there's nothing we can do, but it's not true. There are things we can do at each level. And there's always civil disobedience. Trump is not my president."
And even at 82 years old, Steinem is showing that she has no plans of slowing down. Especially in the event of a threat like Trump, the activist is showing yet again that she is clearly willing to put in the work to stand up against injustice. By becoming a co-chair of the Women's March on Washington, Steinem can activate and engage both older and younger feminists for the same cause.