One Of Glossier's Newest Launches Is Under $5 & It's A Skin Care Staple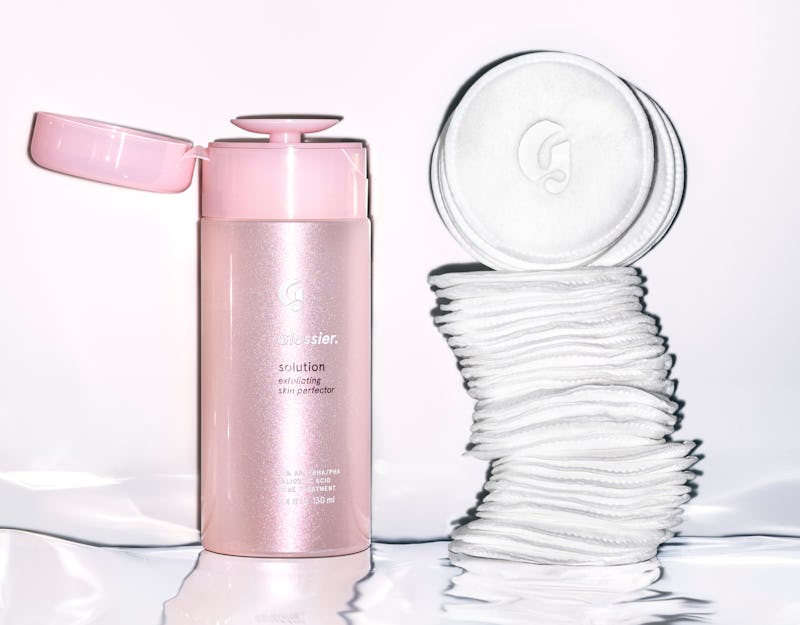 Glossier
The moment that you've been waiting for is finally here. Glossier's Solution, a.k.a. an acne-fighting liquid exfoliator, is finally here — and it's bringing a friend, too. Glossier created their own cotton rounds to go along with their newest skin care product. While people have yet to weigh in on the skin care assisters just yet, they sound pretty darn dreamy.
In case you're a little confused, let me fill you in. Earlier this month, Glossier sneakily announced on their blog that they had created a liquid exfoliator. The announcement didn't show that actual product packaging, but it did share the results. According to the post, Solution eased acne and helped with skin texture — but that's not all the exciting news. The brand has also created their own version of a cotton round to go along with it.
The application product is deemed "the ultimate cotton rounds" by the brand. According to the press release, the rounds are "chemical-free, fragrance-free, lint-free and designed to stretch, absorb and never scratch, deteriorate or waste product." They also have the brand's famous "G" stamped on them, as Glossier does.
Although the cotton rounds are not popping up on the website just yet, you will be able to stock up on a set of them for $4.
Oh, and they are the "softest, smoothest and most efficient skincare cotton." While Bustle has reached out to the brand to find out exactly what the brand means by that, cotton does have a long history in skin care. Odds are that you've probably already used a cotton round to apply some of your skin care products, but probably haven't realized how many options there are when it come to shopping for the disposable items.
Glossier is not the only brand to have their own cotton-based application products. Shisheido has Facial Cotton to apply their products and The Honest Co. has their own organic cotton pads. Apparently this is a normal thing to do, despite the fact that it seems a little over-the-top.
According to the press release, Glossier's cotton rounds are not sold with the product though. You'll have to stock up on the $4 applications products separately. Of course, you can also use the product with any cotton rounds that you already have as well.
Of course, tall eyes are on Solution as the big launch though. The brand has been rapidly expanding their skin care selections. They have face wash, moisturizer, masks, and even serums available on their website. Solution is the piece to the puzzle that was missing — an acne fighter.
"[Glossier Product Development] gave me a bottle of Solution, a new Glossier product coming out in 2018. It's a liquid exfoliator that harnesses the power of very safe skincare acids to control acne, retexturize skin, and turn up the brightness," Manouska Jeantus from the Glossier gTeam writes in the initial blog post.
Jeantus isn't the only one that loves Solution, either. Skin care experts are already weighing in on the product, and everything from the packaging to the actual product is getting praised.
"A beautiful blend of just the right ingredients to gently remove dead skin cells, irradiate breakouts and minimize blackheads, whilst its anti-stress complex keeps the skin calm and sensitive free," says Lorraine Schriever of Eden Skin Clinic, according to the company.
If you're looking to stock up on the soon-to-be famous Instagram product, you don't have to wait. Solution is available on the Glossier website for $24 right now. Not only is it incredibly affordable, but it has glowing reviews already. Not just any skin care item can say that.