Glossier Just Launched A New Product That Will Completely Change Your Morning Routine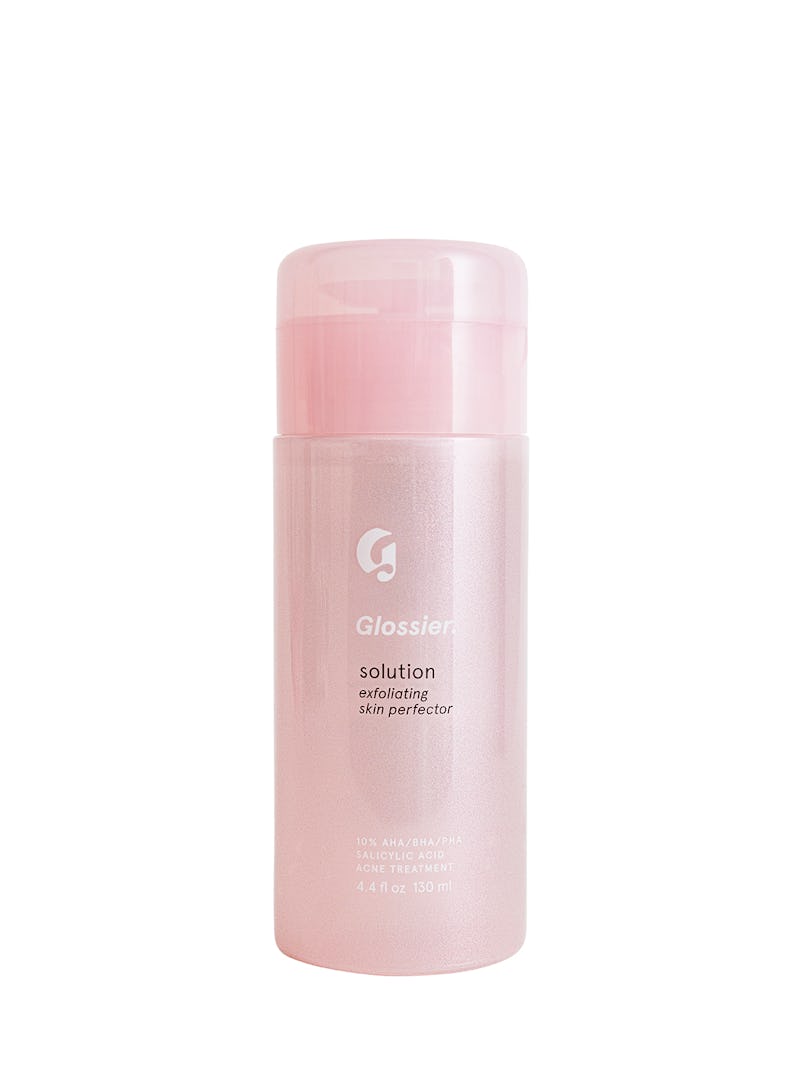 Courtesy of Glossier
The internet's favorite minimalist beauty brand is starting off 2018 with a new product that is seriously going to change how you approach your morning routine. Glossier's Solution Exfoliator is a liquid, acne-fighting "skin perfector" that is legit shaking up the skincare game, all the while remaining committed to the beloved Glossier ethos.
Solution, which is packaged in a pretty, millennial pink bottle, carries a $24 price tag and launched Jan. 17 via the brand's site, which is its main sales platform. It also falls right in line with Glossier's mantra of "skin first, makeup second" and should be the "Solution" to some of your peskiest skin problems. Get it?
The brand recommends using Solution once per day after cleansing skin. All you need to do is saturate a cotton pad and sweep it across the face and neck. Allow Solution to absorb and do its thang. Follow with moisturizer and BOOM! You're dunzo. Daily use will lead to some major changes in your skin.
Let's discuss.
The term "skin perfector" is super specific. This product exfoliates, banishes acne, minimizes pores, and evens tone and texture. It does it all. The scientists and development experts on the Glossier team spent nearly a year-and-a-half working on the formula — the full ingredients list is here — with the goal of creating something potent yet still gentle enough for daily use.
With Solution, which features lactic acid, glycolic acid, and salicylic acid, you will soon say "goodbye" to zits and blackheads and "hello" to smaller pores and a reduction in redness. Your skin will be in such good condition that the makeup you apply over top will go on smoother and look even better.
Here's a critical way that Solution differs from its peers. Most exfoliants "scrape" skin's surface, whereas this exfoliator uses a blend of acid actives to chemically exfoliate and to break the cellular bonds of dead skin cells, revealing healthy skin underneath.
Glossier even conducted a clinical trial of daily Solution users and the results were beyond impressive. Basically, three out of four people said they felt it working immediately after the initial usage. Skin looked smoother, brighter, and clearer after a week of usage.
Pores were smaller and skin glowed, while blackheads in the nose region were reduced, with two weeks of use. After three weeks, skin attained an evenness and experienced a reduction in redness and unclogged pores. With four weeks of usage, users truly felt the product was for them.
Let's face it. You can spend tons of loot cakes on products, be it moisturizer or makeup, and it won't matter the canvas on which you apply them isn't looking, feeling, or acting its best.
Solution works to give you the sort of healthy skin you want to show off without makeup, according to the company.
The Glossier faithful, which is a fiercely loyal bunch, already expressed its excitement over the product and its ingredients when the brand teased the launch on Instagram.
Think and ye shall receive. Glossier and its customers are so in tune with one another. That's not an accident
This tweeted meme sums up all of the feels. Every. Last. One. The Twitterverse — make that the "Glossierverse"— has spoken and it has been waiting patiently for an acne treatment from the brand.
Solution, which is vegan and cruelty-free, joins an already stellar suite of skin care products. It's certainly a welcome addition, especially for Glossier fans with acne-prone skin.