The Sleeping Mask With A 20,000-Person Wait List Was So Popular, It Inspired A Whole New Product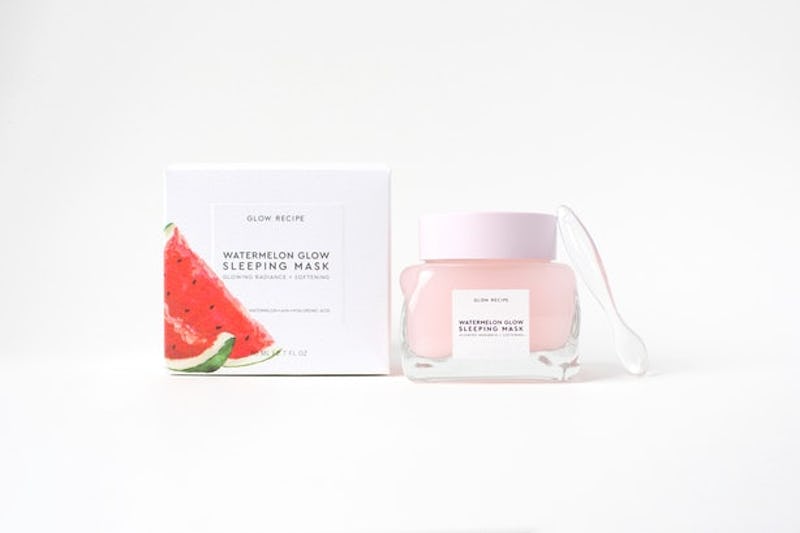 Courtesy of Glow Recipe
The beauty rumor mill is churning, and this time it's producing nothing but positive news. While sometimes things heard through the grapevine can be not so pleasant, this rumored new product is going to send K-beauty fans into a tailspin. A new Glow Recipe watermelon product is launching according to Allure, and you should probably go ahead and start stalking the brand's social media accounts now because it certainly knows how to create hype.
If you haven't heard, Glow Recipe has already released one hella popular watermelon product. The Watermelon Glow Sleeping Mask was easily one of 2017's most popular products if you're looking at demand. The bouncy, pink mask had a waitlist of over 20,000 people. Yes, 20K. It's a lot.
What's so special about it? It's basically going to make your face feel like you've drank a gallon of watermelon-scented water. The mask is a mix of watermelon and hyaluronic acid, and exfoliation AHAs that will basically make your skin feel as smooth like a baby's butt. Plus, hello, it's adorably pink — if you're into that sort of thing.
With benefits like boosting radiance and increasing moisture, why not coming out with a new Glow Recipe watermelon product? Thanks to an Instagram hint, fans know something it coming.
In the post from Wednesday, the brand gave a cryptic hint about what's to come writing, "Now, its glowy sister is coming for your bathroom shelfie." Unfortunately, that's the only clue the brand has given, but it's not hard to imagine what benefits users will be able to glean from this mystery product.
Considering that the sleeping mask is all about creating radiance and moisture, it's probably safe to assume that this new mystery launch will be the same. In fact, the brand itself even called the new family member a "glowy sister." No matter what it is, though, fans are already clamoring to get their hands on it and discover just what it is.
No matter what the new product is, fans definitely want it.
Others are anxiously awaiting doing a Glow Recipe haul, and adding this new mystery watermelon product to their shopping lists.
Some people are already starting to make guesses about what could be coming. A watermelon serum is honestly a fantastic guess. Serums are a huge part of K-beauty regimens, and it would be a natural progression for the brand. Plus, can it make your skin smell like watermelon because yes, please!
Others are thinking different types of moisturizing products, like a gel cream or a lip sleeping mask. If the brand is releasing a glow-creating product, some type of moisturizer makes total sense. After all the brand has the Blueberry Bounce Cleanser, but there's not fruit-infused cream or moisturizer from their original line.
All fans can do is (impatiently) wait.
If you can't wait for the official announcement and launch of the new Glow Recipe watermelon product, there's some good news. The 20,000 person waitlist has clearly dwindled, and the original Watermelon Glow mask is available right now on the Sephora website. Retailing for $45, you can snag it exclusive at the retailer now.
Glow Recipe Watermelon Glow Sleeping Mask, $45, Sephora
If you've tried the brand's Watermelon Glow Sleeping Mask and love it, get excited because more watermelon goodies are coming from the brand, and while details are sparse on what it will be, fans' guesses seem like they may be on the right track. One thing is for sure, though, whatever the new member of the Glow Recipe family is, it's sure to be glow inducing, and do you really need to know anything else?