This Book Draws A Striking Parallel Between Ivanka & Hillary Clinton — Read An Excerpt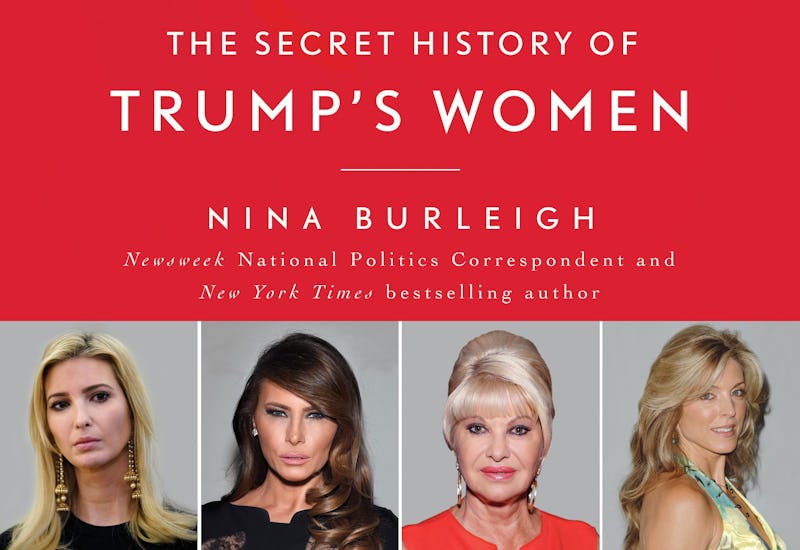 Courtesy of Simon and Schuster
Intrigue and mystery surrounded the women of the Trump family since long before Donald Trump declared he would run for president. There were sex scandals and rumors of family in-fighting, and after the 2016 election, the scrutiny became even more intense. In Nina Burleigh's new book, Golden Handcuffs: The Secret History of Trump's Women, the Newsweek national politics correspondent explores the lives of five women: his mother, his three wives, and his oldest daughter. Burleigh's book is an in-depth feminist analysis that deconstructs the power structure within the family — and questions how the Trump women are wielding their power today.
The book is split into five parts, each devoted to one woman. Bustle got a sneak peek at the book, which went on sale Tuesday, and has an excerpt you can read below.
In Part Five, we get a look at First Daughter Ivanka Trump. Burleigh delves into Ivanka's childhood and college years, but when it comes to the campaign and Ivanka's role in the White House, the parallel the author draws is striking. Burleigh points out that a lot of what the American public has seen during Ivanka's time in the White House feels ripped right from the playbook of another famous woman in politics: Hillary Clinton.
Burleigh says she watched Trump walk onto the stage on election night followed by a group of women. "I thought about how they were suddenly both role models for our daughters and the face of American women for the world for at least the next four years," she tells Bustle about why she chose to write this book. "They are a phenomenon worth examining because of that."
Here's an excerpt from Chapter 25: Ivanka in the White House.
As her dad's misogynistic campaign against Hillary Clinton, an orgy of woman-hating for the ages, wound toward its denouement, women—and men who were appalled—saw a glimmer of salvation in the form of flashes of carefully ironed blond hair. For those who wanted to see a silver lining in Donald, there was Ivanka. Not only was she a working mother herself, she was for other working women and even writing a book called Women Who Work. Throughout the campaign, she had been preparing the field for her book with a #womenwhowork hashtag and social media campaign, inviting working women to "share their stories."
The final product was going to be not just a book but an "inclusive conversation" among us girls, "designed to be the millennials' manual for architecting a life you love" and "recognizing that success looks different to every one of us."
The brand Feminist Ivanka was rolled out on a steamy stage at the Republican National Convention in Cleveland in July 2016. While vendors hawked buttons and T-shirts calling Hillary a bitch and a witch and much much worse, on the street just outside the Quicken Loans Arena, the first daughter strode to the podium and delivered a speech introducing her father that sounded suspiciously . . . Democrat.
She called his construction sites "incredible melting pots" and recounted how he had such a warm heart for the downtrodden that he would single out sad stories in the newspaper and have his secretary send money. But lest the assembled think that was a suggestion that the MAGA candidate believed in handouts, she reminded them that he had insisted that even she and her brothers work.
Inside at the Quicken Loans Arena, you could sense alarm building. They were applauding at the right lines, but she was suddenly talking about the gender wage gap and promising, "As President, my father will change the labor laws that were put into place at a time when women were not a significant portion of the workforce. And he will focus on making quality child care affordable and accessible for all."
Unease instantly prickled necks on the convention floor, where applause was polite but restrained. The looks on many faces seemed to say: Did I just hear her say "affordable child care"? Who let a feminazi Democrat in here? Lock her up!
Ivanka put on a game face at the convention, while spouting feminist dogma at a wall of Hillary hate. But behind the scenes, she was not as comfortable with her new role as she appeared. A few months prior, when her first "Entrepreneur in Residence," ex–Wall Street lawyer Elizabeth Cronise McLaughlin asked her how she was holding up, she replied, according to McLaughlin: "You know, if I had my way I would toss my TV out the window, throw away my phone, stop all my newspaper subscriptions, and never leave my apartment. But they won't let me."
McLaughlin, who has since cut ties with Ivanka over Trump's politics, said she never learned which they Ivanka was referring to.
"It was definitely a message of feeling completely trapped. There was no escape. She was eight months pregnant when she said that and one week later he had her out on the campaign trail. I am not compassionate for any of this, though. If you say you are in favor of women's rights then you don't stand in the room with people advocating separating immigrant women from their children. She is beyond complicit."
Once ensconced in the West Wing of the White House, Ivanka still talked about getting women a child-care tax credit (and her efforts probably ensured that that was added to the tax bill). But by the time her father was inaugurated, liberals had pinned so many of their hopes on Ivanka—saving the climate pact, a reasonable attitude toward abortion, compassion for LGBTQ people—and she soon showed that she had neither the intention nor the ability to squander her political capital with Daddy that way.
He was off to the misogynist races, days after taking office, reinstituting the gag order on discussing abortion in foreign aid offices, telling the IRS by executive order to back off the "religious freedom" of politically active churches, canceling a federal study of the gender pay gap.
Ivanka wasn't stopping any of that. She was instead, as Saturday Night Live soon billed her, in a fake ad for perfume, Complicit. As an unpaid official White House advisor, she has defined down her role to two issues. One is unstated: protecting herself and Jared from the Mueller investigation's likely forays into their family finances. The public one is promoting women entrepreneurs, at home and abroad, jetting around the planet from India to Japan and Germany, hosting panel discussions about female entrepreneurship.
Her confabs mimic the female empowerment industry that writer Sheelah Kolhatkar has skewered for its self-referential, girl-power puffery. Women sit on couches, legs crossed, dangling their heels, with high-end recording gear and fancy PowerPoints and ear mics, recording conversations that signify literally nothing.
No one was more crestfallen by Ivanka's failure to bear the standard for women than those New York society peers who remained mystified by her wholesale conversion from progressive New York society woman to Number One supporter of a man universally reviled by some of those same society swells and progressives as the second coming of Hitler. That conversion—far more than the one she undertook becoming Jewish when she married Jared Kushner—was not, though, a wholesale shock to everyone, and in fact, was probably linked to the earlier switch.
"She struck me as a liberal New York Democrat and rather typical of her group," Born Rich producer Dirk Wittenborn said. "Mind you, the word 'Democrat' never came up, but the attitudes and opinions and philosophy she relayed in my presence was more Clintonian." But Wittenborn says he and others saw a change in her after her conversion to Judaism, and to being a mother, as she became more conservative. She was in the process of updating her brand to another level— mommies who work—when her dad started running for office. This was Trump brand extension serendipity, appealing to the suburban white women he was going to need to steal away from Hillary. Ivanka soon cut an ad for her dad saying, "The most important job any woman can have is being a mother."
She did a Q and A with Parenting magazine, headlined "Ask Ivanka Trump." How does she motivate her kids? "I tell my kids Kushners love challenges!"
How did she maintain her focus with two kids and another on the way? "I caffeinate, meditate and exercise."
She said that "marriage made me a better person" and added that the lessons of motherhood applied to her business and political life. "Anyone who has tried to impose their will on a sleepy toddler knows that it just doesn't work well. And I think leadership is not very dissimilar. You really have to inspire people to come along for the ride as opposed to just jamming your ideas down their throat."
The image of Ivanka Trump, pretending to be a working mother, once the Trumps were in office, made progressives batshit. American feminists regard Ivanka's career with the same gimlet eye the French rabble aimed at Marie Antoinette deciding she might like to be a milkmaid at her faux farm in Versailles, the Hameau de la Reine.
"I am a real estate developer and an entrepreneur. More important, I'm a wife and a mother," Ivanka wrote in Women Who Work. "I design and build iconic properties all over the world; I have also created and am growing a business that seeks to inspire and empower women in all aspects of their lives. I'm busy teaching my children the value of hard work and the importance of family."
Oh, she was MAGA perfect, except that she wasn't.
Ivanka likes power and she likes power chairs. And she's lucky because she has a daddy who likes to give both to her. One of his Russian friends took her to Moscow and arranged to let her sit in Putin's chair before she was thirty years old. At the White House, she sits in her own West Wing office, after much speculation that she'd be taking over the first lady's wing. At the G20 summit in Hamburg during the summer of 2017, foreign policy experts and journalists went crazy after Trump appointed her as his stand-in senior diplomat, sending her to sit in his chair while he was otherwise occupied. There she was, with Chancellor Angela Merkel presiding, sitting between Great Britain's Prime Minister Theresa May and President Xi Jinping of China.
Oddly, no one seemed to notice the precedent: a woman without a specific portfolio in the White House, with twenty-four-hour direct access to a president of the United States who has serious women problems, and whose own political inclinations seem to put her right in the middle.
She did not want an East Wing office. She wanted and would get a West Wing office, but only after she made sure Jared was securely established in his (walking the Orthodox Jewish patriarchal walk). And she had her own other agenda, and it was murkier and it did not involve single-handedly talking Daddy into saving Arctic ice. She was a White House power without portfolio, working behind the scenes on any number of issues on any given day, from foreign policy to trade. She was so sure of her own goodness that she was and is oblivious to ethics challenges. She even started her own foundation, and solicited foreign donors for it.
Almost everything about her political style was something Americans had seen before—very, very recently. Inside the White House, similarities to Hillary Clinton multiplied. Like Hillary, Ivanka provided cover for sexism; like Hillary, she promoted Davos-style globalist solutions; like Hillary, she held a vague and unlimited portfolio in the White House; and like the former first lady and secretary of state, her foes would see her as ethically challenged.
Finally, like their nemesis, Ivanka became a political and personal cipher whose real relationship with her father remains a deeply complicated mess of love and horror, and is fundamentally unknowable. When women contemplate Ivanka, as when they do the same with Hillary, they cannot do so without a sense of vicarious unease at best, distrust at worst. Women, of course, know just how angry Hillary is at her husband and just how appalled Ivanka—if she's normal—must at some fundamental level be by her father. Those presumed emotions, lurking just behind the masks, provoke chariness and suspicion.
Ivanka is not married to a serial philanderer: women don't have to snap on chastity belts before meeting Jared Kushner. But like Hillary with philandering Bill, Ivanka makes her own—to coin a euphemism—feministically challenged presidential relative more palatable to women. Both women provide a measure of cognitive dissonance, or a feministic warping, in the public perception of their men: while the men actually treat women like objects, reduce them to their sexual essence, they also seem to respect and even rely on one particularly smart woman who is not a thing at all.
In most White Houses, the spouse figures into the management flow chart somewhere, but not until Hillary came along did White House staff have to figure the powerful unelected relative's interests into every issue. Even with chief of staff General John Kelly deploying military rules of access, Ivanka gets face time with Daddy that no one else can. In the West Wing, Ivanka quickly became a White House power center. During the campaign, Trump said his daughter helps him with the woman stuff, but her portfolio actually has no limits, including advising her daddy to fire missiles at Syria, and to fire James Comey.
Her advocacy for female entrepreneurship is also straight out of the Hillary handbook. "The statistics and results prove that when you invest in women and girls, it benefits both developed and developing economies," she said in one interview. "Women are an enormous untapped resource, critical to the growth of all countries." Such talk is of course the cut-and-pasted, Davos-approved, market-based solution to gender inequality that was always the signature goal and achievement of Secretary of State Hillary Clinton.
Like Hillary, who promoted economic empowerment in lieu of actually using her podium to speak out against legalized, traditional misogyny in places like Saudi Arabia, Ivanka has yet to lend her weight to fighting the egregious sexism of Arabs in the Gulf, where she has advanced various Trump projects.
Like Hillary, Ivanka turned out to be a neocon hawk. The day after President Trump lobbed fifty-nine Tomahawks at a Syrian air base as revenge for chemical weapons attacks on civilians, Ivanka's brother Eric told a British newspaper that he was "sure" his sister had urged their father to attack. "Ivanka is a mother of three kids and she has influence. I'm sure she said: 'Listen, this is horrible stuff,' " he said. At a briefing, White House press secretary Sean Spicer said there was "no question" she weighed in.
Ivanka's ethical problems, starting with her brand, and including her continued relationship with her father's international, shrouded octopus of LLCs, her ties to Russians (earning her, among some Trump critics, the nickname Kremlin Barbie), and her and Jared's own hidden finances (Jared has had to revise his financial disclosure statement dozens of times because of the millions of dollars in assets he left out), all together appear to dwarf "Crooked Hillary's" alleged ethical lapses, from Whitewater to the Clinton Foundation.
Unraveling Hillary's financial entanglements was arguably financial forensic amateur hour compared with the ethical quagmire Ivanka finds herself in as a senior White House advisor. She has maintained a stake in Trump's Washington hotel, the five-star services of which are viewed by foreign dignitaries and their staffs as the ticket to win Trump's favor. It can be a criminal offense for a federal employee to participate substantially in matters in which he or she has financial interests, but Ivanka has, without seeming concerned about appearances or the ethical implications, sat in on meetings with Chinese and Japanese leaders while her company was arranging trademark and business deals in those countries.
As with Hillary, there is an element of secretiveness about Ivanka, a deeply protective crouch masked by the controlled domestic reveals of her Instagrammed kids. Both women are in the emotionally and logically contorted position of supporting men whose real behavior with women has been utterly reprehensible at best, illegal at worst.
Like Hillary, Ivanka is deeply guarded to the point of obsessive about her image, albeit more strategically capable of controlling it, possibly because she started young. Unlike Hillary, you won't find a bad hair day picture of Ivanka online—at least after the age of fifteen. She has written that she developed a hard shell after enduring the humiliation of her parents' divorce in paparazzi-infested, tabloid-crazed New York. In public, her face is a smooth, still mask.
And, much like Hillary, who relied on unctuous helpings of personal charm and public "listening" to balance out distrust with her self-protective stance, Ivanka uses an Instagram account loaded with shots of her engaged in the duties of mother and wife to divert attention from her role as an unelected player with unlimited portfolio at the top level of the executive branch.
Ivanka's Hillary-esque obsession with privacy might lead to her father's demise. Michael Wolff reported that to keep federal authorities away from the Kushner family's financial records, she and Jared urged Trump to fire FBI director Comey, setting in motion an investigation that ensured all those documents would be studied by legal financial sleuths.
Political professionals from Steve Bannon on down have called the sacking of Comey the greatest error a president has made in modern times.
"The daughter will bring down the father," Bannon predicted with Shakespearean gravitas, and no little amount of animus toward Ivanka and Jared, to Michael Wolff.