Google Maps Got Ahead Of Congress And Renamed A Senate Building For McCain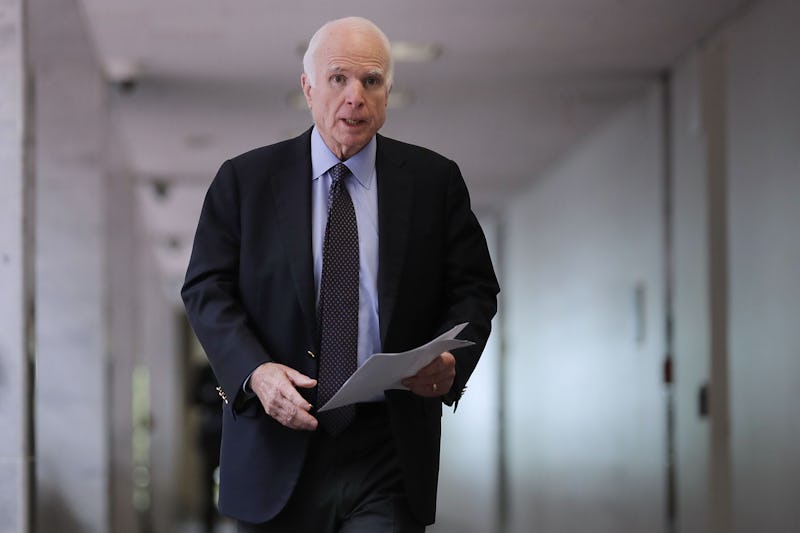 Chip Somodevilla/Getty Images News/Getty Images
The honoring of the late Sen. John McCain has been a contentious issue in Washington D.C. From the president's initial refusal to issue a statement and the raising of the White House flags, to discord among Republicans over the renaming a Senate office building, it's been a mess. Now — way before Congress settled on a tribute — Google Maps has moved ahead to honor McCain by sneakily making a change that officially no one has agreed on.
For a few hours on Wednesday, the search giant's map service showed "McCain Senate Office Building" where the official name Russell Senate Office Building would normally be. That change is under consideration —  proposed by the Senate Minority Leader Chuck Schumer — but it's far from a done deal.
That didn't keep the change from showing up on Google Maps, though, even if just for a few hours. The mix-up was first reported on Wednesday morning but the McCain name was no longer showing up just hours later. Local users can suggest name changes and other adjustments that sometimes show up when approved by other users.
Inaccuracies are removed by Google, as in this case, a spokesperson told Bustle:
We em­pow­er people to con­tri­bute their local knowl­edge to the map, but we rec­og­nize that there may be oc­ca­sion­al in­ac­cu­ra­cies or prema­ture chan­ges sug­gest­ed by users. When this hap­pens, we work to ad­dress as quick­ly as pos­si­ble. We have im­ple­ment­ed a fix for this issue that is roll­ing out now.
The name change, once seeming likely, now appears deadlocked. Some southern Republicans dislike taking recognition from the current namesake, Sen. Richard Russell Jr., who was a conservative Democrat segregationist from Georgia and opposed civil rights.
"Richard Russell was from the South and, I'm sure, not perfect like George Washington and everyone else in his day," Sen. Richard Shelby, an Alabama Republican who used to be a conservative Democrat, said. "But he was a well-respected senator."
Schumer said upon announcing the change that Russell's history was one more reason for the change. "The man whose name he would replace, Sen. Richard Russell, a towering figure in the Senate of his day, was an avowed opponent of civil rights and the architect of the Southern filibuster, which long delayed its passage," Schumer said Monday. "It's time that we recognize that as times change, so do our heroes."
Senate Majority Leader Mitch McConnell instead suggested adding McCain's portrait to the Senate Reception room, a kind of hall of fame. On the floor, McConnell was less specific, but endorsed having a bi-partisan committee explore options. "The Senate is eager to work on concrete ways to .... provide a lasting tribute to this American hero long after this week's observances are complete," McConnell said.
If the name change doesn't happen, there's no telling what suggestions will come next. Google users are encouraged to fix mistakes on the map. In the Google Maps menu, you click on "send feedback" and then select the portion of the map you want to edit.
For the time being you cannot select the Russell Senate Office Building, but the nearby Hart Senate Office Building is still allowing suggested changes. You can suggest an edit to the name, address, map location, and more. You can also suggest the place has been permanently closed or never existed. Normally fellow users would police faulty changes, but anything that passes muster with local Google Maps users is a possibility.
With partisan disagreements and party infighting in these government buildings, it's not surprising that the next battlefield would be their Google Maps versions.