This New Google Feature Tells You How Much Time You ACTUALLY Spend On Your Phone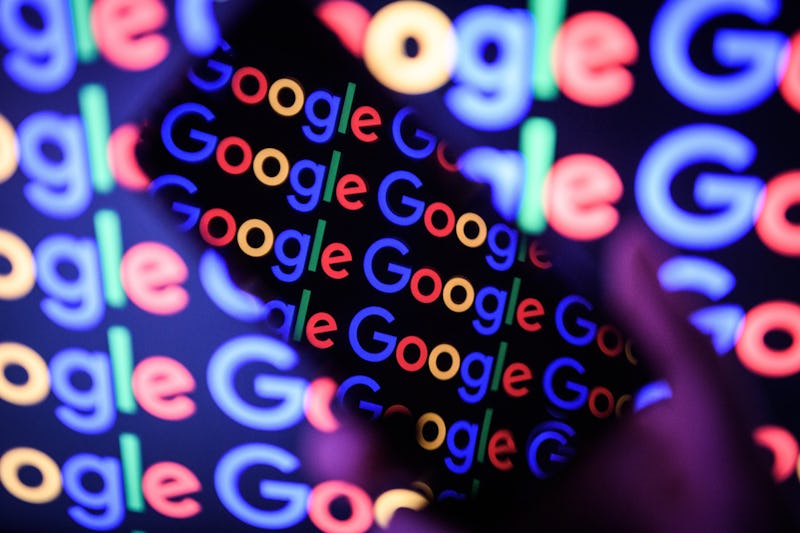 Leon Neal/Getty Images News/Getty Images
These days, there seems to be no end to smartphones' power. They're tiny yet mighty, and while it's pretty great to be able to do practically anything from our mobile devices, that convenience does come with a downside: It's becoming increasingly difficult to disengage. Google aims to help solve this problem by introducing digital wellbeing features in the newest version of its mobile operating system, Android P, which will not only help users get a crystal-clear look at their smartphone habits, but also help give them ways to minimize smartphone usage.
Sameer Samat, Google's vice president of product management, said in his keynote speech at the 2018 Google I/O developer conference, that 70 percent of people want help "striking this balance" between having a truly useful phone, but not spending too much time lost in the screen, Gizmodo reported. Samat added, "Our team has heard so many stories trying to find the right balance with technology," and said that users "would prefer to spend some of the time spent staring at a screen 'on better things,'" The Guardian reported.
According to The Guardian, "tech insiders [...] fear a smartphone dystopia" and are concerned about "habit-forming design practices that encourage people to spend more time on their devies, such as infinite scrolling, notifications, and other behavioural [sic] 'nudges.'" But even if you're not a tech insider, you're probably a little worried about how much time you spend mindlessly scrolling every day. The new digital wellbeing features aim to help you be a little more mindful of your scrolling habits.
So, how do Google's new wellness features aim to prevent people from being smartphone zombies? Well, it all starts with a dashboard — actually, a Dashboard. Dashboard is an app, and the core of the wellness features, which "lets you see how often you interact with your phone at a glance," Gizmodo reported. Dashboard will give you an in-depth look at your smartphone habits, including the number of times you unlock it per day and exactly how much time you're spending on your phone, on an app-to-app basis, according to Gizmodo.
That is, of course, all useful, but the truly useful thing about Dashboard is that it doesn't just show you your habits; it has tools to help you change them. Gizmodo reported that you can use Dashboard to set time allotments for apps, so if you, say, spend too much time lost in Instagram hashtags, or in a web of Pinterest recipes, you can cap your time in those apps. (It's worth noting there are third-party apps that provide similar shutoff features, like Freedom, for iOS users.)
If time caps aren't your style, you can schedule "custom breathers" to remind yourself to take a break from your phone, according to Google CEO Sundar Pichai, The Guardian reported. "If you have been watching for a while it will show up and say 'maybe it's time to take a break,'" Pichai explained.
But even when you're monitoring your smartphone time closely and take care to step away from time to time, it's easy to be drawn back in by notifications, Samat said during his keynote. "People struggle to be truly present because notifications on the device can be too distracting," he explained, according to The Guardian.
To solve this issue, Google implemented a superpowered "do not disturb" feature called Shush, which will silence not just the usual calls and texts, but also the "visual interruptions that pop up on screen," The Guardian reported. In addition, if you flip over your Android phone so it's face-down, it will automatically turn on Shush. (Gizmodo added that you can create exceptions for Shush by using Starred Contacts, so don't worry — this won't keep you from receiving vital calls/texts.)
And last up, if you're one of those people who finds themselves scrolling their smartphone for hours at night, Google's got a solution for that too. The wellness features also include a "wind down" mode that automatically enables Shush and turns the screen to greyscale at bedtime, which, as Gizmodo put it, is "essentially annoying the crap out of you with a black and white display until you're ready for bed."
Whether you're concerned with the societal implications of screen time or you're just looking for a way to maximize your free time instead of losing hours playing Candy Crush, Google's new wellness features are definitely useful.