GOOP's Print Magazine Is Coming & It's What Wellness Dreams Are Made Of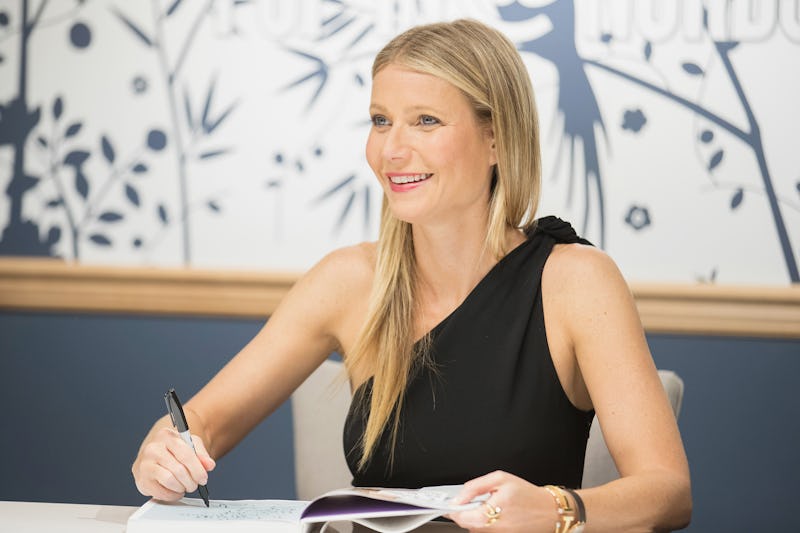 Mat Hayward/Getty Images Entertainment/Getty Images
Have you ever thought to yourself: "If only there was a way for me to read about jade vagina eggs and health stickers in hard copy?" Finally, you can! Goop, Gwyneth Paltrow's digital lifestyle brand, has launched a quarterly print edition, and the first copy is set to hit newsstands September 19.
Goop the magazine will be released quarterly, and is produced in partnership with Condé Nast (the media company behind magazines like Vogue, The New Yorker, Glamour, Wired, and GQ). So far, Goop IRL looks to be everything you've come to love — and occasionally question — from goop.com, and then some.
Goop magazine's first-ever cover features its founder, figurehead, and wellness goddess Gwyneth Paltrow in repose (and seemingly without nipples), covered in fancy French mud that probably costs more than what I make in a year. Loopy lettering across her stomach reads "Earth to Gwyneth," a reference to mud, but also possibly an attempt by the company to poke fun at itself — in the past, Goop has come under criticism from experts and scientists for some of the pseudo-science behind the unconventional and often pricey health practices it advocates.
Given how precisely on-brand rest of the magazine's content is however, the headline seems less like a self-referential joke than a way for the company to thumb its nose at the haters. The first issue's theme is (unsurprisingly) wellness, and inside, you can find "easy, nutrient-dense recipes," "deep-dives into crystals and mud masks, reiki and bee-venom treatments," and "a how-to for having better orgasms." Truly down-to-earth topics for the modern gal.
And spoiler alert for those of you waiting to enjoy all of your goopy wellness advice in print form: Bee-venom treatments do indeed involve getting stung by bees. Why would someone voluntarily subject themselves to that? According to Paltrow, it helps with scars.
"The doctor stings you [with a live bee] like it's an acupuncture needle. I had it done on my cesarean scar … I had some buckling in the scar, and it really evened it out," Paltrow says in the inaugural issue.
Paltrow also wrote the editor's letter, and is the subject of the magazine's first profile. In addition to her close encounter with acupuncture bees, she talks about her own experience with wellness, and how she discovered juicing.
"I remember standing in a hippie health-food store in Greenwich Village and I saw a little paperback book describing a 'master cleanse,' and I was like, What's that?" she writes in the editor's letter. "I remember the next day [after I finished the cleanse] I was like, Oh, wow, I just did this cleanse, and I feel so much better. I can have a beer and a cigarette now, right?"
Goop's print magazine is the company's latest venture outside the digital realm since it raised $15 million in funding last August. Since then, it has launched beauty, clothing, and vitamin lines. In June, it organized "In Goop Health," a health and wellness expo in Los Angeles which cost between $500 and $1500 per person, and included free lube, sessions with the "resident Goop shaman," and panels featuring Cameron Diaz, Nicole Richie, and of course, Gwyneth herself.
For those of you goop-heads eager to hold your occasionally fringe wellness advice in your hands, you can pre-order copies here. Before you buy a bunch of copies to give to your friends and family and or/wallpaper your bedroom with though, be aware that, like most things in the Goop universe, the magazine has a steep-ish price tag of $14.99.
And if you need a way to calm your excitement before September 19, try Goop's most affordable health practice: earthing. According to Gwyneth: "When I take my shoes off and walk in the grass, it's so healing."
Now if you'll excuse me, I need to go find some bees to sting me — for my health.