This Republican Said Trump Stands Up To Russia & Was Met With A Huge "HA!" — VIDEO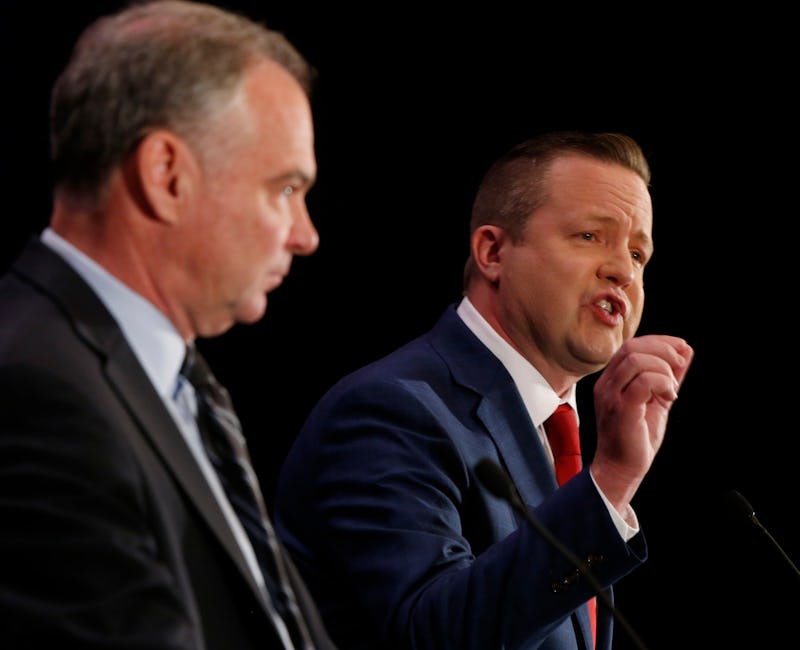 Steve Helber/AP/Shutterstock
A Republican Senate candidate in Virginia found himself nearly laughed off stage this weekend when he defended President Donald Trump's recent Helsinki summit with Russian President Vladimir Putin. Corey Stewart's defense of Trump was met with laughter from the audience Saturday at Virginia's first debate between Senate candidates. Stewart was debating incumbent Sen. Tim Kaine when he claimed President Trump was "standing up to the Russians."
Audience members burst out laughing when Stewart, in an attempt to attack Kaine's personal history of responding to Russian aggression, said Trump was "standing up" to Russia.
"[Kaine] was noticeably silent when the Russians shot down a Malaysian airliner when President Obama was in office," video of Saturday's debate shows Stewart said. "He was noticeably silent when the Russians invaded the Crimea when President Obama was in office. We have a president who is standing up to the Russians and now—"
As the audience laughed, Kaine can also be heard issuing a hearty "ha" in response to Stewart's comment.
"If there's anything that demonstrates the difference between us, it's Corey Stewart standing up here and saying that President Trump is standing up to the Russians," Kaine said in response, according to ABC News. "President Trump is caving to the Russians."
Stewart, who is currently the chairman of the Prince William County Board of Supervisors, praised President Trump repeatedly throughout Saturday's debate. The Republican Senate candidate also echoed Trump's claim that Special Counsel Robert Mueller's investigation into allegations of collusion between the Trump campaign and Russia was "a witch hunt."
According to The Washington Post, Stewart characterized Russian meddling in the 2016 presidential election as merely "alleged" when asked if he believed U.S. intelligence agencies' reports on the subject after the debate. Stewart also reportedly said that there was yet to be any proof of wrongdoing, despite the more than a dozen indictments.
In response to Stewart's heavy praise of Trump, Kaine moved to turn one of the president's signature slogans against his opponent, labeling Stewart "a 100 percent Donald Trump first guy" while characterizing himself as a "Virginia first guy." According to The Guardian, he argued that President Trump "went all soft" when he met with Putin in Helsinki earlier this month. Kaine also defended Mueller's investigation into Russian meddling and criticized the president's recent conflicts with Canada, Germany, and the United Kingdom — all of whom are U.S. allies.
While standing alongside Putin in Helsinki last week, Trump characterized Mueller's Russia investigation as "ridiculous" and a "witch hunt," and said he did not see "any reason" why Russia would be behind the election meddling. The president later attempted to walk back his statement, claiming he'd been trying to use a double negative and had misspoke. He claimed he'd meant to say, "I don't see any reason why it wouldn't be Russia."
But the president continued to make a series of confusing and conflicting remarks about Russia's election interference as the week went on. On Tuesday, just one day after his meeting with Putin, Trump said he accepted U.S. intelligence agencies' findings regarding Russian meddling but then added that the hacking "could be other people also."
A recent poll from Quinnipiac show Kaine leads among voters with 54 percent compared to Stewart's 36 percent.