Colin Kaepernick Made The Cover Of 'GQ' & Everybody You Admire Pitched In To Praise Him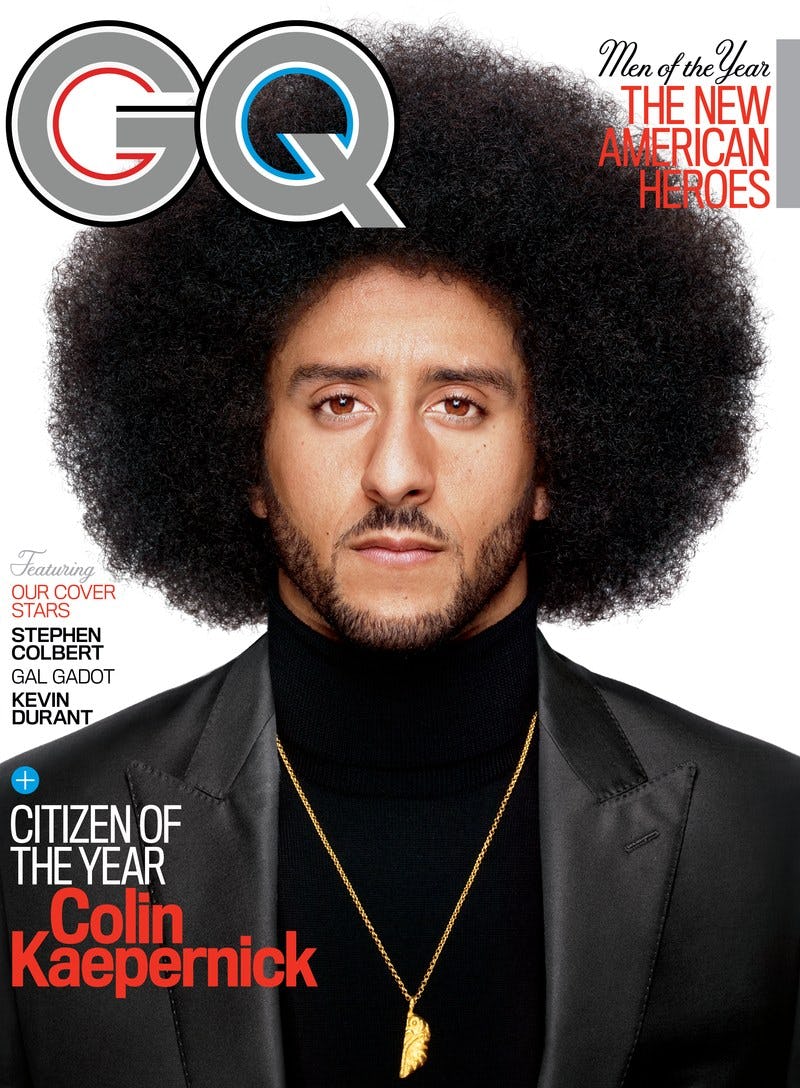 GQ
More than a year after he first made headlines for kneeling during the National Anthem — a move meant to highlight police brutality toward black people — Colin Kaepernick has been named "Citizen of the Year" by GQ magazine.
Interestingly, Kaepernick himself is not quoted in the feature story, as ESPN pointed out Monday morning. Instead, the piece features quotes from those who know him. Filmmaker Ava DuVernay says she views Kaepernick's protests as "art," while rapper J. Cole says he "sacrificed his dream" in order to draw attention to police brutality. Carmen Perez, Tamika Mallory, and Eric Reid, among others, also pitch in to discuss Kaepernick and his actions.
Certainly Kaepernick has made sacrifices. In March 2017, he voluntarily opted out of his contract with the San Francisco 49ers to become a free agent (though it later came to light that the team was planning to cut him regardless). Despite being a talented football player — one who many analysts say would provide a much-needed upgrade to several teams in the NFL —Kaepernick has yet to be signed. The reason, many have argued, is that his protests would bring unwanted media attention to a league already besieged with bad press due to brain injuries and allegations of domestic abuse.
GQ breaks it down:
Approximately 90 men are currently employed as quarterbacks in the NFL, as either starters or reserves, and Colin Kaepernick is better—indisputably, undeniably, flat-out better—than at least 70 of them. He is still, to this day, one of the most gifted quarterbacks on earth. And yet he has been locked out of the game he loves—blackballed—because of one simple gesture: He knelt during the playing of our national anthem.
In October, Sports Illustrated reported that Kaepernick had filed a grievance against the NFL for collusion, hiring attorney Mark Geragos to claim that NFL owners have colluded to keep him out of the league. According to the NFL's Collective Bargaining Agreement, teams in the league are forbidden "from coming together to deprive a player of employment".
Still, the case won't be easy to prove, as it will require illustrating actual cooperation between teams (or between teams and the league itself) that Kaepernick was deliberately blackballed.
As NFL Network reporter Mike Garafolo has noted, Kaepernick has been protesting the anthem since August 2016, though his early protests (in which he sat during the playing of the National Anthem) went largely unnoticed.
By 2017, though, many of his former colleagues had joined the protests. In late September, hundreds of NFL players, management staff, and owners were either kneeling, or locking arms in solidarity with those who were. The largest protest took place less than 48 hour after Donald Trump remarked NFL players who stage a protest during the national anthem should be fired.
The news that Kaepernick had been selected as GQ's Citizen of the Year was, much like the protest he pioneered, was met with mixed reaction on Twitter.
Kaepernick himself tweeted that he was "honored," while supporters said no one was more derving of the cover than someone who sacrified his career to highligh inequity and "fight white supremacy."
Still, others remained unconvinced, with some calling for a boycott of the magazine. Reporter Britt McHenry argued that JJ Watt, who helped raise millions for Hurricane Harvey victims, would have been more deserving of the cover.
Of course, JJ Watt himself has linked arms in solidarity with those protesting police brutality, and Kaepernick has done more than simply kneel in protest. In fact, he, too, has donated money to the causes he champions.
Since pledging to donate $1 million "to organizations working in oppressed communities," he has given money in $100,000 increments to various organizations detailed on his website. According to reports, his donations have totaled at least $800,000 so far.