#GrandparentsNotTerrorists Hashtag Launched To Protest Travel Ban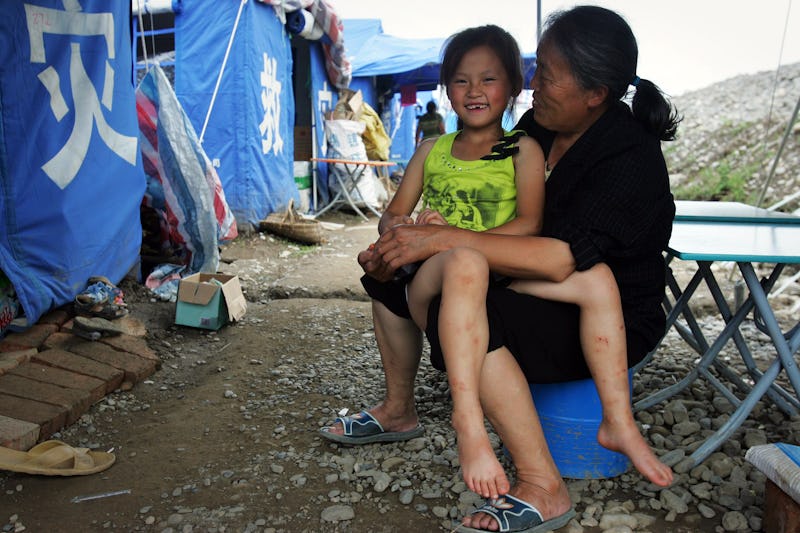 Feng Li/Getty Images News/Getty Images
Earlier this week, the Supreme Court partially reinstated Donald Trump's travel ban. The revised version of the ban — which will affect citizens and refugees from six Muslim-majority countries — went into effect Thursday night. According to guidelines issued by the State Department, exemptions will be made for people who have "bona fide relationships" with people or entities in the United States. However, the exemption's narrow definition of "bona fide" — which excludes grandparents, grandchildren, aunts, and uncles, among others — has led social media users to tweet "Grandparents Not Terrorists" to protest the travel ban.
The updated version of the ban affects people from Iran, Libya, Somalia, Sudan, Syria, and Yemen. The Associated Press reported on Thursday that "grandparents, grandchildren, aunts, uncles, nieces, nephews, cousins, brothers-in-law and sisters-in-law, fiancees or other extended family members are not considered to be close relations," though fiancees were reportedly added as "bona fide relationships" at the last minute. Consequently, the National Iranian American Council launched the #GrandparentsNotTerrorists Twitter campaign to illustrate the devastating impact the ban would have on families.
Shayan Modarres, the NIAC's legal counsel, said in a powerful statement that this ban would rip families apart by preventing grandparents from Iran — as well as from the other listed countries — from visiting their relatives:
President Trump's directive might as well pull children out of the arms of their grandparents who will no longer be able to visit for the sole reason that they are Iranian. The president is supposed to protect American families, not rip them apart.
Since the #GrandparentsNotTerrorists campaign launched, many social media users have tweeted photos and anecdotes of their grandparents, asking what danger they posed and why they had been banned from entering the U.S.
"My Lovely Grandma"
"No To The #MuslimBan"
A Bona-Fide Relationship
"An Offense To Our Nation's Laws & Conscience"
"Say Hello"
"This Incredible Syrian Woman"
"Does My Grandpa Look Dangerous?"
"Signs Of Radicalization"
"My Iranian Grandmother"
"My Loving Baba"
"I Adore My Grandma"
"Is My Grandmother A Threat?"
Don't You See?
A Former Physics Professor
Does She Look Dangerous?
A Teacher & School Principal
Hugging Her Extra Tight
"Is This The Face Of Terror?"
"These Are Our #GrandparentsNotTerrorists"
"Makes Me Sad"
Some Twitter users also pointed out that such a hashtag shouldn't even have to exist for the Trump administration to recognize the humanity of the people they were banning.
The new travel ban was not without backlash. Shortly after it went into effect, the state of Hawaii made a court filing to clarify the Supreme Court's ruling, arguing that the U.S. government intended to violate the ruling with a misinterpretation of "bona fide relationships." This allegation from Hawaii stems from the fact that the Supreme Court in its ruling did not specify what constituted a bona fide relationship — instead, that information came from the State Department.