'GBBO's Kim-Joy Spoke Out On Life With Social Anxiety & The Power Of Being Herself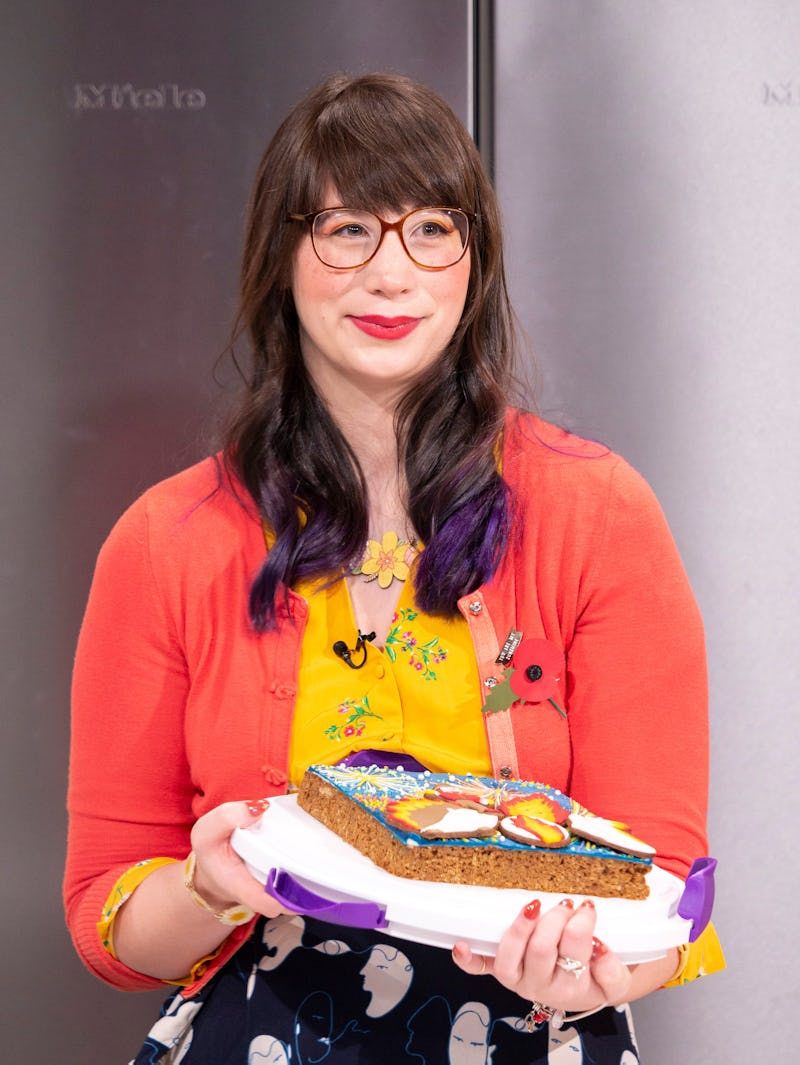 Steve Meddle/ITV/Shutterstock
Even the most staunchly anti-whimsy viewers of this year's Bake Off couldn't help but be charmed by one contestant: the acutely lovable Kim-Joy, whose every bake was adorned with foxes or bees or adorable space turtles. The baker's younger years, however, weren't as reliably lovely as her kitchen creations. In a new interview with the Guardian, the Great British Bake Off's Kim-Joy discussed the social anxiety she struggled with at secondary school, which led her to stop talking outside of her house.
Kim-Joy came joint second on this year's Bake Off alongside Ruby Bhogal, after winner Rahul Mandal. The former mental health practioner told the Guardian that she dealt with "severe social anxiety" while she was at secondary school. "I didn't really speak when I was at school, I was pretty much mute," she said. "I would talk at home, and sometimes I whispered to people, but I was very careful about who could hear me talk; I didn't want people to know that I could."
On her Instagram, she detailed her experience further, calling it "closer to selective mutism." "I had rules about who could hear me and who couldn't. I was terrified of the sound of my own voice," Kim-Joy wrote. "I didn't want people to know I could talk normally or that I had a personality, because I feared rejection so much. I felt that if I shared nothing, then I was safe. Anyone who said anything hurtful didn't know the 'real me', so they could never hurt me."
At university, Kim-Joy hoped to reinvent herself: "I thought: 'I'm just going to start being me,'" she told the Guardian. "But when I got there, I really didn't know how to talk to people, I'd not interacted that much. I would just say really weird things." She ultimately, however, hit on a way to make friends: baking. "I've got a lot more normal as time's gone on," she said.
To her Instagram followers, Kim-Joy explained that her social anxiety hasn't simply evaporated since her teen years. "I have come a long way since then but still experience moments of social anxiety most days," she wrote. "Worrying that people don't like me, and when they do like me, I worry about when I will disappoint them and they will stop liking me. Even though I know this makes no sense."
The Bake Off finalist's confidence has grown over time, she told her followers — boosted by her love of baking, as well as her career as a psychological wellbeing practitioner (she's since left the post, she told the Guardian, saying, "I'm at a point where the clinical side of mental health isn't for me.") "It's a big thing for me to talk about my experiences with social anxiety because I have worked in mental health, and there is an extra pressure to put on a face - that you haven't experienced mental health problems, or that if you have then you are 'totally fine' now!" she wrote.
"I think social anxiety is a lifelong journey for most people," Kim-Joy told her Instagram followers, ending her post, "I hope this is helpful for anyone who has gone through or is going through similar experiences." From the scores of adoring comments below, it sounds like that's already the case.