Why Jason George Is Running Towards Fire For This 'Grey's Anatomy' Spinoff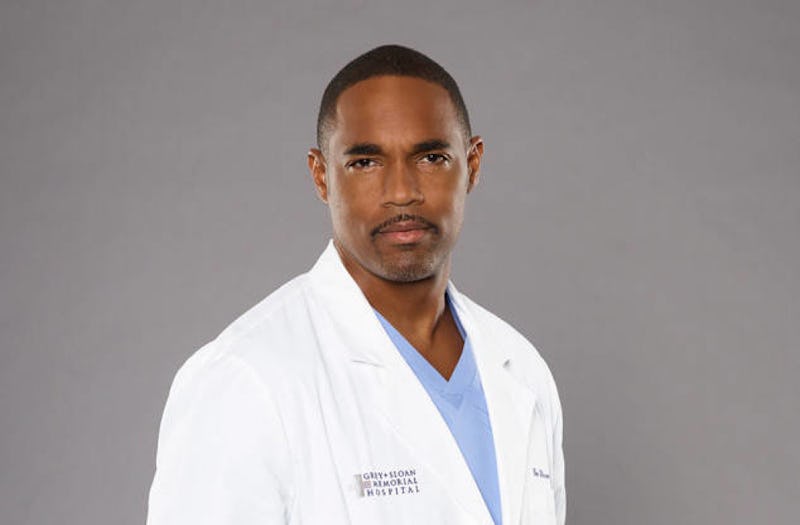 ABC
Jason George is ready to trade in his scrubs for firefighter gear. The Grey's Anatomy star was just cast as a series regular in Shonda Rhimes' new firefighter series set in the Grey's Anatomy universe, and while the idea at first floored him, now that he's had time to process this change he's excited for the new chapter in his character's life.
But this wasn't always in the cards for the actor. When George's Dr. Ben Warren was first introduced on Grey's Anatomy as just a recurring player in Season 6, he then catapulted to fan-favorite status when he and Miranda Bailey (Chandra Wilson) — one of the few OG Grey's cast members still alive and kicking on the show — started dating. It was sexy, it was romantic, it was dramatic — all the staples of a good Shonda Rhimes love story. Eight years later, they're happily married, sometimes bickering and butting heads but always, when it comes down to it, in love.
But Ben's career move from doctor to firefighter — which will be a key part of his storyline in Grey's Anatomy's upcoming Season 14 before the new spinoff goes into production — is certain to once again shake up their strong marriage, and George is eager to see how this new obstacle strengthens not only their relationship, but both of the shows themselves. It's certainly not something he ever saw coming during his time in Shondaland so far.
"It was a surprise," George tells Bustle, showing off his trademark smile under the bright lights of Entertainment Weekly's pre-Emmys bash at the Sunset Tower Hotel in Hollywood. "They gave me the call and they were like, 'Would you want to do this thing?' And when Shonda is saying, 'Would you do this,' it's not really a question."
He pauses as he considers what he just said. "I suppose it's possible to say no to Shonda, but why would you?" he adds. "Why would you even think about it? So I've been excited for a while. It's been weird not being able to talk about it. It's out in the world now, so here we go."
After he got that fateful call that is sure to change his life even more than Rhimes already has, his first concern was where this new story would take Ben and if it would even be believable for this strong-to-the-point-of-stubborn doctor viewers have come to know over the past eight years on Grey's. But considering the fact that Ben already acted like a firefighter during a life-or-death crisis in the Season 13 finale, it's not that much of a jump to see how a new passion could have formed in him.
"My first thought was, 'Walk me through this,'" George remembers. "They gave me some ideas of what they were talking about creatively. It was a good challenge as an actor and stuff that I thought still stayed true to Ben. It's just the right amount of conflict between my character and costars. Everything they were talking about got my creative juices flowing."
But what sparked his enthusiasm the most was the fact that this wasn't just going to be Grey's Anatomy 2.0, or a second hour every week of the same show. For one thing, it's not even a medical drama. "It's about firefighters," he says. "It's completely different. It's people on the street [in Seattle]. Grey's saves the lives when they come into the hospital, and my understanding is this is about saving the lives where they get in danger, and then getting them to the hospital."
Of course, George's spinoff will still follow the complicated and dramatic home lives of the people doing the saving. This is still Shonda Rhimes, after all.
"You'll see how they manage to make it through all the craziness they deal with in their day jobs," George says. "We've already established that Ben is a bit of an adrenaline junkie so that stuff appeals to him. And to me, for that matter. I'm a bit of an adrenaline junkie myself."
That shouldn't surprise Grey's Anatomy fans, who have seen Ben take the (unauthorized) initiative to slice open a woman in the hallway of the hospital during a lockdown to perform emergency surgery, despite not having the skills or experience needed for such a life-or-death moment. "You gotta do what you gotta do!" he says with a laugh as he remembers the numerous moments Ben showed his true colors.
Ever since this casting was announced, the worry that his absence from Grey's will damage his relationship with Bailey has been on every fan's mind. But George promises that there will "definitely" be crossovers between the two series, so Ben and Bailey's marriage isn't necessarily in jeopardy.
"I think the shows will cross over a couple times a season if Private Practice is any example," he says. "What I love is the idea that it either causes great strife between Ben and Bailey or Ben comes home from fighting fires and there's Bailey for support and she comes home from saving lives and there's Ben. We can pop into each other's shows that way. Or when I bring somebody to the hospital."
Despite the potential for shared stories between the two series, George is "still sad" to be leaving his friends on the original show. "The good part is that it exists in the same universe and there will be crossovers," he says. "So the way I look at it is, I'm not leaving home for good, I'm leaving home to go to college across town. I'll still bring my laundry home every couple of weeks. It's bittersweet but I'll still see my peeps. I'm still playing on the Grey's softball team. That's not going to stop anytime soon."
Nostalgic feelings aside, George is already well under way in preparing to take Ben from the operating room to out in the real world, fighting raging fires.
"I've got some firefighter friends and I've done a couple of little bits of firefighter training at charity events," he says. "Full gear, flames shooting up a wall in front of me, a couple hundred degrees. It's hot!"
One extra side perk of his new role? "It gets so hot, I expect to drop a couple of pounds just being in that suit," he says with a laugh. "I don't even have to worry about working out because I'm just going to sweat it off. And I have plenty of people around me with fire extinguishers to make sure I don't die. The real guys don't have that luxury. And knowing Shonda, she doesn't shy away from putting you into the mix so I'm making sure that I can withstand taking a beating."
No matter what happens with the spinoff series – whether it rises to new heights or crashes and burns – George is just honored to have been the first choice to lead a new Rhimes show.
"I was blessed enough to just have been invited into Shondaland a while ago, to be renting in Shondaland and then be able to buy a house in Shondaland," he says. "Now to be on the ground floor of a whole new show, it's fantastic. Now I can't screw it up. This is something I've essentially been training for since high school," he says. "Athletes want to go to the Olympics, I want to work hard for Shonda."
Consider this his official graduation. Time to get to work.