Grocery Store Joe Isn't Too Upset With HIs 'DWTS' Elimination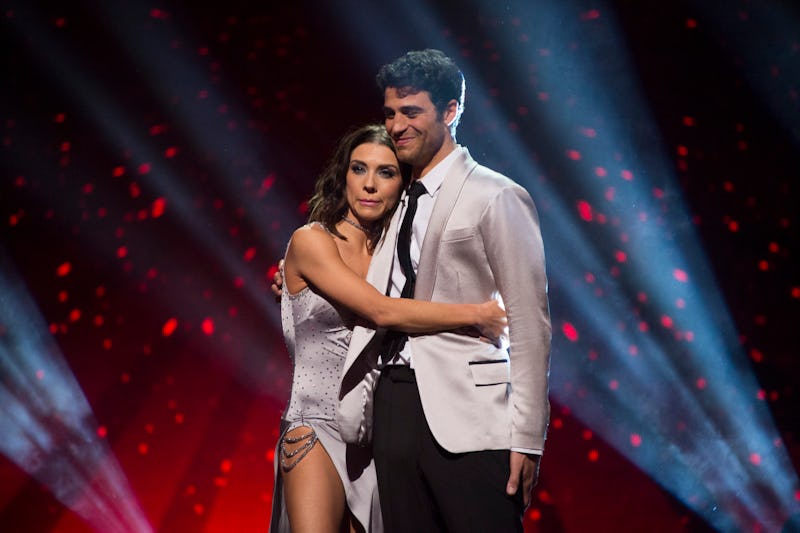 Eric McCandless/ABC
Joe Amabile has come a long way since Becca Kufrin sent him packing during the season premiere of The Bachelorette this year. But unfortunately, the reality star was forced to grapple with another on-camera elimination during his latest venture on ABC's Dancing With the Stars. However, during a recent interview with Entertainment Tonight, Grocery Store Joe revealed that his DWTS elimination has left him feeling relieved more so than anything else, proving that he departed from the show with absolutely no hard feelings.
"I feel wonderful," the Bachelorette alum joked with the outlet after being eliminated alongside his pro dance partner Jenna Johnson during Monday night's semi-finals. "No, I feel good." And really, they should feel good since making it to the semi-finals is no easy feat. In fact, the two of them were pleased that they were able to leave the show on such a high note, given Joe's vast improvement since he initially first set foot on the ballroom floor. "I feel like this is our best night yet, and I'm so happy to go out on this night," Johnson explained during the same interview. "I couldn't be more proud. And I just feel so happy. He conquered it and we made it to the freaking semi-finals, are you kidding?"
But as much fun as the two of them have clearly had dancing together, Joe admitted that his least favorite part of the whole endeavor was "performing," which is obviously a pretty big part. However that just makes Joe all the more endearing, knowing how difficult it was for him to step so far out of his comfort zone. Joe did admit, though, that he's happy it's all over, as he was reaching his limit on what he could bring to the competition. "I don't know if I had another dance in me, that's why I was kind of relieved," he told ET. "The bottom three, Alexis [Ren] and Alan [Bersten], and Juan Pablo and Cheryl [Burke], I didn't want to kick either of them out."
At the end of the day, Joe doesn't think the results could've turned out any better, just in case you had any doubts that he's parting from the show on good terms. "I wouldn't have changed anything. I'm very happy with it. I was myself the whole time," he admitted. "Do I think I'm the best dancer in the competition? No. Do I have the best smile? Probably… We thought we were going to get eliminated at week one, so I couldn't have asked for it to go better."
For her part, Kendall Long, who began dating Joe on Bachelor in Paradise Season 5, is beyond proud of all he's accomplished, posting a photo of the two of them on Instagram, while thanking Johnson for teaching her boyfriend some sweet dance moves. "So proud of Joe for dancing the night away on DWTS!!" her caption read. "Thank you @dance10jenna for bringing out Joe's confident, dancing side! Thanks to you, Joe now has some killer moves."
All-in-all the whole thing appears to have proved to be a very positive experience for everyone involved. And don't worry — even though they were eliminated this week, Joe and Johnson will be back with a special surprise for next week's finale. "We actually have a pretty epic surprise for everyone next week," Jenna revealed to ET. "We're not going to tell them what it is, but I think everyone's going to want to tune in."
Oh, don't worry, we will.