Home Libraries Gives Kids A Leg-Up In 3 Life Skills, According To A New Study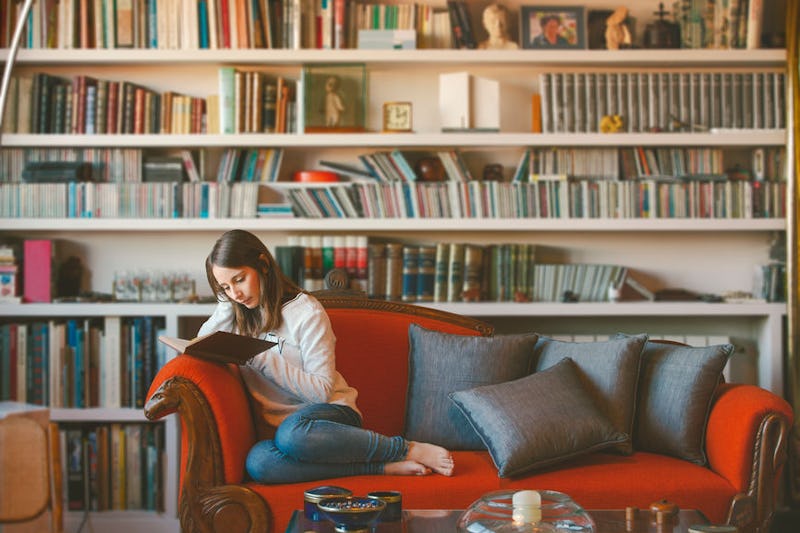 Bonnin Studio/Stocksy
Most readers like to wax poetic about books: the physical items as much as the stories inside of them. The dream of being surrounded by floor-to-ceiling bookshelves overflowing with books is a common one. And although I've recently tried to adopt a more mindful approach when it comes to buying books, I can still most definitely relate to all of the above — and it was much worse when I was a teenager. But according to a new study, surrounding yourself with books is a good thing.
According to an article in Science Alert, the study — which was led by sociologist Joanna Sikora of the Australian National University — looked at global data, and found that, in 31 societies, home libraries give children a leg-up in life skills in three areas: literacy, numeracy, and information communication technology skills. I know, it almost sounds too good to be true. I'm also asking myself how exactly owning the entirety of Meg Cabot's Princess Diaries books made me better at numeracy, but the results of the study don't lie.
According to Sikora's findings, the the more books you had at home as an adolescent, the better off you are now; skills in the three areas were markedly higher among those who had grown up with around 80 books, compared to households with few. And the effects only climb with the number of books, finally plateauing at about 350. I bet you're feeling a lot better about your towering To Be Read pile now, huh?
According to Science Alert, the study does go on to note that the increasing move towards digital literacy and numeracy could lessen the importance of printed books toward gaining these life skills. There's really no word yet whether owning 80 digital books would have the same positive effect on learning as owning 80 physical books. But, for now, bookshelves have remained a constant in many homes, and in those where they're a fixture, physical books still maintain a hugely positive benefit.
So even though you may not be a teen anymore, you can still feel much better about cultivating a home library that some might find overstuffed. Now you can just say those three different editions of Harry Potter and the Sorcerer's Stone are contributing to your numeracy skills. Take that, minimalism.