Here's How You Can Win Free Food For Your Super Bowl Party Right Now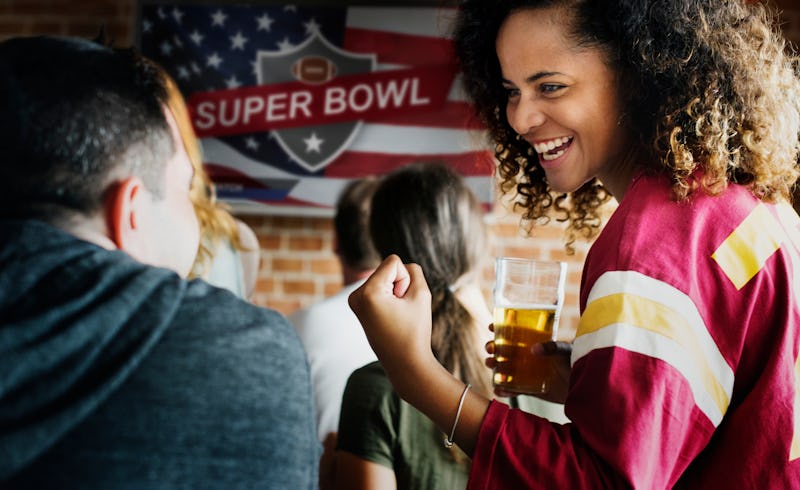 Shutterstock
Is your game day party spread already running low? You may not have to make a grocery run just yet. Announced on Twitter, Grubhub is running a Super Bowl sweepstakes that could hook you and your party up with free game day food. After all, it's not whether your team wins or loses. It's how extravagant your DIY taco bar was during the game.
The food delivery service asked fans on Twitter how they celebrate when their food makes it "to the endzone," telling them to drop a gif best representing their happy food dance in the replies. (Is the endzone your mouth? Your stomach? Something...else entirely?!?) Regardless, when Grubhub promises free food, the people come running. At time of publication, over 200 people have responded with their hungriest, food-laden gifs.
The way to enter appears to be as simple as that:
Find your favorite celebratory food gif, and reply using the hashtag #GrubhubGameday.
You could also throw in a #Touchdown or a #TeamSnacks if you want. It's not required but a thematic hashtag is always welcome. The full list of rules and regulations for Grubhub's free Super Bowl food sweepstakes are here. The most important things you need to know are you must be 18 years or older to win, you have to be a U.S. resident, and you can only the sweepstakes once. In other words, choose your gif wisely.
Grubhub appears to be announcing winners in real-time on their Twitter feed. If you enter their sweepstakes, keep an eye out for a reply from Grubhub asking you to DM them with your email address.
In addition to this Twitter sweepstakes, Grubhub has dozens of Super Bowl food deals from your faves like Shake Shack, Taco Bell, and Burger King. The game day deals include exclusives like free delivery (usually with a $10 purchase minimum), discounted delivery, and a few BOGO deals. However, availability varies depending on location. You can see the full list of Grubhub's Super Bowl 2020 deals here or check your Grubhub app for game day deals near you.
As for their Twitter sweepstakes, you have until 11:59 p.m E.T. on Super Bowl Sunday (February 2) to respond with your favorite celebratory food gif for the chance to win free food from Grubhub.