Guy Fieri Is Opening A Chicken Restaurant At Disney World & The Menu Looks Lit
by Callie Tansill-Suddath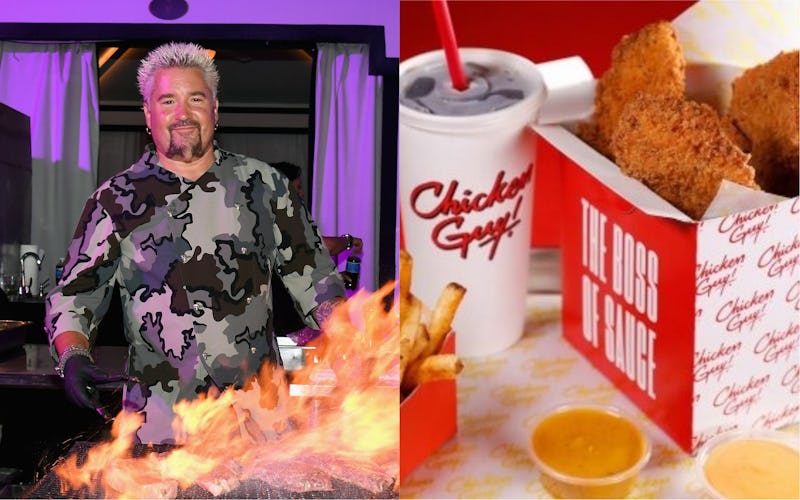 Getty Images; Disney Parks Blog
While appearing on an episode of the reality show "Wife Swap," a wise kid named Curtis once proclaimed, "Chicken nuggets is like my family." It's an unusual way of describing one's devotion to a dish, but Curtis just might have been on to something. If anyone understands the sentiment, it's Food Network's frosted-tipped, lovable bad boy: Guy Fieri. The chef, reality star, and restauranteur has made a living out of a love of junk food classics; his many restaurants serve an array of comfort food favorites. But, at Guy Fieri's new restaurant opening at Disney World, chicken takes the spotlight.
Per the Disney Parks Blog, Fieri's new restaurant is going to be called Chicken Guy! It will be located in Disney Springs, next to Planet Hollywood. The restaurant is only the first of what Fieri and restauranteur-partner Robert Earl hope to grow into a nationwide chicken tender chain. The basis of the menu is, unsurprisingly, chicken. Patrons will be able to order grilled or fried chicken on its own, in a sandwich, or on a salad. Early menu highlights include a chopped chicken caesar salad and southwest sweet corn. But the pièce de resistance? Over 20 options for accompanying sauces. In fact, there will be a designated counter and employee purely for dishing out difference sauces.
Chicken Guy! is clearly emphasizing freshness. Chicken tenders are not just for kids meals, you now. The tenders to be served by the restaurant will be hand-pounded and breaded each day; no freezers to be found here.
If you're hoping to snag some of Guy's other signature restaurant fare on your next trip to see the mouse, rest assured it, too will be available at Chicken Guy! A nod to television show "Guy's Big Bite," the Big Bite B.L.A.T. swaps chicken for crispy smoked bacon, and adds lettuce, avocado, tomato, and creamy buttermilk ranch sauce. Other noteworthy options include the Mac Daddy Mac 'n' Cheese, seasoned fries, and Loaded Fries topped with in SMC (super melty cheese, of course). You can also add toppings to an order of fries including green onions, bacon, and of course, chicken.
Would it really be a trip to Flavortown if dessert were not involved? Of course not! Once you have gobbled up your chicken, treat yourself to a Triple Double Mint. Hand-spun mint chocolate soft-serve is mixed with cookies and cream crumbles, chocolate mints, chocolate syrup, and fresh whipped cream to create this rich, minty number. Or perhaps try the Cinnamon Apple, a mix of vanilla soft-serve, cinnamon-apple cereal, and fresh whipped cream. It'll leave you with memories of childhood summer evenings spent at the county fair.
If you think you're excited, just imagine how Guys is feeling. The Chef told the Disney Parks Blog, "I'm stoked to be building Chicken Guy! with my friend, Robert Earl. It's all about the real deal, all-natural chicken but lemme tell you, our sauce game is on point."
An official date for the opening of the inaugural location of Chicken Guy! at Disney World should be released soon. But, in the meantime, check out the place's logo. Look familiar?