Gwen Stefani's New Eyewear Is Inspired By The Glasses She's Always Wanted To Wear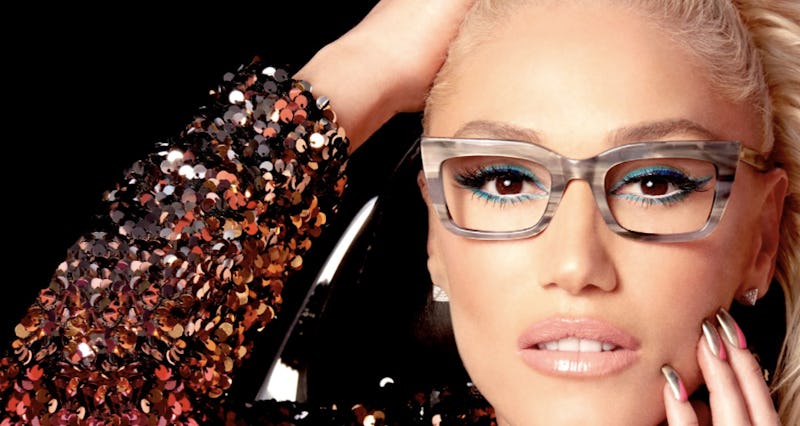 Photo Courtesy Tura Eyewear
I'm old enough to remember the early days of Gwen Stefani — the bleached blonde hair, the yellow vinyl pants and white crop tops, the pencil thin black eyebrows and red lips. Back in the days of Tragic Kingdom, Stefani was a fashion icon, and she also wore something that a lot of other pop stars didn't: Glasses. Studded cat eye frames, white rounded sunglasses — her eyewear game was always on point.
It's not surprising, then, to see a Stefani make the transition to eyewear design later in her career. In January 2018, Stefani launched her third collection from L.A.M.B. and gx by Gwen Stefani with Tura Eyewear, sold exclusively through Tura Inc. Like the first collection in 2016, Stefani's eyewear range includes an array of both optical frames and sunglasses.
"My goal with the collections is to create glasses that people really love," Stefani says. "I used to only design for myself, but now it's more fun to create glasses that everyone can feel good in."
The L.A.M.B x Tura collection features 12 new optical styles, ranging in price from $225-$275, and 14 new styles of sunglasses, with prices ranging from $250-$275. There are also new additions to the gx by Gwen Stefani collection, with 12 new optical styles for $175 each.
For Stefani, making the move into eyewear was motivated by both style and practicality.
"I have to wear optical lenses, but I also truly love wearing them," Stefani says. "I look forward to putting on my glasses. When you are first told you have to wear glasses, it can feel like a punishment, but finding the right pairs and styles can make it something that's positive and fun."
Sunglasses were another essential part of the equation.
"I live in California," Stefani says, "And sunglasses are something I wear every day. I love them and have drawers full. I wanted to take all I have learned and all I have loved about sunglasses and launch a collection with my own unique twist."
Stefani's style has certainly evolved over the years, and her own sartorial evolution has definitely made an impact on her eyewear designs — and the ones she chooses as her personal favorites from the collection.
"I really love the Lenka style in grey in the L.A.M.B. optical collection," Stefani says. "People assume that I only like really crazy glasses in crazy colors. These are a classic style but still super cute in a different color."
L.A.M.B. x Tura Lenka Frames In Grey, Burgundy, & Blue, $250, tura.com
Still, there's no denying that Stefani's earlier style motivations — even those cultivated decades ago — still influence what she creates today, particularly in this eyewear collection. In other words, it's not difficult to imagine No Doubt Gwen a few of these pairs.
"In No Doubt, I was into trying out different styles and experimenting with color and patterns — the red cat eye-like frames (Eryn) in the gx collection are really cool [ for that time period]. The rose gold aviators in the L.A.M.B. collection (Ari) fit perfectly with the Sweet Escape vibe."
L.A.M.B. x Tura Ari Sunglasses in Rose Gold, $275, tura.com
For Stefani, cultivating her personal style and brand over the years has been an interesting journey, one full of big transitions and risks. Now that she's a bit older (and her fans are, too) she's using that journey as a source of inspiration.
"I wanted to take all I have learned and all I have loved about glasses and launch a collection with my own unique twist," Stefani says. "The glasses reflect my personal style and I hope people feel a connection with these collections and feel good wearing them."