Gwyneth Paltrow Reportedly Married Brad Falchuk In A Star-Studded Wedding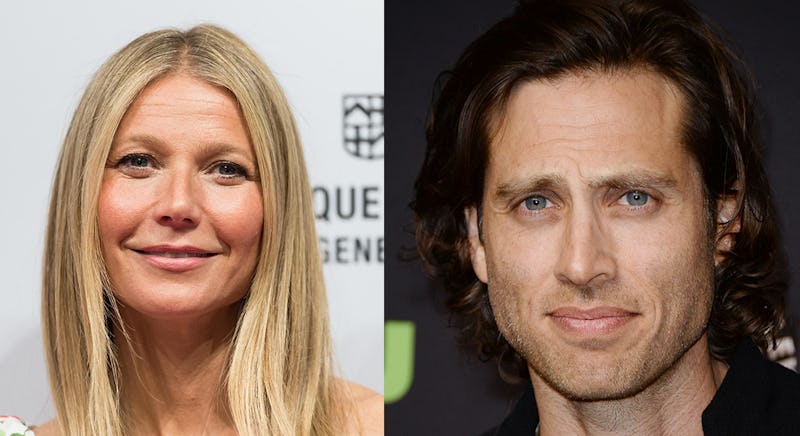 Ian Gavan/Getty Images Entertainment/Getty Images; Matt Winkelmeyer/Getty Images Entertainment/Getty Images
Congratulations are in order for one Hollywood couple. Gwyneth Paltrow reportedly married Brad Falchuk on Saturday, Sept. 29 in the Hamptons in Long Island, N.Y., according to People. Us Weekly also reported the news on Saturday evening. (Bustle reached out to Paltrow and Falchuk's reps to confirm the reports, but has not yet heard back.)
The couple announced their engagement in January 2018 in Paltrow's Goop magazine and they have been dating since 2014. This is the second marriage for the actor, as well as the writer/producer. People reported that among the wedding's guests were Cameron Diaz and her husband Benji Madden, director Steven Spielberg, Robert Downey Jr., and Jerry Seinfeld. Late on Friday, Sept. 28, People reported that Paltrow and Falchuk held their rehearsal dinner at Seinfeld's home.
In April 2018, the couple held a star-studded engagement party in Cabo San Lucas, Mexico. Paltrow posted a photo of herself and Falchuk from the night with the following caption:
Thank you @mrrpmurphy for the most incredible evening to celebrate our ❤️. There will never be adequate words to express our gratitude. @giambattistavalliparis I will never get over my gorgeous dress. @georgieeisdell thank you. @hairbylorenzomartin thank you. @teamsaltzman thank you. Thank you to all of our amazing true and dear friends who came to support us. We feel like the luckiest people on the planet because we have all of you in our lives. And most of all thank you @bradfalchuk for the true happiness.
Falchuk is a writer and producer who frequently collaborates with Ryan Murphy. Falchuk co-created Glee and American Horror Story with Murphy. In fact, Falchuk and Paltrow first met on the Glee set when she guest starred in a 2014 episode as substitute teacher Holly Holliday, according to Us Weekly. Later in 2014, Paltrow and then-husband Chris Martin announced they were splitting after 10 years of marriage and issued their now-famous statement, in which they coined the term, "consciously uncouple."
Paltrow and Falchuk went public with their romantic relationship in 2015. They attended Robert Downey Jr's star-studded 50th birthday party together, according to the Daily Mail. Later in 2015, Falchuk and Paltrow became Instagram official when he posted a photo of them together at the Scream Queens premiere. Falchuk co-created the series with Murphy and Ian Brennan.
In the caption of the 2015 Instagram post, Falchuk wrote: "My date and I #screamqueens"
Throughout the next few years, Paltrow and Falchuk made appearances in each others' Instagram photos and posted loving captions dedicated to one another.
On Sept. 17, Paltrow posted a photo of Falchuk and the Emmy he won as an executive producer for American Crime Story: The Assassination of Gianni Versace. Her caption was a simple heart-eyes emoji.
For Paltrow's birthday on Sept. 27, Falchuk wrote a lengthy romantic message dedicated to his fianceé accompanied by a photo of the actor at the beach. The caption read:
When was this photo taken? 1940? '50? '70? Last summer? It's this timeless beauty's birthday today. She was born with endless gifts - big blue eyes, a brain and heart overflowing with curiosity, generosity and possibility and those heartbreakingly long legs that go on and on - but she never rests on any of them. Gwyneth, you are the hardest working person I know. From your first cup of coffee in the morning to your last cup of whiskey at night. From the gym to the office to homework at the kitchen table. You give us all of you, all the time. And always with a smile (well, almost always). Maybe that's why, even though you are the best person ever, you keep getting better every year. Happy birthday, Love.
And it seems like there was lots of love for the couple on their wedding day as well.